EveryKid
EveryKid 4-in-1 Convertible Car Seat (Ontario)
Details
https://www.evenflo.com/car-seats/39312339.html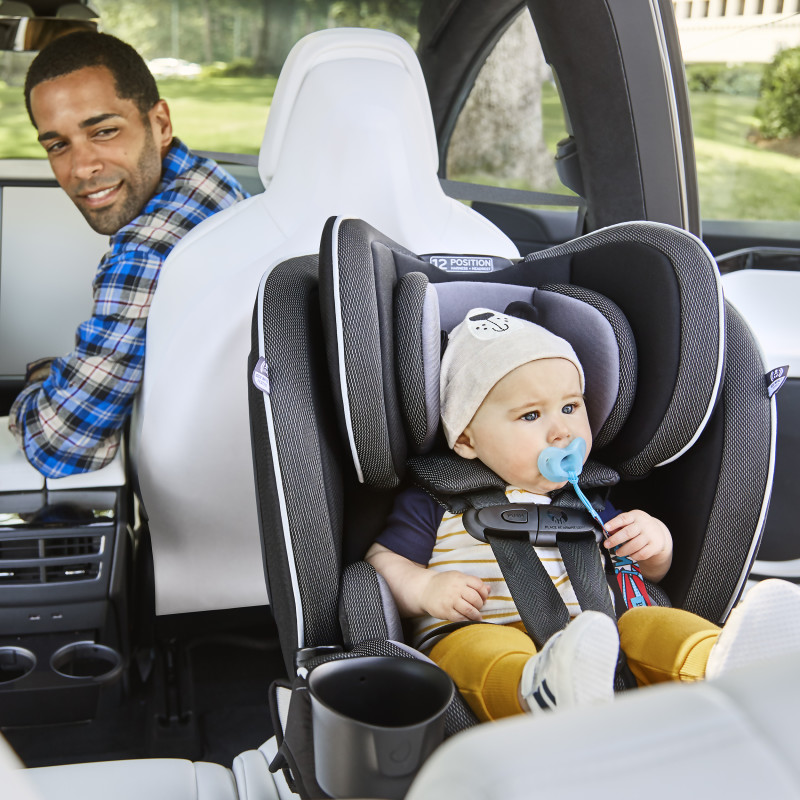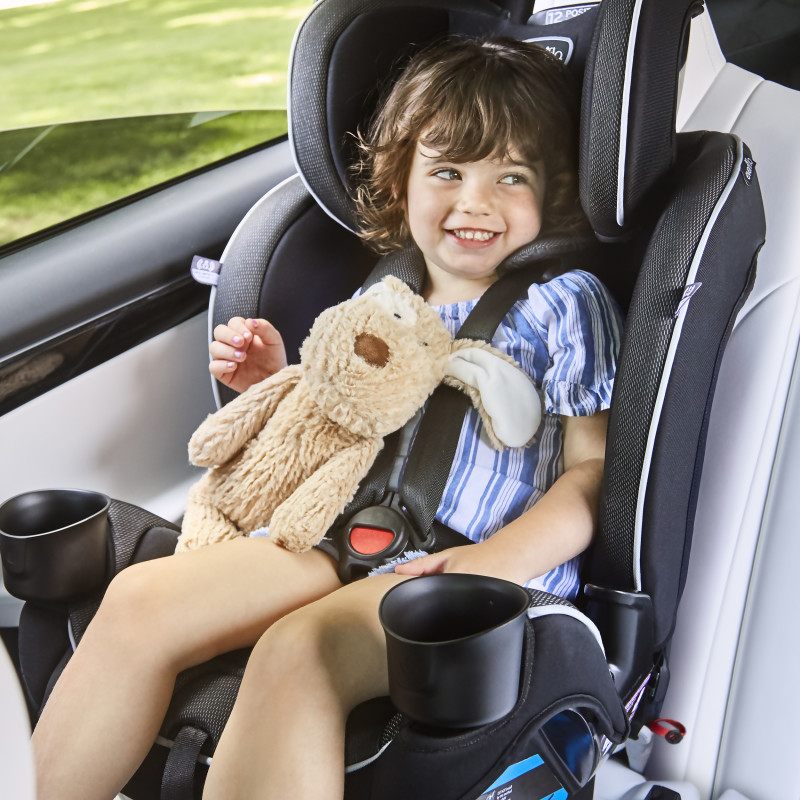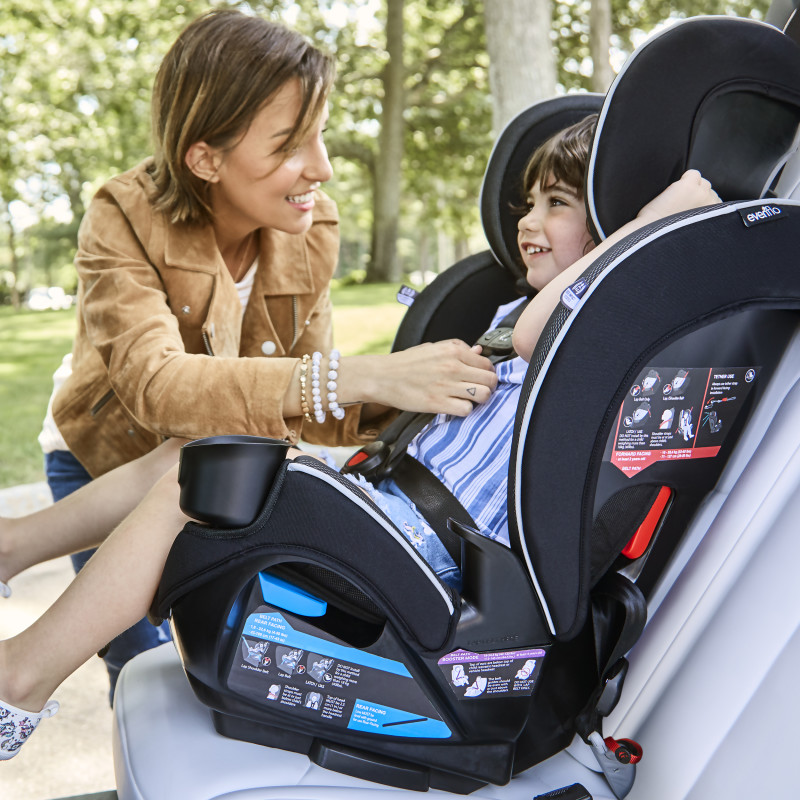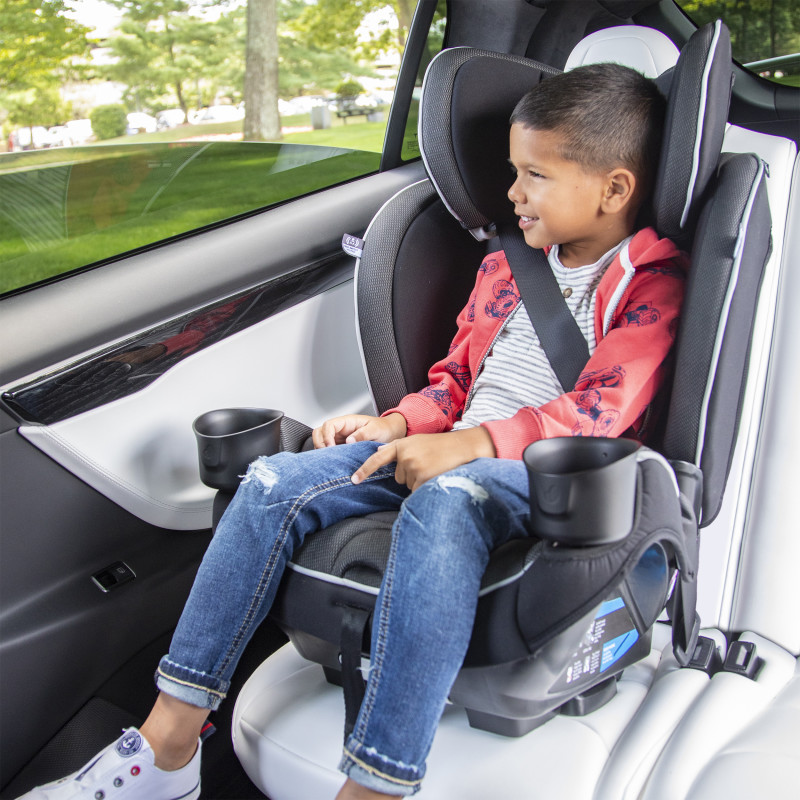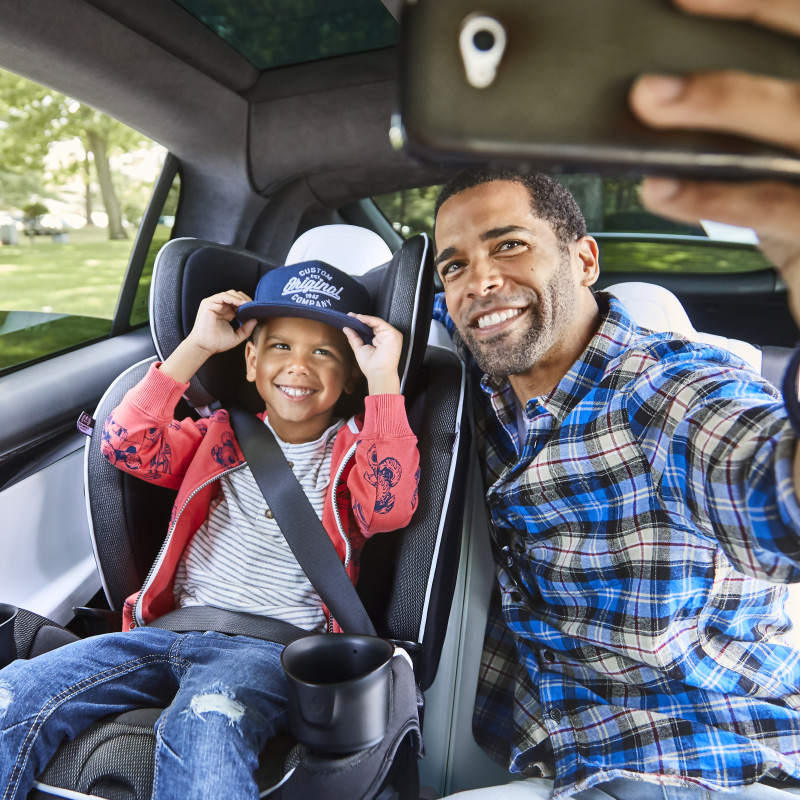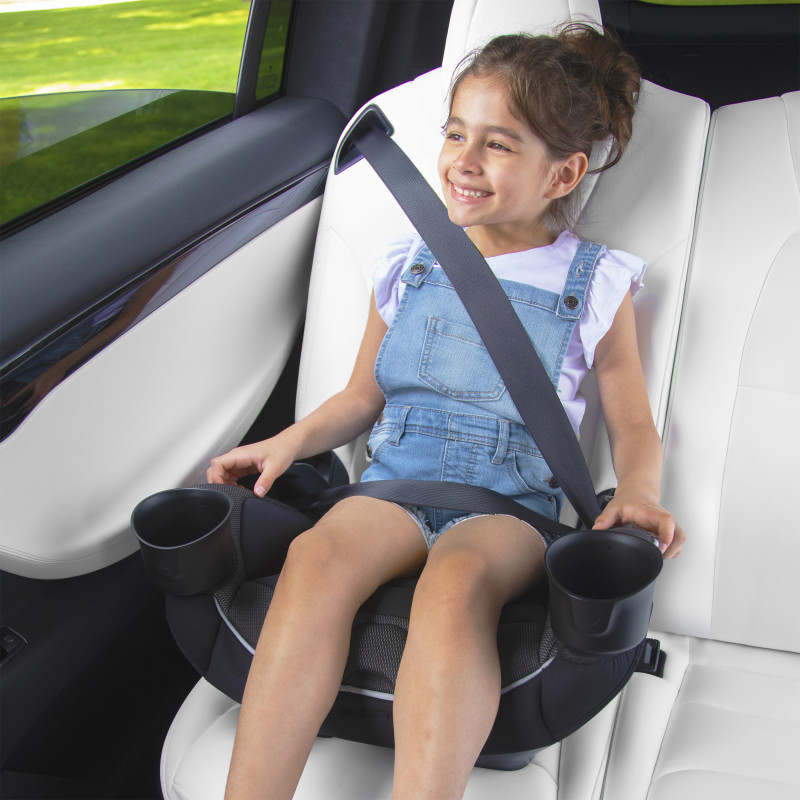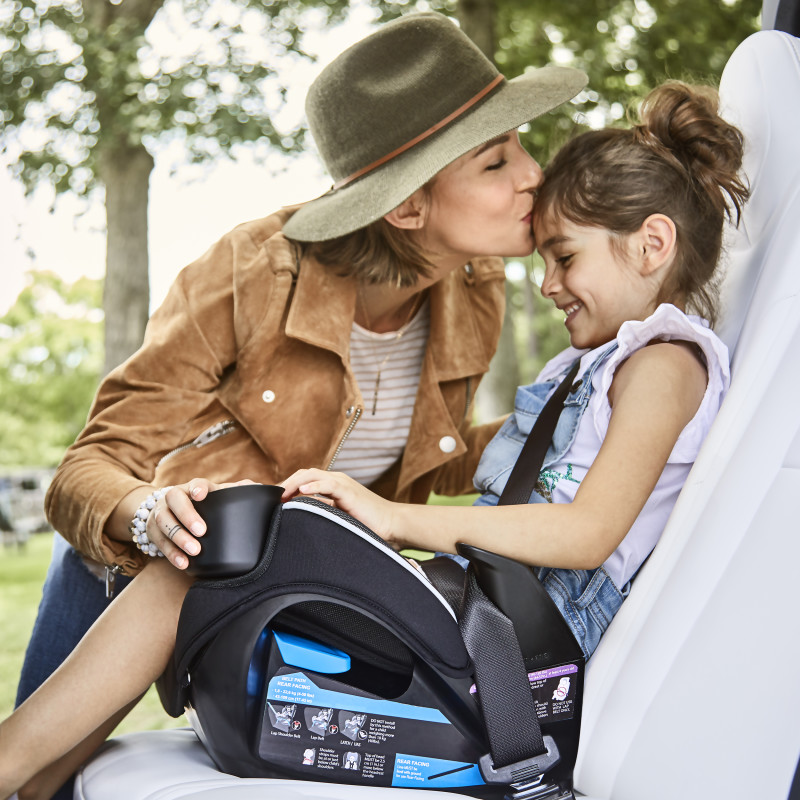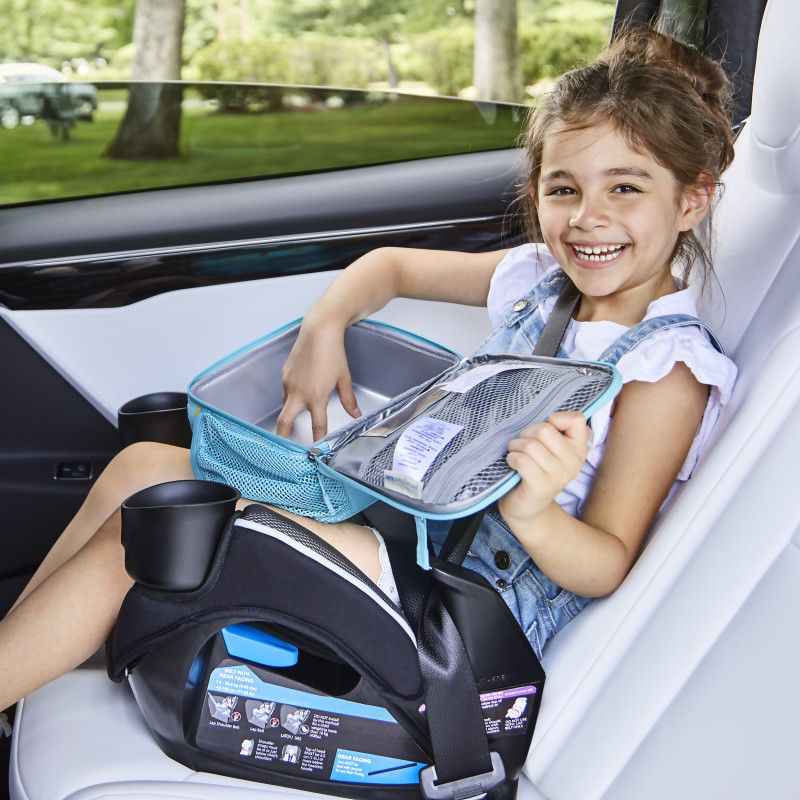 The Evenflo EveryKid 4-In-1 Car Seat has been engineered for maximum comfort, safety, and longevity. The EveryKid accommodates your child by adjusting to multiple positions, allowing kids to ride rear-facing beyond two years of age—without extending the seat or cramping other passengers. This all-in-one car seat provides a safe and secure ride for up to a decade. Parents and grandparents love the Quick Connector LATCH and belt lock offs for an easy and tight installation. It can be used as a rear-facing car seat with harness, forward-facing car seat with harness, belt-positioning high-back booster, and no-back booster that helps keep children 4 - 120 lb secure while riding in a vehicle.
Why you'll love it
Evenflo works with parents to develop child-safety products that are designed for how they are actually used. We've developed this 4-in-1 car seat with comfort, safety and ease-of-use in mind. The one-hand, 12-position headrest and no-rethread harness enable a proper fit during each ride and as child grows – without uninstalling the car seat. For additional convenience, this all-in-one car seat is designed with removable cushions, machine-washable fabrics, and two integrated cup holders.
For 100 years, Evenflo has been a trusted source of precision-manufactured, high-quality children products that are engineered for real-life situations. Evenflo takes a proactive approach to the design of each of our multi-mode products for extended use or multiple-use applications, which saves you money without compromising the safety of your children. Additionally, all Evenflo car seats include ParentLink customer-service perks like real-time chat and free live video installation support.
is...
For 100 years, Evenflo has been a trusted source children products
Made in the USA with US + Global Components
Dedicated to design and engineering of products for real-life
Supported by ParentLink Consumer Care via phone, email, chat and video
Peace of Mind:
Expiration: 10 years
Warranty: 90 Days
Returns: 30 days
Product Details
Child Specs (4-120lbs)
REAR-FACING
Weight:

4 - 40 lb (1.8 - 18.1 kg)

Height:

17 - 40 in (43 - 102 cm)
FORWARD-FACING
Weight:

22 - 65 lb (10 - 29.5 kg)

Height:

28 - 49 in (71 - 124 cm)

Age:

For children at least 2 years old
HARNESSED BOOSTER
Weight:

40 - 65 lb (18 - 29.5 kg)

Height:

44 - 57 in (112 - 145 cm)

Age:

For children at least 4 years old
SEAT BELT BOOSTER
Weight:

40 - 120 lb (18 - 54.4 kg)

Height:

44 - 57 in (112 - 145 cm)

Age:

For children at least 4 years old
NO BACK BOOSTER
Weight:

40 - 120 lb (18 - 54.4 kg)

Height:

44 - 57 in (112 - 145 cm)

Age:

At least four years of age
Product & Shipping Specs
Package Width:

19

Package Weight:

18.2

Package Depth:

23

Package Height:

25
Safety
Safety Testing
At Evenflo, we continue to go above and beyond government testing standards for car seats.
Side Impact Tested:Meets Evenflo's proprietary side impact standards.
Designed and tested for structural integrity at energy levels approximately 2X the federal crash test standard.
FMVSS 213: Federal Motor Vehicle Safety Standards for Child Restraint Systems
FMVSS 302: Federal Motor Vehicle Safety Standards for Flammability of Interior Materials
CMVSS 302: Canada Motor Vehicle Safety Standard
CMVSS 213: Canada Motor Vehicle Safety Standard
Certified For Use In Aircraft: When used with the internal 5-point harness this restraint meets FAA Inversion requirements for airplane use.
Evenflo Temperature Testing: All current Evenflo car seats are tested for product integrity at both high and low temperatures.
Use & Care
Use & Care
Read all instructions and warnings on the product, product labels, and instruction manuals before use. Consult your vehicle owner's manual to determine proper placement of child restraint in your vehicle and familiarize yourself with your vehicle's components.
Cleaning Instructions
DO NOT lubricate or immerse in water any part of this child restraint, unless rinsing is permitted
Plastic and metal parts may be wiped clean with mild soap and water and dried with a soft cloth. Do not use abrasive cleaners or solvents.
Take care not to damage any labels.
The harness can be wiped clean with mild soap and water. Allow harness to air dry.
Machine wash the seat pad separately in cold water, delicate cycle. Tumble dry 10 to 15 minutes on low heat.
Periodically inspect and clean the restraint's crotch buckle of food, liquids, and other debris to ensure proper latching. Place the buckle in a cup of warm water and gently agitate the buckle back and forth. Press the red button several times while the buckle is in the water. Do not submerge the harness strap. To avoid damage to the buckle, do not clean the buckle with soap or detergents and do not use a lubricant.
Features & Benefits
COMFORT

Angles your child comfortably to minimize head slump with three rear-facing recline positions and one forward-facing recline position.

PROPER FIT

The one-hand, 12-position headrest and easy to slide no-rethread harness straps can adjust as your child grows without uninstalling the car seat.

CONVENIENCE

Machine-washable fabrics are easy to remove for cleaning. Dual integrated cup holders put drinks and snacks within arm's reach.

A TRUSTED PARTNER TO PARENTS

Evenflo has been a trusted source of quality-built child-safety systems for 100 years. We work persistently to provide innovative products designed to help you throughout your journey as a parent.
Prev
Next
Evenflo EveryKid 4-Mode All-In-One Convertible Car Seat
4-in-1 car seat
4 modes of use
10 years of protection
Rear facing with harness for child 4-40 lb
Forward facing with harness for child 22-65 lb at least 2 years old
High-back booster for child 40-120 lb at least 4 years old
No-back booster for child 40-120 lb at least 4 years old
EveryKid Car Seat Install Videos
Please see the video playlist below for installation instructions and tips.
EveryKid 4-in-1 Car Seat FAQs

How do I change the position of the crotch buckle on the EveryKid 4-in-1 car seat?

In order to adjust the crotch buckle of the Evenflo EveryKid 4-in-1 car seat you will need to start by removing the booster base from the bottom of the car seat. Once the booster base is removed, you will be able to access underneath the seat where the buckle anchor is located. Turn the anchor to remove from one slot and place into the other slot. Please refer to the product instructions for details on when to change the buckle position.

I removed part of the EveryKid car seat cover while installing my car seat rear-facing, but now that the seat is installed I can't get it back on.

It does help to remove a portion of the seat pad when installing your car seat so you can better access the seat belt or lower anchor strap. When installing your EveryKid in rear-facing mode, instead of detaching the portion of the seat pad near your child's feet, detach the seat pad from the back of the seating area. The back portion of the seat pad lifts up to expose the white handle for removing the booster base. The back corners are held down by small elastic loops. Remove the elastic loops and you can lift the entire seat pad towards the front of the car seat. Removing the seat pad from around the crotch buckle allows access to the entire rear-facing belt path.

When your installation is complete, route the crotch buckle through the appropriate slot in the seat pad and reattach the back corners of the seat pad with the small elastic loops.

How do I know if my car seat is tightly installed?

When checking for a tight installation, it is important to test the car seat right where you have it installed to the vehicle. For a rear-facing car seat, that means you will grab the car seat near your child's feet and not near their head. While holding the car seat near the installation area, try to move the car seat side to side and front to back. The car seat should not move more than one inch in any direction.

If the car seat moves more than one inch when checking at the belt path, you have a few options:

Try to tighten the installation again.
Try a different seating position in the vehicle.
Try a different installation method, if possible.
Contact ParentLink for assistance: https://www.evenflo.com/contactus

Does the Evenflo EveryKid have a steel frame?

The Evenflo EveryKid meets or exceeds all applicable Federal motor vehicle safety standards and Evenflo's internal testing standards. These products do not have a steel frame, but are made of robust plastic sufficient to withstand numerous dynamic tests. The Evenflo EveryKid are engineered to manage crash energy appropriately without the addition of a steel frame. This allows the car seat to be lightweight, making it easier to move between vehicles.
You might also like...
us_play-away-lite

Play-Away Portable Playard Lite

Description

Time to up your safety game now that your little one is on the move. The indoor/outdoor Play-Away™Portable Playard Lite is the ultimate play space whether heading down the street or across the country. Aside from a cup of coffee, the Play-Away will quickly become your favorite item with features you'll love like a water-resistant padded floor that is comfortable and easy to clean. Take a peek on your little one and they can peek at you through the six airy mesh side walls.Measuring at 15 sq. ft. of play space,48" wide and 27" tall, it's just enough room for your child and compact enough for simple transport. The foldable, sturdy frame comes fully assembled; plus, you can quickly fold, unfold, pack and carry in the included travel bag with shoulder strap.

630437

Description

The Evenflo® Car Seat Accessory Kit contains all of your child's vehicle needs at a great value!

4 Pieces: Contains 1 window cling shade, 1 car seat kick mats, 1 undermat seat protector, 1 organizer caddy
Kick Mat: Protects the back of your vehicle's seat from shoe stains and scuff
Undermat Seat Protector: Protects your vehicle seats from car seat indentations, scratches and everyday wear and tear, and have been tested and approved for use with all Evenflo® car seat and boosters
Window Cling: Shades and protects your child's sensitive skin and eyes against harmful UV rays and sun glare
Caddy Organizer: Features a large open basket, two side mesh pockets for easy access and two cup holders, helping keep travel necessites within reach

us_pivot_xplore

Pivot Xplore All-Terrain Stroller Wagon

Description

Meet the new, ultimate ride-share stroller, Pivot Xplore™All-Terrain Stroller Wagon. This new riding experience provides extended use by accommodating 1 or 2 kids up to 5 years old. The Pivot Xplore easily transforms from a stroller to a wagon by flipping the handle. This gives parents the ability to push as a stroller, or pull as a wagon. Pile all your stuff in and ride on out! Each seat holds a child up to 55 lbs., 120 lbs. total with storage.
Prev
Next
EVERYKID 4IN1 CAR SEAT ONTARIO
is rated out of
5
by
136
.
Rated

1

out of

5
by
LDavis
from
Disappointed
My mother bought this seat for us as my son was outgrowing his other one. My husband installed it without issue and went to put our son in it and the pull to tighten the straps was extremely hard to pull. It will eventually tighten enough, but takes a long time and when in a hurry, bad weather, or anything like that it is horrible. We have to pull so hard that it actually moves the whole seat which isn't good either. We have had family and friends look at it thinking we were doing something wrong. Unfortunately the first day we used it, my son got car sick so we can not even return it. I feel as if it's not safe and it was giving my anxiety that my son may not be safe in the car. We ended up buying a completely different car seat. We have two cars so I was hoping to figure this one out, but it's not looking promising.
Date published: 2020-10-15
Rated

2

out of

5
by
Jaithom21
from
Extremely Annoyed
We have only had this car seat for 3 months. Why they use styrofoam for the headrest part is beyond me. It cracked in half so one side is entirely missing. I tried to order a replacement part for it but it's no where to be found on the website. This car seat was made in March 2020. It's now August and it's junk. But supposed to last all the way to a booster. Next time I'll go ahead and go with Grace like I had originally planned.
Date published: 2020-08-22
Rated

5

out of

5
by
Bcemerson
from
Perfect convertible seat!!
I bought this for my sixth month old as he wasn't comfortable in infant carrier on a long drive last month and we have to do the 18 hour drive again in a few weeks. So far we have done a a few hours trips and no complaining! Install was pretty easy and I love how simple adjusting for the perfect fit is. I wish I had gone this route with my oldest rather than buy 3 different car seats/boosters. I definitely do not regret this purchase and suggest it to all parents who want a car seat that will last for the duration of needs!!
Date published: 2020-08-19
Rated

1

out of

5
by
Nelson
from
Don't buy they'll send you used ones
When the box got here it was all damaged inside was the car seat just thrown in there no protective plastic or foam it was super dusty like it was a display one horrible
Date published: 2020-06-08
Rated

1

out of

5
by
Leczie
from
Poorly made
Bought 2 of the everykid car seats for my kids. Ages 3 and 1. When I took the car seats out of the box, I had to adjust the crotch area for my 3 year old. When I did this, I noticed the harness straps were fraying and not in proper condition. This is not safe for our child to ride in and I will not be using either car seat. I can't trust it if one was messed up. Both have been placed back in boxes!
Date published: 2020-05-15
Rated

5

out of

5
by
Kayla2020
from
Was in a rollover.
We bought this car seat about a month ago and on Easter we were in a rollover accident. When installed properly (which it was) it securely holds up great. We obviously replaced with close to the same car seat! During the rollover our daughter did not move nor was she injured! I would highly recommend this seat and in fact searched stores to find the same one. Didn't have much luck but like I said we went out and got pretty much the same seat. A newer model.
Date published: 2020-04-15
Rated

4

out of

5
by
AprilAnnette
from
A couple changes would make this PERFECT!
This car seat came at the perfect time, as we were looking for a car seat to move my little boy into from his infant bucket seat. Taking it out of the box, I got scared that it would not for in my car with the current car seat set up that we have. I have a 2003 Toyota Highlander with a convertible car seat and a high back booster already. Much to my surprise, this car seat fit in my back seat asking with the others to go three wide! I did struggle a small bit with installing it, as I only have the option for seat belt installation in my car. The instruction book was a little too wordy for me and I got confused as to exactly how I was supposed to pass the seatbelt through. Once I reread it for the third time and got the seat in the car, I finally got it successfully installed. Some things I love about this seat, are the fact that I could easily and quickly adjust it to fit ANY of my four kids if needed. I love that the whole cover comes off and is machine washable. I love the dual cup holders. A couple cons for me, were that it was a bit difficult to install it using a seat belt installation. The instructions weren't super clear. Also, I have a leather seat and I find that with a seat belt installation, it causes the car seat itself to slide on my seat. I have solved the issue by using a small towel under the seat, but I wish I didn't have to do so. I wish that the plastic piece that you use to adjust the recliner could have some kind of non-slip pad on it or something to prevent that. If these changes were made, I would 100% give it a 5 star rating! Thank you to the Stellar Product Testing Panel for sending me this Evenflo EveryKid 4-in-1 Convertible Car Seat in exchange for my honest review.
Date published: 2020-04-14
Rated

5

out of

5
by
lauren122694keith
from
Highly recommend this great seat with a really rea
I'd just like to start off by saying I received this convertible car seat from the Stellar Product Testing Panel. With that being said I really liked this seat, as did my soon to be 3-year-old son. The install was easy and painless, which is a bonus, straps, and headrest are very easy to adjust, another bonus when it comes to child seats. It has lower bottom profile sides ( even though it doesn't really look like it ), as well as vertical sides making it easy for him to climb in himself and not get his legs or feet hung up on the seat. We received the Livingston color option and I really am a fan of darker color fabric seats and they met the mark there with the color choice on the Livingston color option. The cup holders are also a great feature and the seat seems like a decent size, not super huge and the base is smaller than the seat itself, which might be a plus for those smaller vehicles. The price point is super affordable and even though I do have a few cons, it is not a deal-breaker, at all. So, as I stated I do have some cons, but again the features and value of the seat definitely outweigh them. I think my biggest con is it only rear faces to 40 lbs, would love it if it went to 50 lbs rear-facing, the cushion ( bottom back area ) that adjusts with the headrest height took a bit getting used to, but once we got it to where it needed to be it was fine and the headrest " wings " seem like they could be a bit sturdier. Again a big thank you to the Stellar Product Testing Panel for providing me with this convertible car seat.
Date published: 2020-04-14