for children 4-120 lbs.
/ birth to approximately 10 years old
EveryStage™
EveryStage DLX All-in-One Convertible Car Seat (Latitude)
Details
https://www.evenflo.com/car-seats/everystage/39212234.html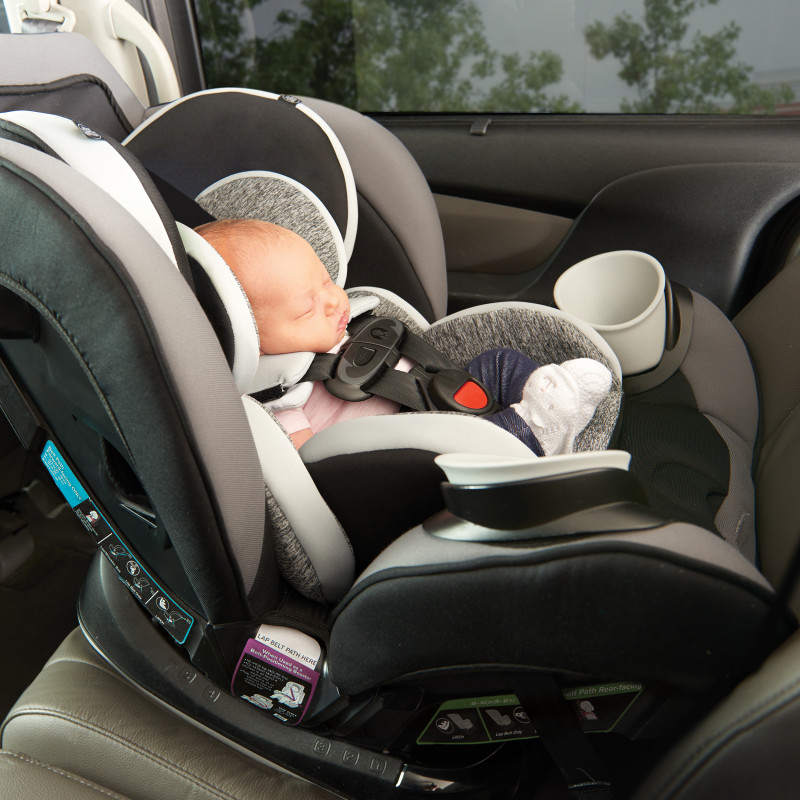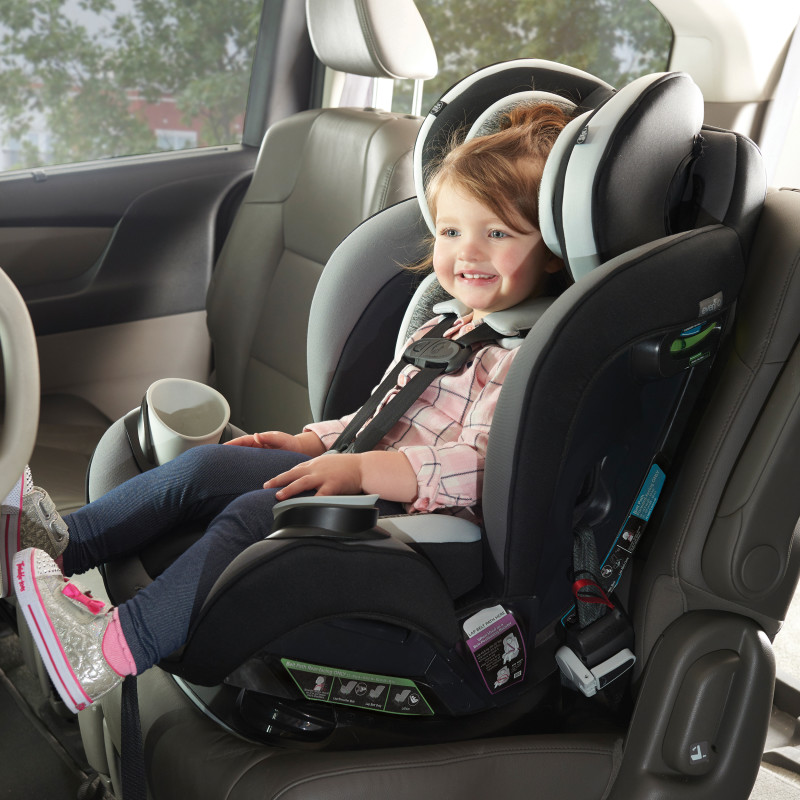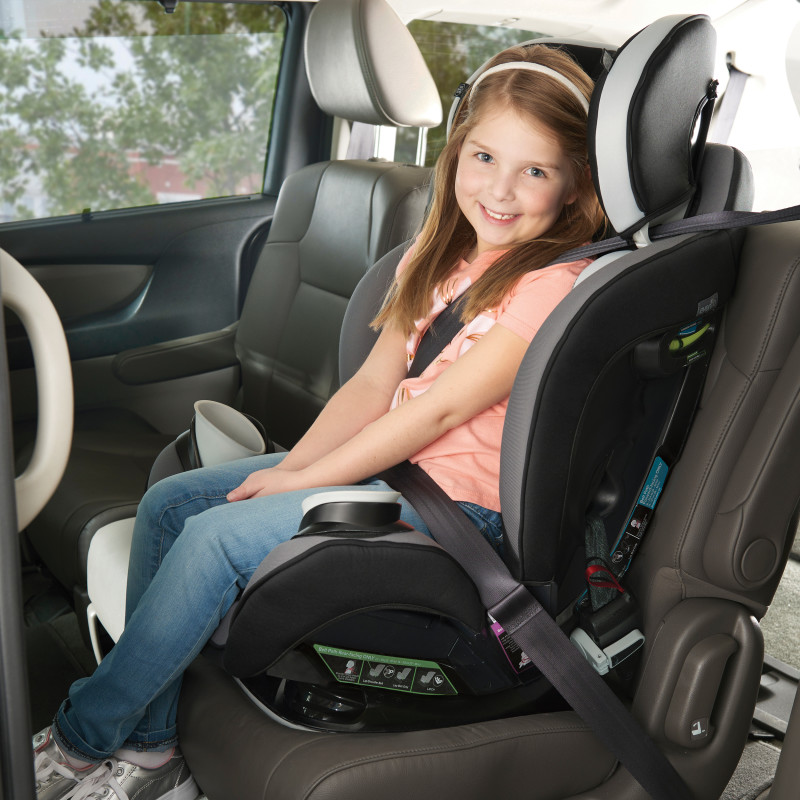 For every stage of your child's life:
Evenflo® EveryStage™ DLX All-in-One Car Seat delivers a safe and unrivaled comfort and installation experience. This all-in-one offers 10 years of safe and secure use as an Infant Seat + Convertible + Booster Seat, from 4-120 lbs.
Why you'll love it
Evenflo® EveryStage™ DLX All-in-One Car Seat delivers a safe and unrivaled comfort and installation experience. This all-in-one offers 10 years of safe and secure use as an Infant Seat + Convertible + Booster Seat, from 4-120 lbs.
EXCELLENCE & VALUE:
Trusted by Millions of Families for Nearly a Century
Made in USA with US & Global Components
2018 JPMA Innovation Award Winner
2018 JPMA Parent's Pick Winner
Peace of Mind:
Expiration: 10 years
Warranty: 90 days
Returns: 30 days
Product Details
Child Specs (4-120lbs)
REAR-FACING
Weight:

4 - 50 lbs. (1.8 - 22.6 kg.)

Height:

17 - 48 in. (43 - 109 cm.)

Fit:

Child's head must be 1 in. below the handle (not to exceed 48")
FORWARD-FACING
Weight:

22 - 65 lbs. (10 - 29.4 kg.)

Height:

28 - 49 in. (71 - 127 cm.)

Age:

For children at least 2 years old

Fit:

The tops of child's ears are below the top of the child restraint headrest.
SEAT BELT BOOSTER
Weight:

40 - 120 lbs. (18 - 54.4 kg.)

Height:

44 - 57 in. (112 - 145 cm.)

Age:

For children at least 4 years old

Fit:

The tops of child's ears are below the top of the child restraint headrest.
Product & Shipping Specs
Dimensions:

19 W x 26.5 H x 22 D (inches)

Product Weight:

22 lbs.
Package Width:

19.9 in.

Package Weight:

28 lbs.

Package Depth:

23.4 in.

Package Height:

28.1 in.
Safety
Safety Testing
At Evenflo, we continue to go above and beyond government testing standards for car seats.
Rollover Tested: Evenflo is leading the industry with the development of a dynamic rollover test.
Side Impact Tested:Meets Evenflo's proprietary side impact standards.
Designed and tested for structural integrity at energy levels approximately 2X the federal crash test standard.
FMVSS 213: Federal Motor Vehicle Safety Standards for Child Restraint Systems
FMVSS 302: Federal Motor Vehicle Safety Standards for Flammability of Interior Materials
Certified For Use In Aircraft: When used with the internal 5-point harness this restraint meets FAA Inversion requirements for airplane use.
Use & Care
Use & Care
Read all instructions and warnings on the product, product labels, and instruction manuals before use. Consult your vehicle owner's manual to determine proper placement of child restraint in your vehicle and familiarize yourself with your vehicle's components.
Cleaning Instructions
DO NOT lubricate or immerse in water any part of this child restraint, unless rinsing is permitted
Plastic and metal parts may be wiped clean with mild soap and water and dried with a soft cloth. Do not use abrasive cleaners or solvents.
Take care not to damage any labels.
The harness can be wiped clean with mild soap and water. Allow harness to air dry.
Machine wash the seat pad separately in cold water, delicate cycle. Tumble dry 10 to 15 minutes on low heat.
Periodically inspect and clean the restraint's crotch buckle of food, liquids, and other debris to ensure proper latching. Place the buckle in a cup of warm water and gently agitate the buckle back and forth. Press the red button several times while the buckle is in the water. Do not submerge the harness strap. To avoid damage to the buckle, do not clean the buckle with soap or detergents and do not use a lubricant.
Features & Benefits
3X Tighter Installation

Our innovative EasyClick™ LATCH system easily ratchets to achieve a 3X Tighter, rock-solid installation versus competition that can be correctly secured in seconds, for a wiggle-free seat without having to get into the vehicle. *Based on consumer research of rear-facing installations with competitive LATCH systems

Infant + Convertible + Booster

Rear-Facing Harness, Forward-Facing Harness and Belt-Positioning Booster provides a safe and secure ride for 10 years of use

Grows with Child to 120lbs

The only seat you'll ever need, this seat is tested in high back booster mode up to 120 lbs

Rear facing longer- to 50 lbs

Adjusts to multiple positions, allowing your toddler to stay rear-facing longer, beyond 2 years, without the need to extend the seat or cramp other passengers

Angled for Comfort and Safety

Comfortably angles child to help minimize head slump and help keep airway open, for a custom, cradled fit

10 Total Positions

Allow you to position the seat for an accurate fit for a growing child

5 Recline Positions:

Provides 3 rear-facing leveling options for improved vehicle fit, and 2 forward-facing recline options for comfort

One-Hand, No-Rethread Harness

Simply move the headrest with one hand to adjust the height and harness in one step. No need to uninstall the seat or rethread the harness

Machine-Washable Seat Pad

Wipeable and machine-washable car seat pad removes for easy cleaning

2 Dishwasher-Safe Cup Holders

Cup holders remove for on-the-go snack use and easy, dishwasher-safe cleaning

Superior Safety Testing

Proudly tested above industry standards in front, s
Prev
Next
Evenflo EveryStage DLX All-in-One Car Seat Product Tour
Evenflo® EveryStage™ DLX All-in-One Car Seat delivers a safe and unrivaled comfort and installation experience. This all-in-one offers 10 years of safe and secure use as an Infant Seat + Convertible + Booster Seat, from 4-120 lbs.
You might also like...
us_pivot_xplore

Pivot Xplore All-Terrain Stroller Wagon

Description

Meet the new, ultimate ride-share stroller, Pivot Xplore™All-Terrain Stroller Wagon. This new riding experience provides extended use by accommodating 1 or 2 kids up to 5 years old. The Pivot Xplore easily transforms from a stroller to a wagon by flipping the handle. This gives parents the ability to push as a stroller, or pull as a wagon. Pile all your stuff in and ride on out! Each seat holds a child up to 55 lbs., 120 lbs. total with storage.

us_play-away-deluxe

Play-Away Portable Playard

Description

The indoor/outdoor Play-Away Portable Playard is the ultimate playpen with features you'll love like a detachable UPF 50+ sun protection canopy, easy to clean water-resistant padded floor, and mesh sides so your little one can see you and you can see him. Plus, the attached pouch is perfect for a touch-screen device offering a chill out or learning zone.

Whether you're enjoying a picnic at the park with family or looking to do a little hands-free work around the house, this portable baby playard is a must-have companion for playtime.

us_xpandTS

Pivot Xpand Modular Travel System with SafeMax Infant Car Seat

Description

The Evenflo Pivot Xpand effortlessly transitions in seconds from a single to double stroller without extra parts or tools - simply slide up and flip out integrated seat mounts to add a second seat!

Single To Double!: Stroller grows from single to double with no tools or extra parts needed! Unique slide and lock system expands frame to accommodate a second toddler or infant seat
Up To 22 Configurations!: The unique design accommodates one or two riders. Infants and children can sit at various heights, upright or reclined, in both parent-facing and forward-facing modes. Toddler seat holds up to 55 lbs for extended use.
Modular Design: Infant car seat sits directly on the frame, and the toddler seat easily converts to infant mode, cradling baby at a comfortable angle
Self-Standing Fold: The compact fold conveniently self-stands, with toddler seat attached
Extra-Large Storage Basket: Expands to over 2 feet in length with front and back access for convenience
Large Cruiser Tires: Front-wheel swivel and rear-wheel suspension offer a smoother ride and superior maneuverability
Includes SafeMax Infant Car Seat
Prev
Next
EVERYSTAGE DLX LATITUDE
is rated out of
5
by
231
.
Rated

4

out of

5
by
Mamabear23
from
Easy install
Easy installation fits very well in a Jeep Wrangler a bit snug in the back seat but overall protective
Date published: 2020-06-23
Rated

5

out of

5
by
MomEof3girls
from
Worth every penny
We have been using this carseat for a couple of months now and I can't imagine being this happy with any other. Pros: -latch system is amazing -Recline options are perfect. No more forward head slump -I think they fixed problem with cup holders. Our little one can not remove them. -Slim fit. I can fit the carseat and 2 people in the backseat with plenty of room. - Comfortable. My little one loves riding in this carseat - Durability. I feel confident my child will be safe riding in this seat Cons: Heavy. This is definitely a seat that stays in one vehicle. Not one you can easily move around.
Date published: 2020-06-21
Rated

5

out of

5
by
RappuhnRanchMama
from
Love the extended rear facing option!
I have 4 boys and boy oh boy! I only WISH this seat had been on the market when the 10 and 11 year old were little!!! We now have a 3.5 and 4.5 year d boy. 3 years ago we bought brand new Safety First car seats. We thought they were so nice. However, they are not THIS nice! We needed to upgrade the 3.5 year old to a longer extended rear facing seat as he gets car sick, so a week ago we bought our first one. Even at his age, the seat was well worth the investment!! Our 4.5 year old decided he too wanted a cool new seat so we order another one last night!! We never hear any complaints and are now being asked to go for car rides that he wasn't able to go on before without being "sick"
Date published: 2020-06-14
Rated

5

out of

5
by
Pau1008
from
Great Investment
I couldn't be so much happier with this car seat. My little one knocks out right away when he's on this car seat. It looks very comfy.
Date published: 2020-05-06
Rated

4

out of

5
by
MamaMag
from
Excellent except replacement parts
I absolutely love this car seat! I have recommended it to so many others, but I hate that I can't find the cup holder replacements. Some how our cup holders got lost and his cup constantly falls out and I can't find a place to order replacements for them.
Date published: 2020-04-15
Rated

5

out of

5
by
HappyGranny
from
Happy Baby, Happy Back, Happy Bank Account
I actually bought 2 of these about a month ago for my grand baby. One for my daughter's car and one for mine. My daughter wanted a $374 Britax, which prompted me to do a lot of research prior to purchasing this seat. I mean was it really that much safer or easier to use! I wanted safety for the baby and for mamá and me. I wanted something that would not hurt my back while trying to adjust the thing, especially while moving it from car to car. My husband wanted something comfortable for the baby, but he didn't want to break the bank. I also did not want to have to go out and buy another seat in a year. We looked at the Britax, the Graco and the Safety First seats. All can be used through several stages of growth. They all have good and bad points. But This is the answer! I love that it was made in the USA and in my home state of Ohio. I love that it was rollover tested and has side impact cushioning. The baby is so comfy. She used to cry every time she was in the car. Now she never cries! Something that makes her dad very happy. My favorite part is the easy installation! The ratchet makes it easy to snugly crank the seat securely in place without having to pull at the straps with the strength of Wonder Woman. So no back strain with this. My son-in-law calls this seat a Cadillac because it is so nice. My daughter says she'll never use a pumpkin car seat again, because this is the best! The price was perfect, and I was able to buy two seats for the price of the Britax! So we have a happy baby, happy back and happy bank account!
Date published: 2020-04-09
Rated

3

out of

5
by
catmom9842
from
Seems comfy, but cheap
My MIL bought this for my 8 month old daughter who absolutely hates her carrier car seat so I've been wanting to switch her to one of these. Once I figured everything out, it was easy to install. I have issues that it seems cheaply made, the straps got tangled when adjusting the height of the back, which I had to strip the covers to fix untangle. It's very expensive for how cheap it seems. But my baby seems comfy in it. Also, I don't like that I have to have it reclined to "2" and cannot recline it more to "3" for it to be level so the recline is almost pointless besides when switching to forward-facing.
Date published: 2020-04-09
Rated

2

out of

5
by
C Swanson
from
Loved it until I took apart to find the foam broke
Loved the ratchet system on this car seat. Loved the car seat. Felt my baby was safe. Until I took it apart to clean it and the foam is in 3 pieces. Tried to contact support as I found it this way on vacation only to find out their is no after hours support.
Date published: 2020-03-15