for children 5-110 lbs.
/ Birth to 8 years
Symphony™
Symphony Elite All-in-One Car Seat (Paramount)
Details
https://www.evenflo.com/car-seats/34611709.html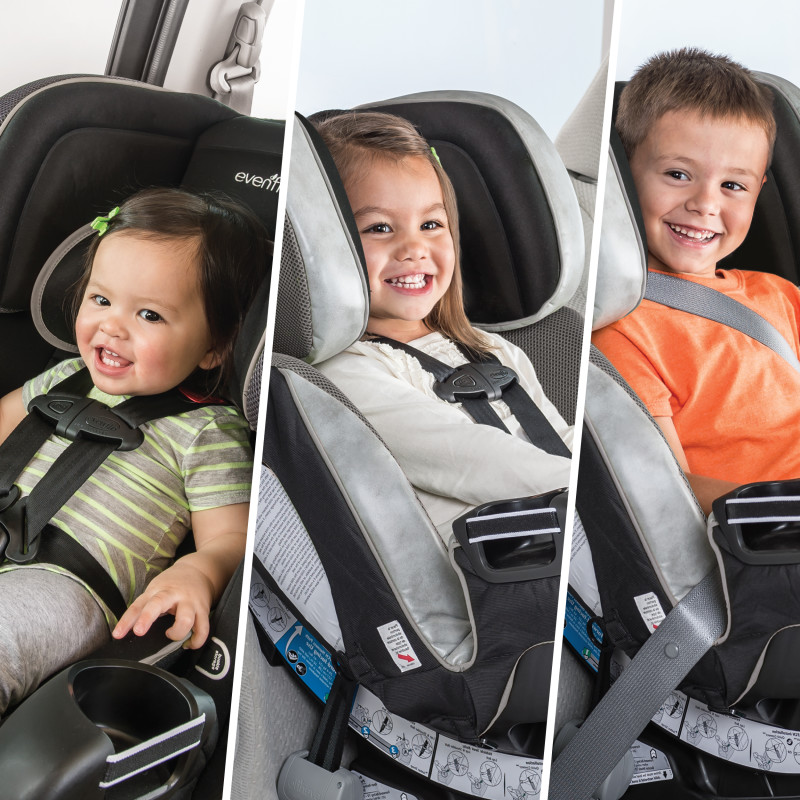 Years of Comfort and Safety.
The Evenflo Symphony Elite All-in-1 Convertible Car Seat now offers parents superior e3 Side Impact protection to keep their child safe alongside features that help make installation as easy as possible. This all-in-1 car seat accommodates children ranging from 5 to 110 lbs with the most innovation and value on the market. Symphony DLX provides exclusive safety features like SureLATCH technology; you simply click, click, push for a super-fast and super-snug installation in less than 60 seconds!
Why you'll love it
Rated a #1 Car Seat by a leading consumer magazine, the Symphony is an opus of car seat innovation.
3 Modes in 1 Seat: Accommodates children from 5 - 110 lbs – Rear Facing, Forward-Facing Harness and Belt-Positioning Booster
is...
For 100 years, Evenflo has been a trusted source children products
Made in the USA with US + Global Components
Dedicated to design and engineering of products for real-life
Supported by ParentLink Consumer Care via phone, email, chat and video
EXCELLENCE & VALUE:
Trusted by Millions of Families for Nearly a Century
Made in USA with US & Global Components
DOWNLOAD SYMPHONY USER MANUALS:
Peace of Mind:
Expiration: 8 years
Warranty: 90 days
Returns: 30 days
Product Details
Child Specs (5-110lbs)
REAR-FACING
Weight:

5 - 40 lbs. (2.3 - 18 kg.)

Height:

19 - 40 in. (48 - 102 cm.)

Fit:

Top of child's head is at least 1 in. (25 mm) below the top of the child restraint seat back.
FORWARD-FACING
Weight:

22 - 65 lbs. (10 - 29.4 kg.)

Height:

28 - 50 in. (71 - 127 cm.)

Age:

At least one year of age

Fit:

The tops of child's ears are below the top of the child restraint headrest.
SEAT BELT BOOSTER
Weight:

40 - 110 lbs. (18 - 49.8 kg.)

Height:

44 - 57 in. (112 - 145 cm.)

Age:

At least four years of age

Fit:

The tops of their ears are below the top of the child restraint.
Product & Shipping Specs
Dimensions:

19.5" High x 21.5" Wide x 28" Long

Product Weight:

Approximately 21 lbs. (9.53 kg)
Package Width:

20.875

Package Weight:

25

Package Depth:

20.875

Package Height:

27.625
Safety
Safety Testing
At Evenflo, we continue to go above and beyond government testing standards for car seats.
Side Impact Tested:Meets Evenflo's proprietary side impact standards.
Designed and tested for structural integrity at energy levels approximately 2X the federal crash test standard.
FMVSS 213: Federal Motor Vehicle Safety Standards for Child Restraint Systems
FMVSS 302: Federal Motor Vehicle Safety Standards for Flammability of Interior Materials
CMVSS 302: Canada Motor Vehicle Safety Standard
CMVSS 213: Canada Motor Vehicle Safety Standard
Certified For Use In Aircraft: When used with the internal 5-point harness this restraint meets FAA Inversion requirements for airplane use.
Evenflo Temperature Testing: All current Evenflo car seats are tested for product integrity at both high and low temperatures.
Use & Care
Use & Care
Read all instructions and warnings on the product, product labels, and instruction manuals before use. Consult your vehicle owner's manual to determine proper placement of child restraint in your vehicle and familiarize yourself with your vehicle's components.
Cleaning Instructions
DO NOT lubricate or immerse in water any part of this child restraint, unless rinsing is permitted
Plastic and metal parts may be wiped clean with mild soap and water and dried with a soft cloth. Do not use abrasive cleaners or solvents.
Take care not to damage any labels.
The harness can be wiped clean with mild soap and water. Allow harness to air dry.
Machine wash the seat pad separately in cold water, delicate cycle. Tumble dry 10 to 15 minutes on low heat.
Periodically inspect and clean the restraint's crotch buckle of food, liquids, and other debris to ensure proper latching. Place the buckle in a cup of warm water and gently agitate the buckle back and forth. Press the red button several times while the buckle is in the water. Do not submerge the harness strap. To avoid damage to the buckle, do not clean the buckle with soap or detergents and do not use a lubricant.
Symphony Sport All-in-One Convertible Car Seat
Extended use from birth to booster with the most innovation and value on the market. Symphony provides exclusive safety features and with Infinite Slide™ Harness easily slides for an accurate fit every time.
SYMPHONY ELITE PARAMOUNT
is rated out of
5
by
442
.
Rated

1

out of

5
by
Anonymous
from
Nice seat but not secure enough
Seat is not secure enough in the car. Will be sending back
Date published: 2020-11-01
Rated

5

out of

5
by
Anonymous
from
Simple to install!
The product is solid and easy to us. Most important, though, it is very easy to install.
Date published: 2020-09-28
Rated

5

out of

5
by
AudJ
from
Easiest installation ever
Installing and adjusting this car set with the LATCH system is a breeze. No pulling on straps and trying to squeeze yourself into the car. The ratchets just attach to the LATCH bars and you press down on the chair until the clicking stops. It's seriously so magical that we have actually uninstalled it to show a few friends. Yes, we are complete parenting nerds...
Date published: 2020-08-24
Rated

1

out of

5
by
Kbowers
from
Car Seat is Horrible!!!!
I I made the mistake and got rid of our Evenflo Safemax, after 3 years and potty training, it had seen better days. However, I would take it back it a heartbeat to get rid of the Evenflo Symphony Elite that I replaced it with. I know it would be a slight downgrade based on price but I had no idea how much of a downgrade. 1. DD complains constantly how it hurts from being too hard. It hardly has any padding. Our backup seat in dads car is softer and was, less expensive. 2. The fabric is so cheap and does not clean up easily and it seems that every little drop or dirt sticks. 3. Very lightweight and flimsy in comparison to the other. I really don't think it would offer the same protection in an accident as the other. 4. The headrest is flimsy and RATTLES, OMG, how it rattles. If my daughter is not in the seat it is so noisy it will throw my anxiety into overdrive. I have now stuffed hand towels around it to kill the noise. It looks tacky and I'm not sure if that affect the safety but it seems so loose now that I cannot say it would offer any safety. I hate that unless you spend a fortune you get subpar gear for your babies. Not that the $200+ is exactly cheap. Like I said, I didn't think I was gong to get the garbage that I got. I am now in the market for a new seat!!!!
Date published: 2020-08-21
Rated

5

out of

5
by
Onyx
from
Satisfied
Baby is comfortable and safe. Easy to install. Would recommend to friends. Easy to shop for on evenflo site
Date published: 2020-08-02
Rated

4

out of

5
by
tinad203
from
great quality and functionality
I had an evenflo car seat 10+ years ago that I used with my first child and I LOVED it. So with my daughter I again wanted an evenflo car seat. The all in one car seats are fairly new to me, they weren't a thing with my first. I LOVE the idea of only needing to purchase one car seat that will grow with my child. This car seat definitely feels comfortable, it has an adequate amount of padding, and my daughter fits snuggly in the seat. The straps are easily adjustable to ensure a snug fit. INSTALLATION: the new easy latch system makes installation a breeze. I used to have a really hard time getting a secure fit with older car seats where no matter how hard I tried, the seat would still wiggle. The secure latch system makes it quick and SO EASY, and this seat doesn't budge at all in my car after installation. Gone are the days of sweating and fighting with the base, pushing on the seat and pulling on the belt to try and get a tighter fit. DISLIKES: 1) I wish it had a level on the side like most other carseats to further ensure a proper installation. 2) This car seat it pretty big/wide so it would not be a good option for someone who needs to fit more than one car seat in their car. I drive a midsize SUV, and I wouldn't put more than one in a row. 3) cleaning the car seat is difficult the regular cover/cushion comes off to clean but I couldn't get the car seat straps off to clean them. I couldn't clean them as well as I needed/wanted to without removing them, I could only wipe them down the best I could. My daughter is now 3 1/2yo and this car seat has held up fantastic! I am expecting my 3rd child next month and will be purchasing another soon! All in all, this is a great car-seat and I would highly recommend.
Date published: 2020-07-29
Rated

5

out of

5
by
Chayanne
from
I like it
It feels very sturdy and secure. Love the thick padding on the headrest
Date published: 2020-07-17
Rated

5

out of

5
by
Anonymous
from
Perfect
Perfect all around! Got it for my 8 month old and its beyond easy!
Date published: 2020-07-17