Regular price
Sale price
$429.99
Unit price
per
Sale
Sold out
Color
View full details
Child Fit - Rear Facing
Weight: 4.0 - 50.0 lbs
Height: 17.0 - 48.0 in

Child Fit - Forward Facing
Weight: 22 - 65 lbs
Height: 28 - 49 in

Child Fit - Booster
Weight: 40 - 120 lbs
Height: 44 - 57 in

Product Dimensions
Assembled: 19.8" W x 25.9" H x 21.0" D
Package: 23.0" W x 27.63" H x 20.88" D

Modes of Use
Rear-Facing
Forward-Facing
High-Back Booster Sensorsafe

Specs
360 Rotation
Latch or Seat Belt Installation
Steel Reinforced
Sensorsafe


Protect with Extended Rear-Facing Use
The revolution just got extended! The Evenflo® Gold Revolve360TM Extend All-in-One Rotational Car Seat with SensorSafe™ offers the extended security of rear-facing all the way up to 50 lb. Child safety experts say the longer your child remains rear-facing, the better, and the Revolve360 Extend is here to help with peace of mind all the way around. A spin-off of the Revolve360, America's bestselling rotating car seat, the Revolve360 Extend offers one-hand, 360° rotation that makes it easy to get your child in and out of the car. The Evenflo Gold Revolve360 Extend will also help put your mind at ease when it comes to child car seat safety, featuring SensorSafe to connect you to your little one from the backseat.
Features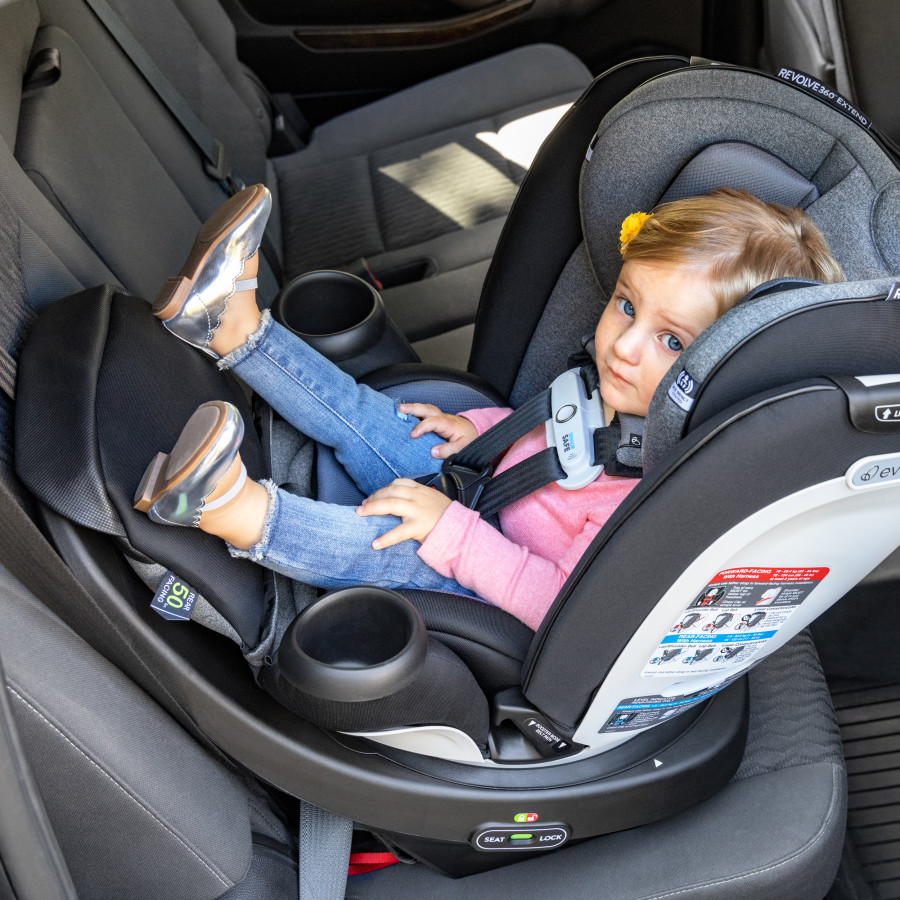 PROTECT WITH EXTENDED REAR-FACING USE: Allows you to keep your child rear-facing longer as recommended by child safety experts — all the way up to 50 lb.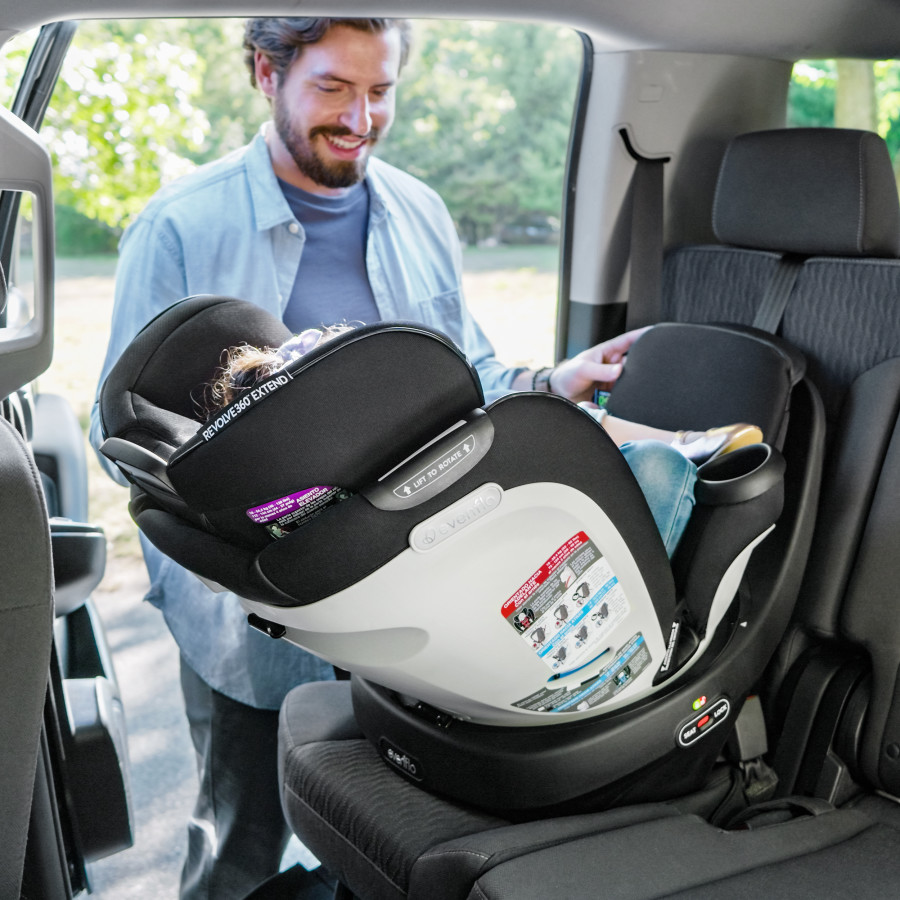 GET IN AND OUT EFFORTLESSLY: One-hand, 360° rotation makes it a breeze to get your child in and out of the car — an award-winning innovation that keeps on giving!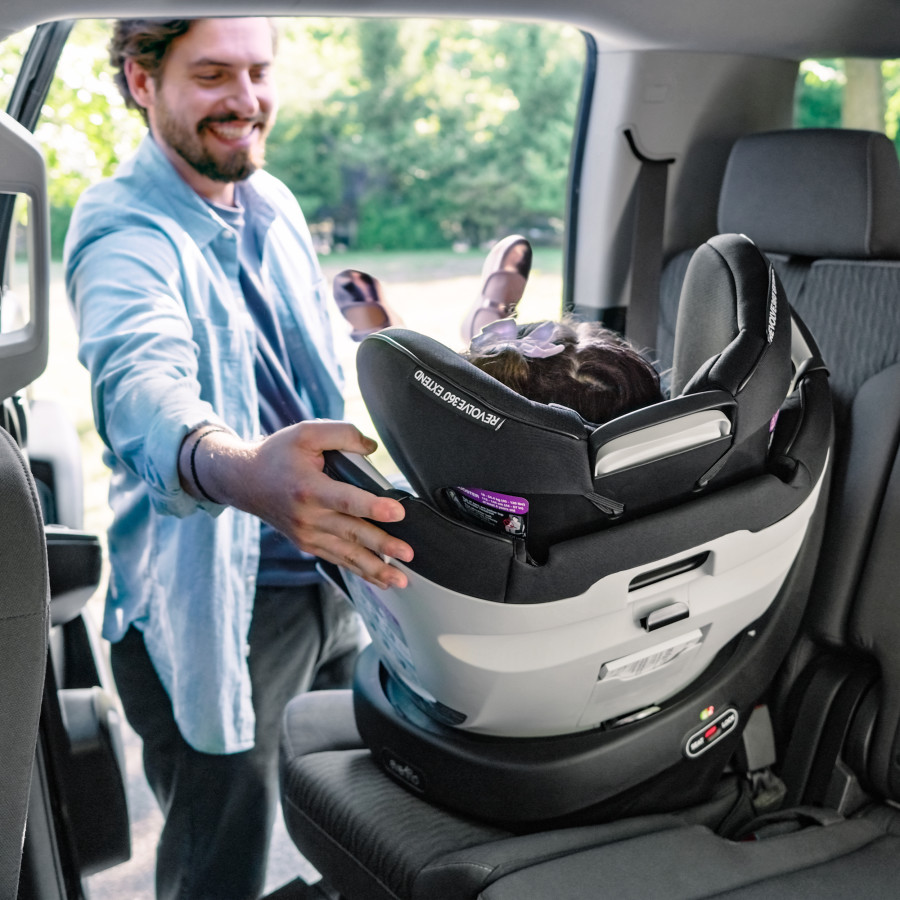 GROW UP WITH IT: Grows with your child providing 3 modes of use that adapt to every stage — rear-facing (4 to 50 lb), forward-facing (22 to 65 lb) and booster (40 to 120 lb)
CONNECT TO YOUR CHILD WITH SENSORSAFE: Provides real-time alerts to four potentially unsafe conditions from your child's car seat — unexpected chest clip unbuckling, temperature too hot or too cold, child unattended, and child seated too long
Q. What is the lifespan of the seat?

The Revolve360™ Extend has a 10-year expiration from the date of manufacture. The specific expiration date is listed on the date and model label on the product.
Q. How much does the Revolve360 Extend weigh?
Q. How many buckle positions are on the Revolve360TM Extend and are there any restrictions based on the mode of use?

The Revolve360TM Extend has three buckle positions to help fit your growing child. You can use any of the three positions in either rear-facing or forward-facing harnessed mode. You should use the position that places the buckle closest to, but not underneath, your child.
Q. Does this come with a vehicle seat protector mat?

No, but we do have an accessory mat available at evenflo.com. You can also place a towel beneath and behind the car seat to help protect your vehicle
Q. Does the Revolve360TM Extend include a base?

Yes, the Revolve360TM Extend consists of a seat shell and base. The seat shell is removable to ensure an easy installation of the base to the vehicle. The seat shell and base must be used together as a system.
Free Video Chat Support
Need some real-time help? Schedule a live video call with us and we'll walk you through.
Book Now
Peace Of Mind
Being a parent has enough stress as it is, that's why we can assure you that we can give you as much time as you need.
Limited Lifetime Warranty
Supported by ParentLink Consumer Care via chat and email
Chat
EMAIL
No time to chat?
Email us
your inquiry
I love Evenflo's approach to incorporating tech into car seats; innovating without compromising on safety. I love that I can drive with confidence knowing my child is safe and secure thanks to the physical properties of the chair as well as the SensorSafe system. I couldn't ask for more.
Benefits of shopping evenflo.com