Walk Thru™
Barn Door Walk-Thru Gate (Farmhouse Collection)
$89.99
$80.49
This item is currently not available.
Details
https://www.evenflo.com/gates/4461000.html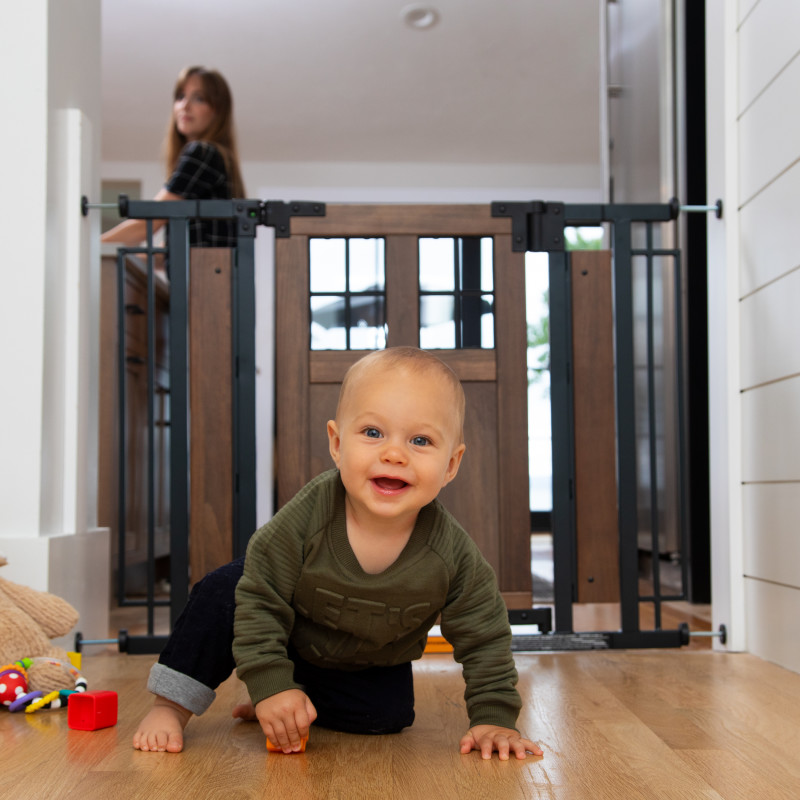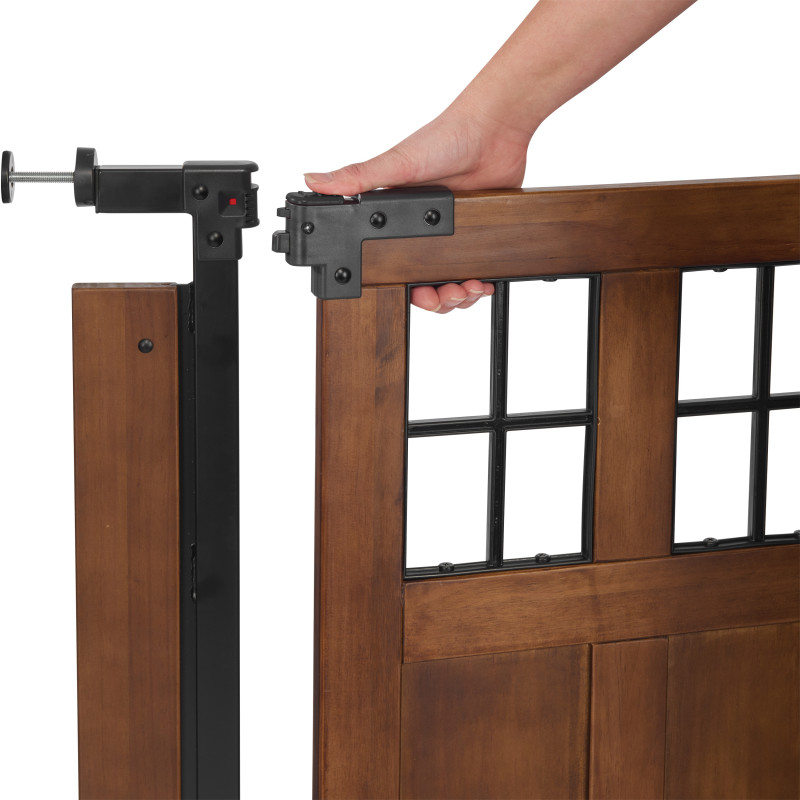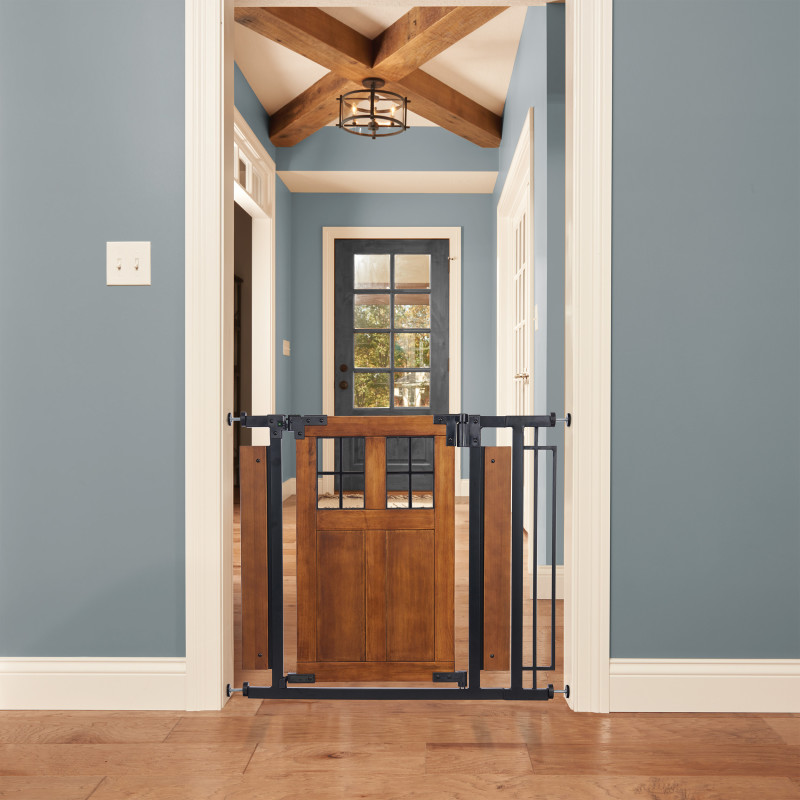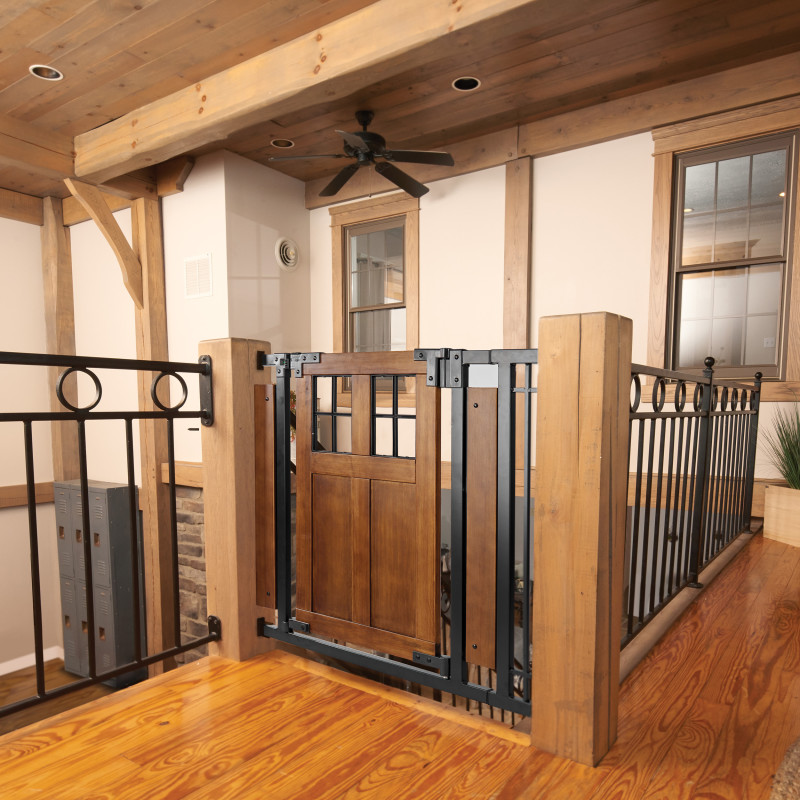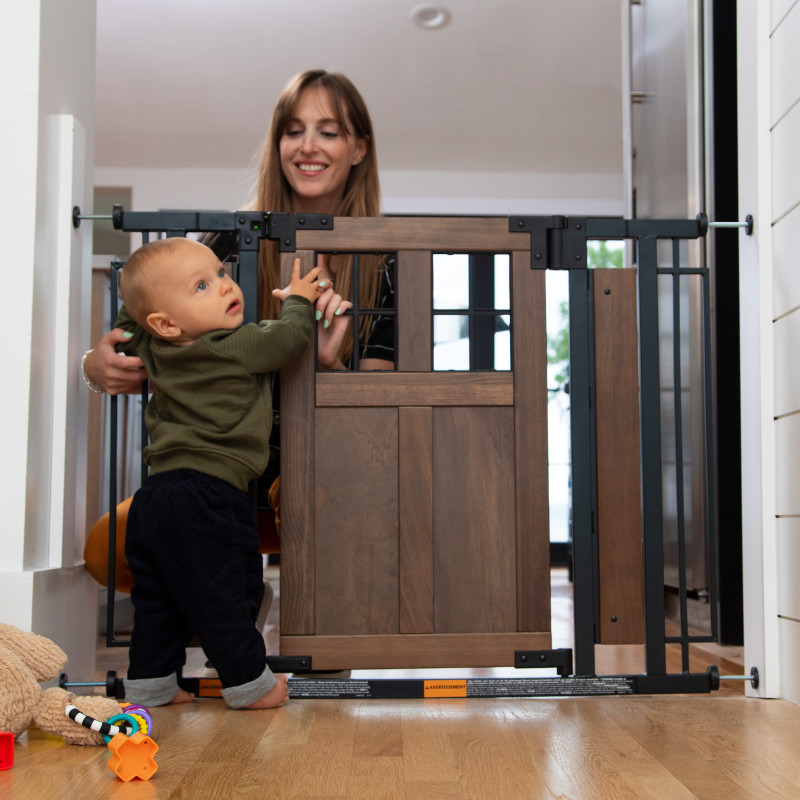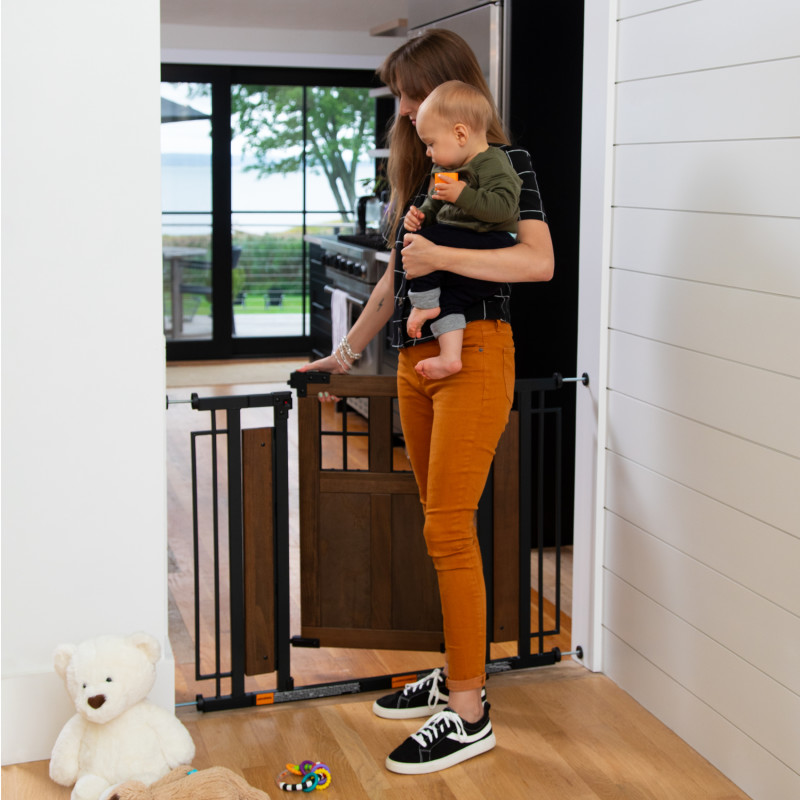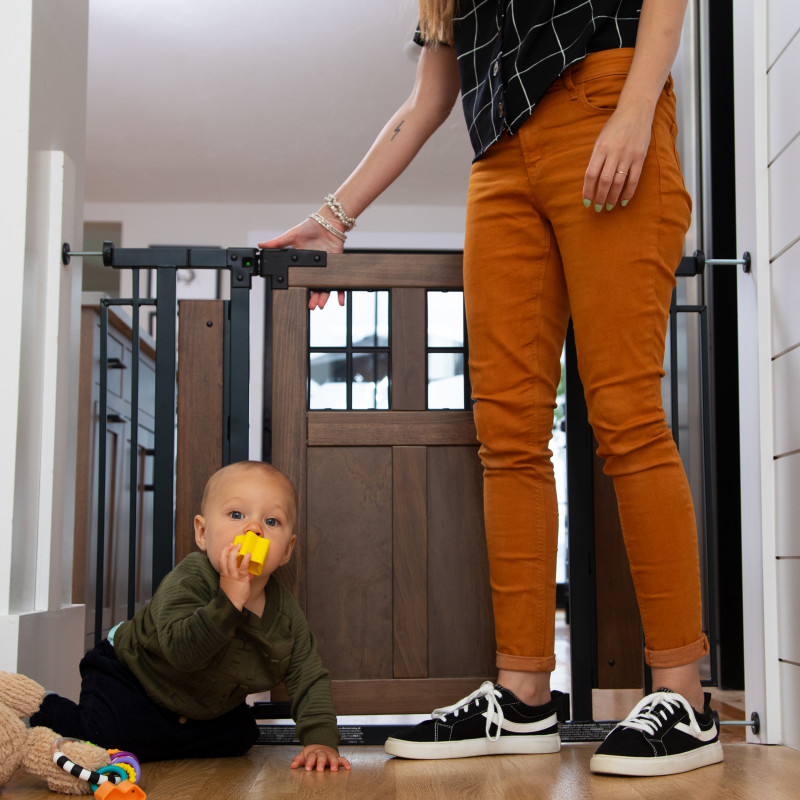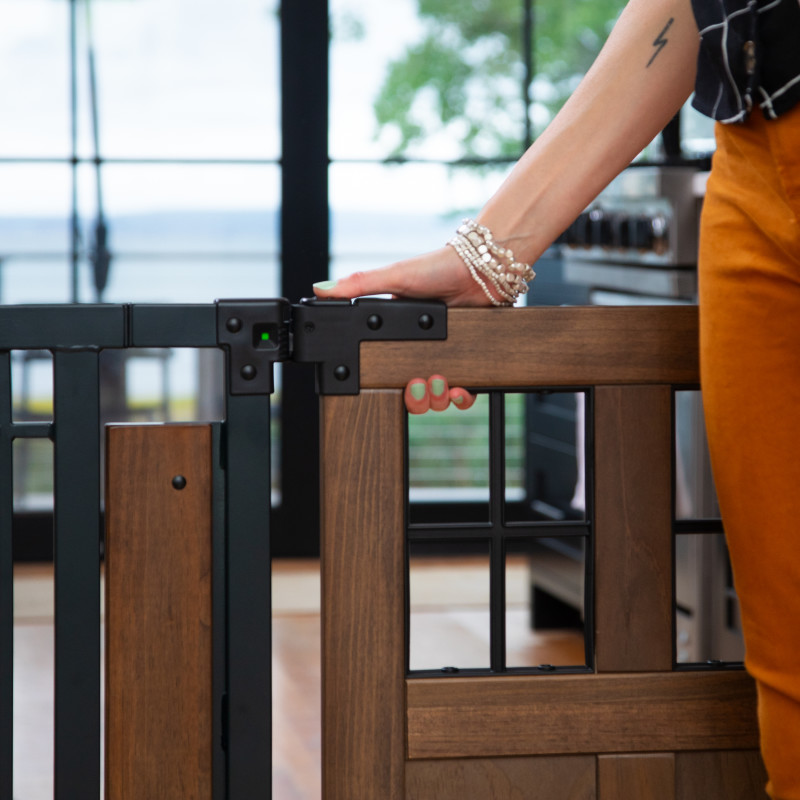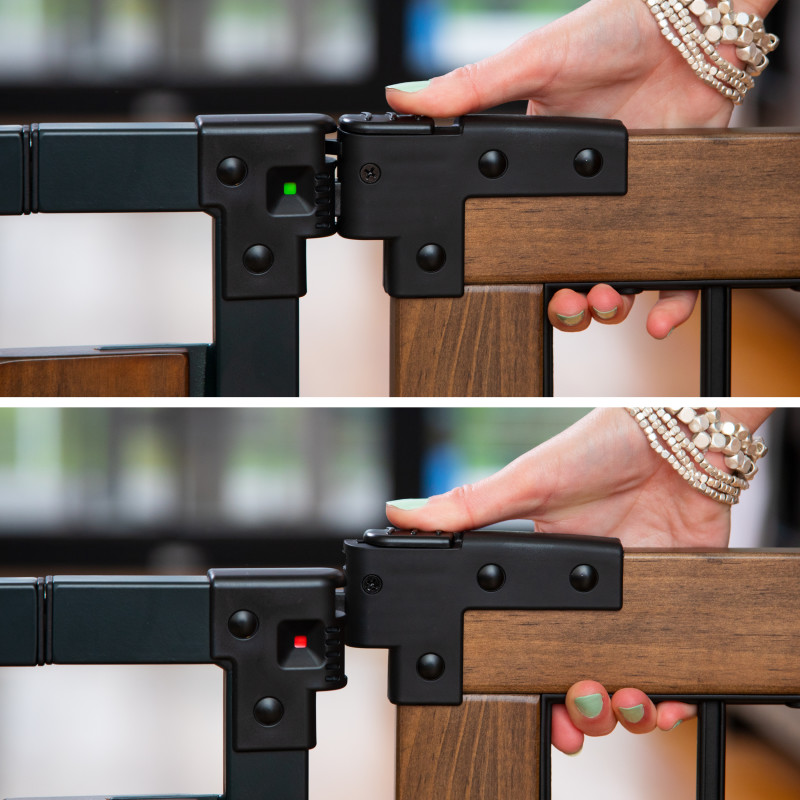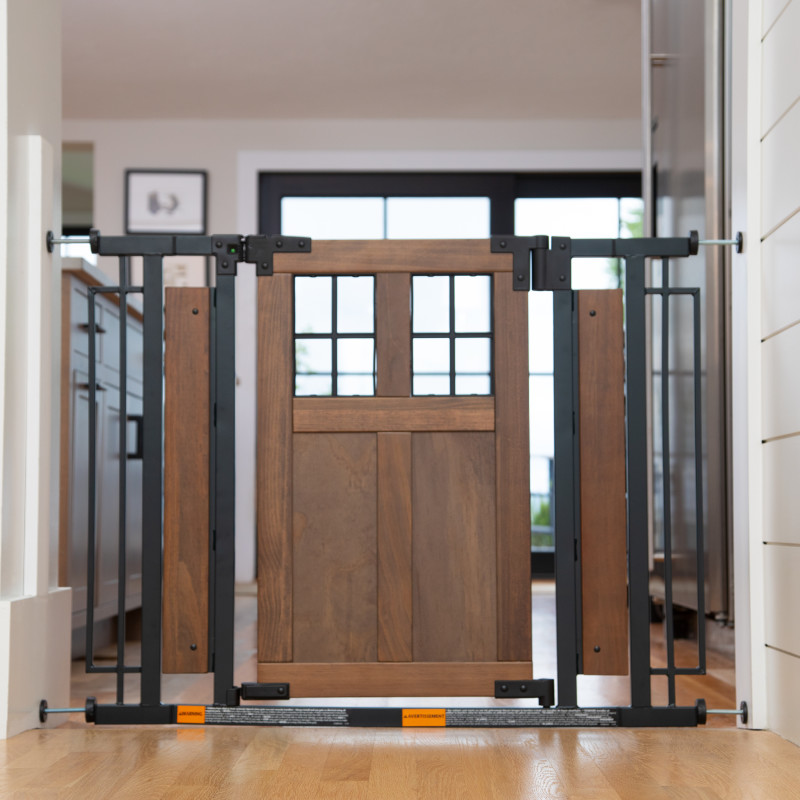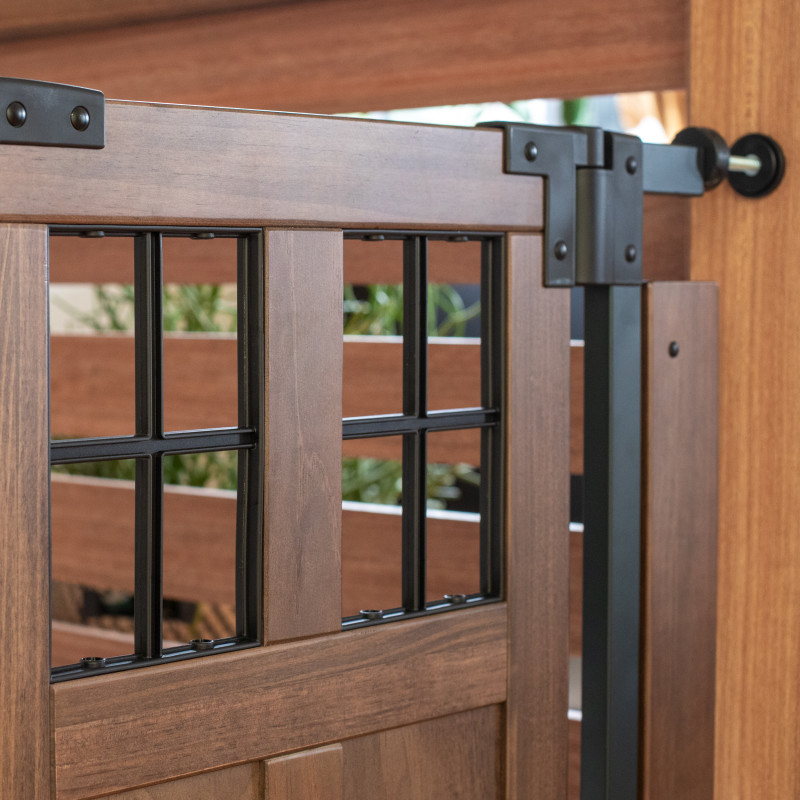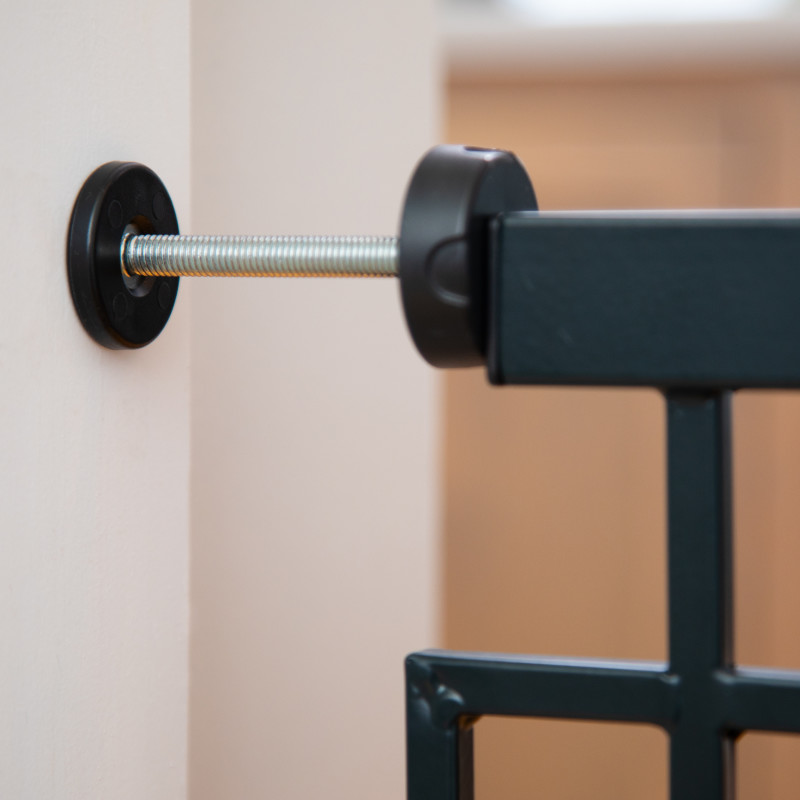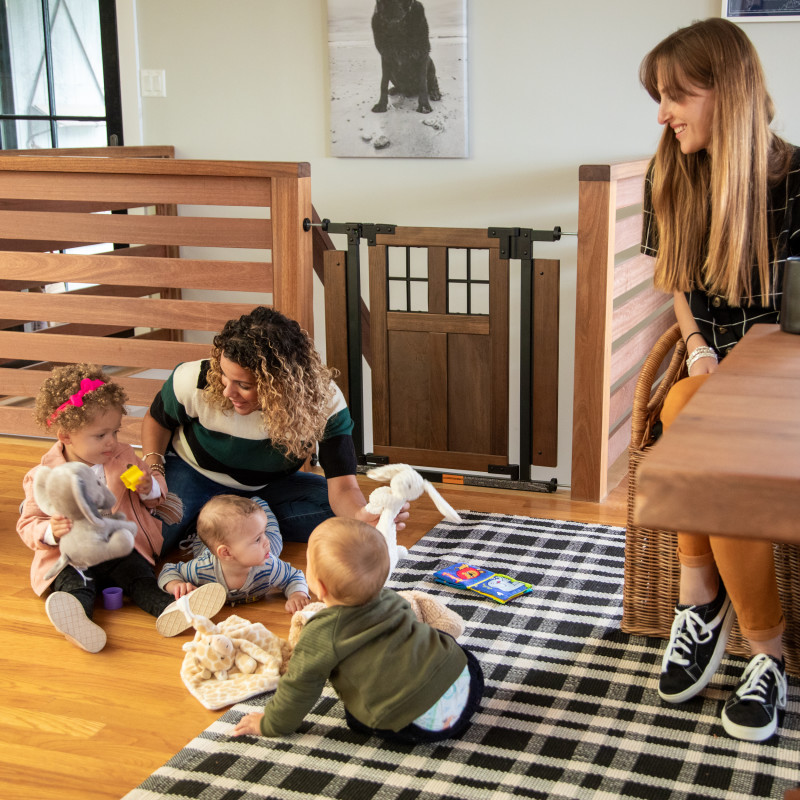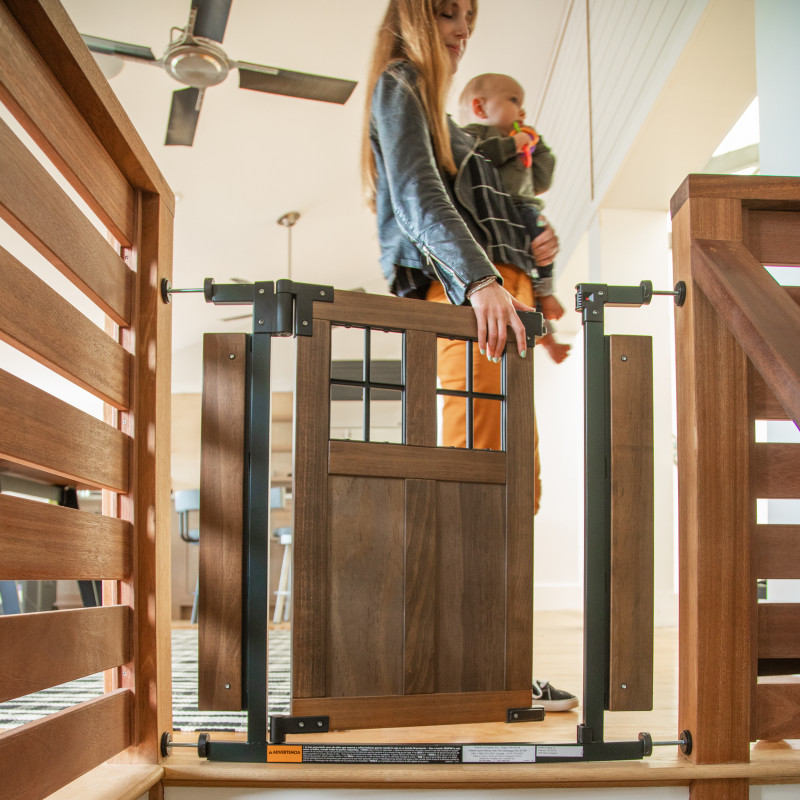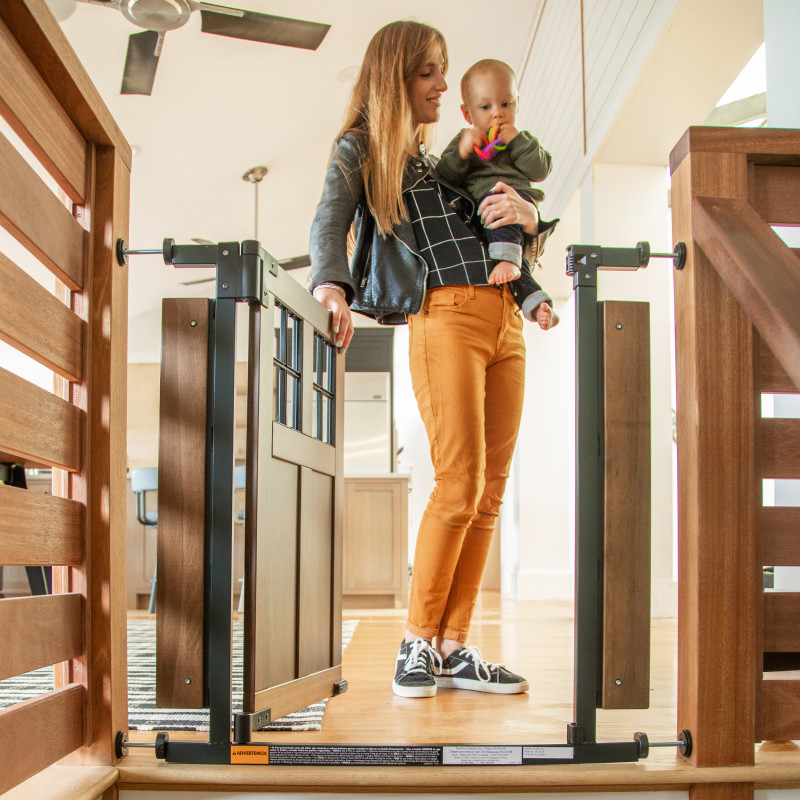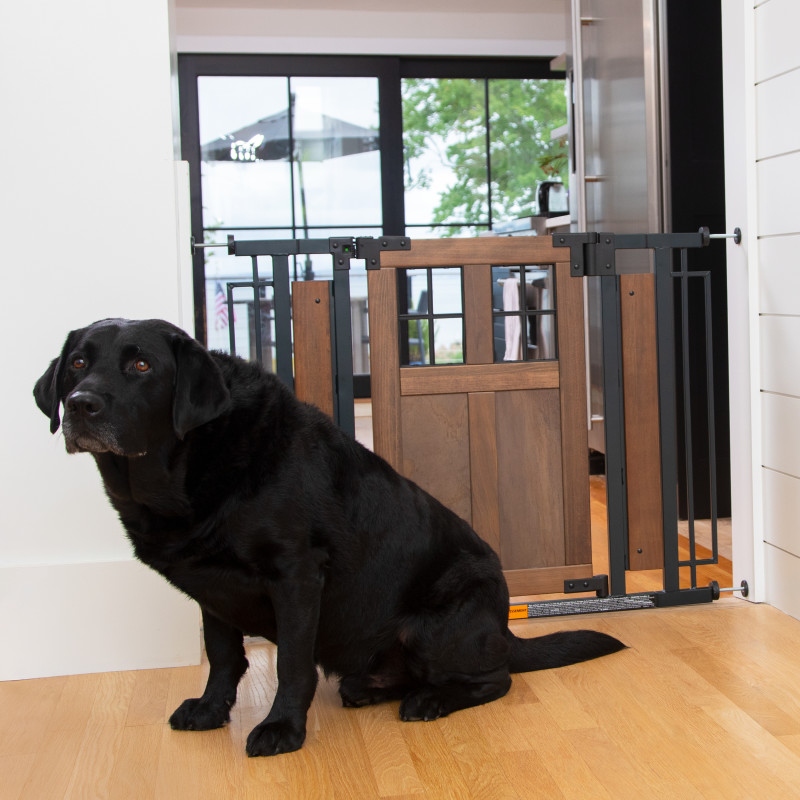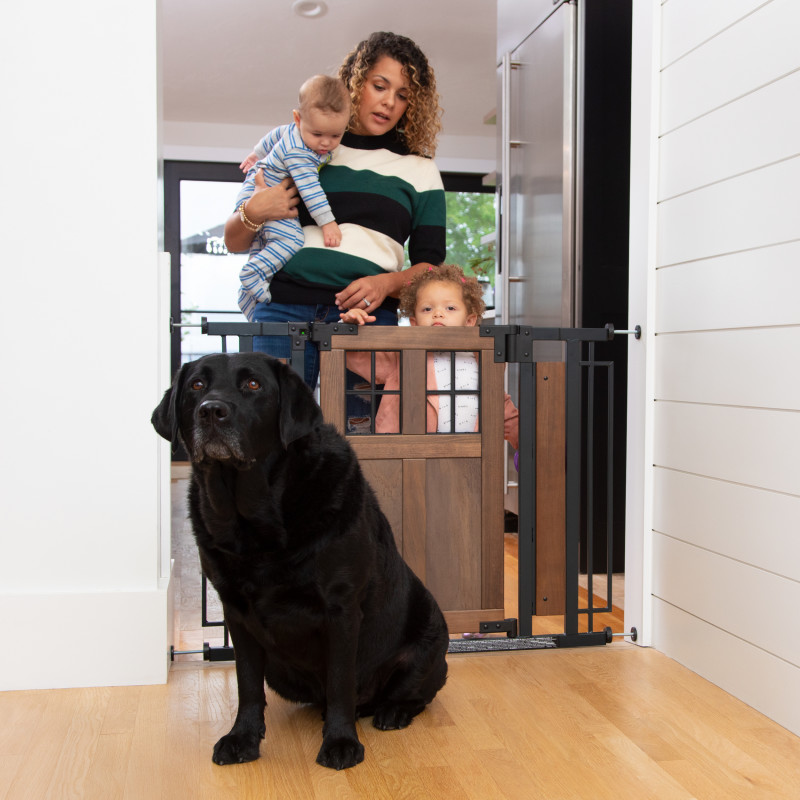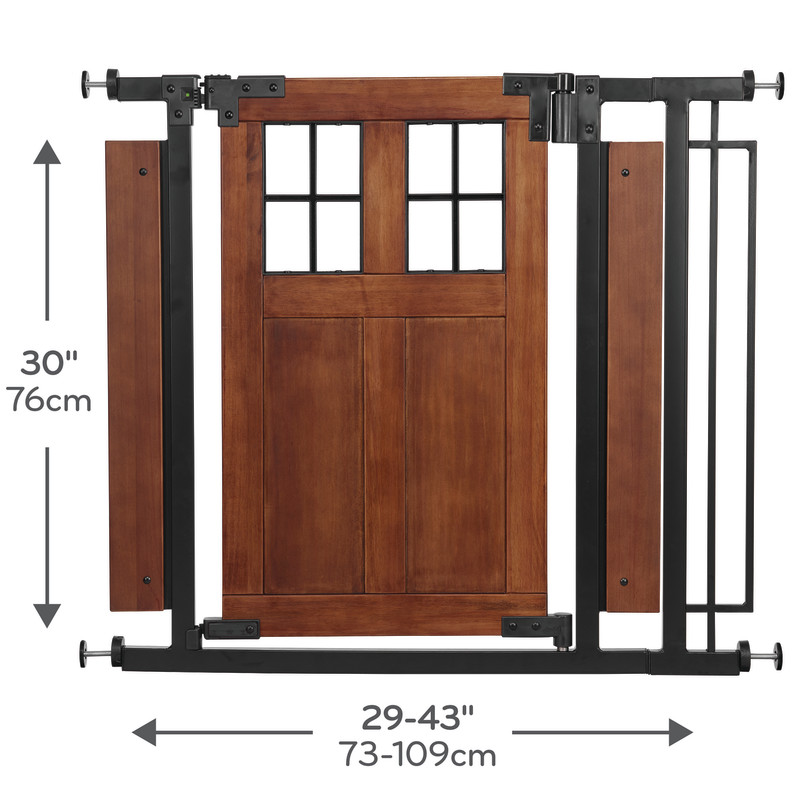 From Texas farmhouse to urban apartment, function meets style with the Barn Door Walk-Thru Safety Gate. This essential child safety item has a rustic, contemporary fashion to compliment your home. With coffee in one hand, you can easily swing into action using the one-handed latch to open the gate. The option to pressure mount or hard mount means you can use it virtually anywhere–even those really wide spaces. The one-hand latch is simple for adults to use, but not simple enough for a baby or pet to escape. And the farmhouse aesthetic will fit seamlessly into your home décor. The Barn Door Walk-Thru Safety Gate provides the protection a child needs and the look you'll love.
Why you'll love it
Features:
30" tall; fits openings 29"-43" wide
Beautiful wood and sleek black finish to suite your style
Door swings open with one hand
Quiet auto-close hinge that won't startle baby
Stair stopper can be used to restrict door from swinging over steps when used at top of stairs
Red and green color indicator lets you know if it's locked properly
Hardware-mount for security at top of stairs
Pressure-mount for a quick install in doorways or bottom of stairs
Hardware kit included
Product Details
Child Specs
Product & Shipping Specs
Package Width:

29.5

Package Weight:

20

Package Depth:

2.75

Package Height:

31.25
BARN DOOR WALK THRU GATE
is rated out of
5
by
40
.
Rated

1

out of

5
by
frustrated_mama
from
Bad Batch of Gates
I received this gate with 2 defects that made it unusable so I sent it back and they sent a replacement. The replacement had a defect rendering it unserviceable as well. After two gates in a row that had a similar defect, I opted for a refund and bought a different gate. Both defected gates were manufactured 10/10/2019 and were model number 4461000. The website will not allow me to upload photos with this review to show the defects...convenient...but basically the corners of the gate where the pegs go in are not squared off so the extender pieces cannot be attached to the gate. Two gates in a row with the same problem...hopefully other customers get working gates from a different batch! Other than that, the gate seems pretty good - not quite as nice in person as it looks in the photos (the "windows" for instance are plastic and the screws were falling out of mine so I would have had to fix those as well). I don't know how smoothly it opens or closes because we couldn't ever install it but the latch does not rest well under a thumb and seems like it would be harder to open than my other baby gates. Customer service says they are processing a full refund but I have not received it yet. They were unable to replace with a cheaper gate and refund me the difference so that company policy is lacking in my opinion because now I have to place a separate order and pay for another shipment all due to a series of defects out of my control. Oh, and they couldn't send me a 3rd gate in this style because they are now temporarily out of stock. C'mon Evenflo! Help a mama out here!
Date published: 2020-07-01
Rated

1

out of

5
by
Jo16
from
Adjustment bumpers don't fit!!
The gate is pretty but the adjustment bumpers don't screw into the side of the gate so we are unable to put it up! The bumpers just move in and out so there is no tension... if we have tension bumpers that screw in the gate would be fabulous. Did anyone have this issue?
Date published: 2020-05-31
Rated

5

out of

5
by
Jen42
from
Great gate and very pretty
I love this gate but a adult friend didn't know how to open it and instead of asking pulled so hard on wrong end he broke it ... I need a replacement part....help
Date published: 2020-02-23
Rated

5

out of

5
by
Andrea Joy
from
Exceeds my expectations!
This gate has exceeded my expectations. I love that it automatically closes behind me! We have it placed at an awkward spot going up our stairs, and I was worried it would not be able to work there due to the staircase railing... but it does! It's beautiful for the entrance of our home, functional, and durable. You can't ask for more from a baby gate!
Date published: 2019-10-03
Rated

5

out of

5
by
AHix27
from
Farmhouse gate
We've had this gate for a couple of months. It was easy to install. It's so easy to use. It's great to keep kids in, keep dogs out. The one handed operation is fantastic when you have your hands full! It's heavy duty and very well designed. I LOVE the barn door look! It goes so well with my farmhouse chic, home decor!
Date published: 2019-10-03
Rated

5

out of

5
by
Rachel Thrush
from
Stylish, well-built gate
I have been using this gate for about a month at the bottom of our stairs. I love that you can add one or two panels to make it wider and it's super easy to setup! The gate is just complex enough to open that my two year old cannot do it, which is great! And I love that it closes behind me and latches automatically! The included adhesives were perfect for me, and no hardware to put holes in your woodwork!
Date published: 2019-09-28
Rated

5

out of

5
by
Neatkids
from
Excellent Product!
We needed a gate to keep kiddos and pets from going down our stairs and we struggled to find a gate wide enough and sturdy enough to meet our needs. The stylish gate not only looks great, it also provides us with the added safety we needed. The walk through gate is easy to operate with one hand and the installation was simple! We could not be happier with this product!
Date published: 2019-09-25
Rated

5

out of

5
by
Akrabbe01
from
Beautiful gate!
Installed gate within minutes. Love that can open both ways. It is so much easier for my older kids to open and close. Love that it will automatically close, even if my older kids forget to close it. Looks so much nicer than my previous boring white gate. Very sturdy and heavy-duty. Has a red to green guide that lets you know you have enough tension when installing. Only thing I'm unsure about is the tension rods don't have the rubber endings for extra grip. These appear to be holding tight but only time will tell. And you can always mount them too for extra hold. Might have to get another one to replace my other ugly white one on our stairway!
Date published: 2019-08-20