Pivot Xplore™
Pivot Xplore All-Terrain Stroller Wagon (Adventurer)
Details
https://www.evenflo.com/stroller-wagon/19132343.html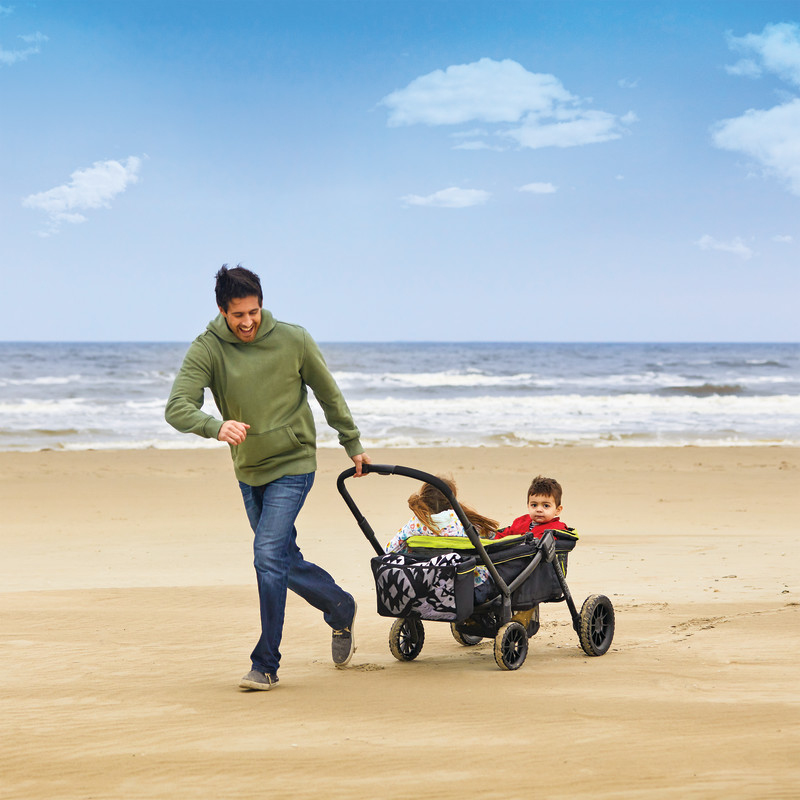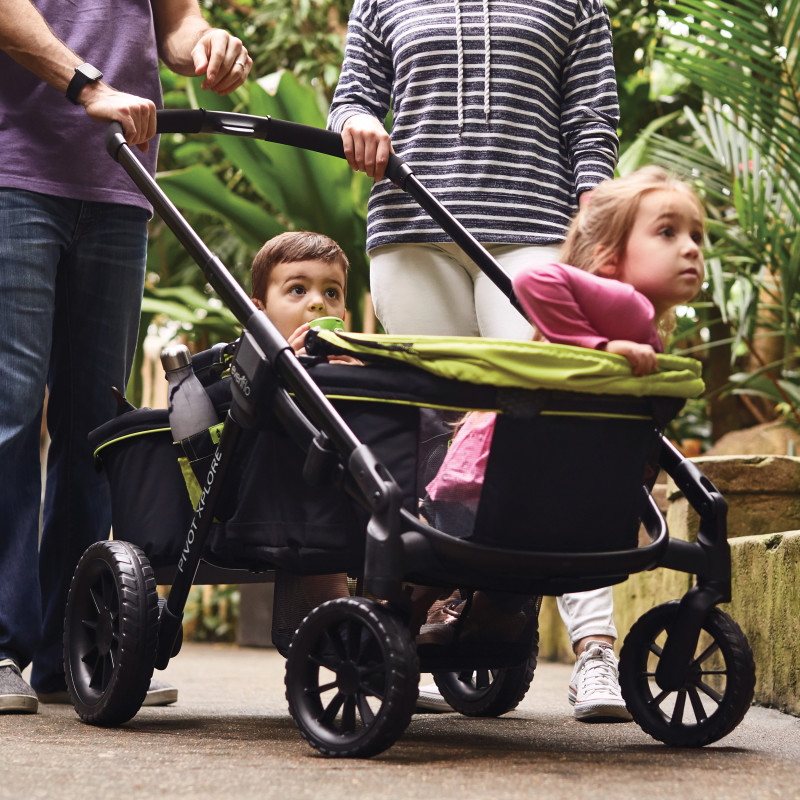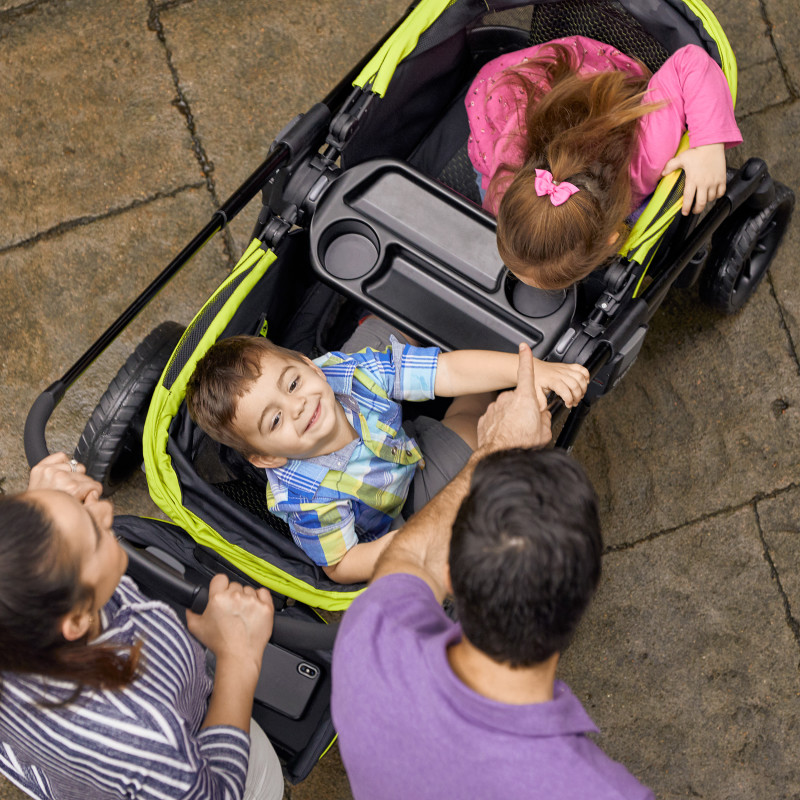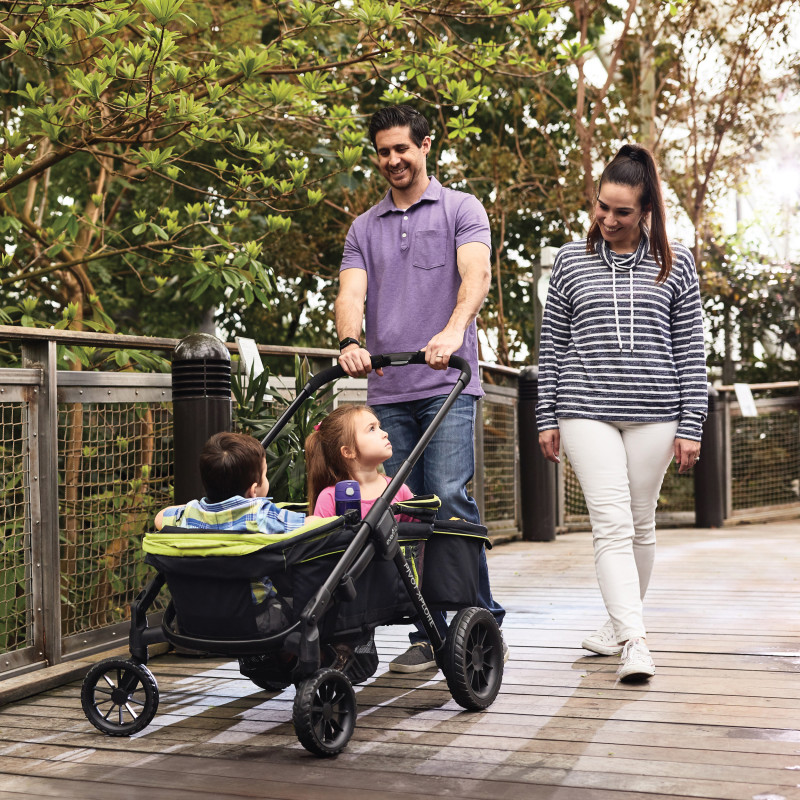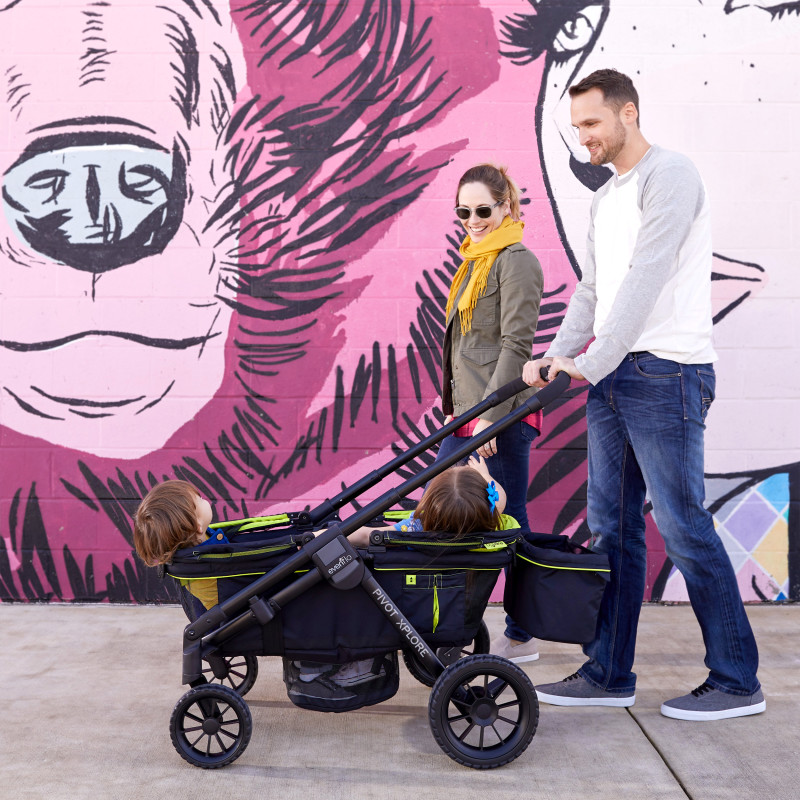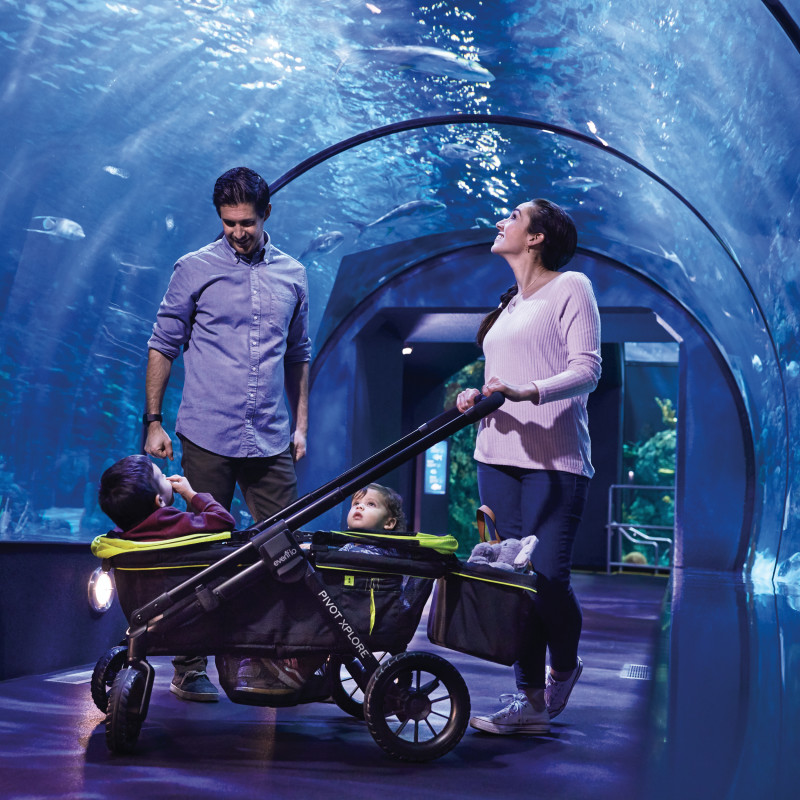 PILE IN. XPLORE MORE. PUSH PULL PLAY.
Meet the new, ultimate ride-share stroller, Pivot Xplore™All-Terrain Stroller Wagon. This new riding experience provides extended use by accommodating 1 or 2 kids up to 5 years old. The Pivot Xplore easily transforms from a stroller to a wagon by flipping the handle. This gives parents the ability to push as a stroller, or pull as a wagon. Pile all your stuff in and ride on out! Each seat holds a child up to 55 lbs., 120 lbs. total with storage.
Why you'll love it
From playground adventures to weekend getaways, the Pivot Xplore All-Terrain Double Stroller Wagon from Evenflo helps you tote around your kiddo in comfortable style.
This new riding experience gives parents and kids extended use by accommodating 1 or 2 kids up to 5 years!
is...
For 100 years, Evenflo has been a trusted source children products
Committed to the safety, wellbeing, and development of children.
Dedicated to design and engineering of products for real-life
Supported by ParentLink Consumer Care via phone, email, chat and video
Peace of Mind:
Expiration: 10 years
Warranty: 90 Days
Returns: 30 days
Product Details
Child Specs
Product & Shipping Specs
Package Width:

22.875

Package Weight:

40

Package Depth:

14.5

Package Height:

32.5
Pivot Xplore All-Terrain Stroller Wagon
Whether heading to the park or the beach, the Pivot Xplore™ All-Terrain Stroller Wagon is the ultimate joy ride. With two kids in tow, you can flip from a stroller to a wagon, giving you the ability to push or pull on your next adventure.
PIVOT XPLORE STROLLER ADVENTUR
is rated out of
5
by
216
.
Rated

5

out of

5
by
Anonymous
from
Great for mom of 2 under 2
This is PERFECT for my 2 year old and 9 month old! My two year old can see so much more and is more likely to be okay with riding in it than the double stroller. My 9 month old is also much more tolerant as she can see me while riding in it.
Date published: 2020-10-20
Rated

5

out of

5
by
Anonymous
from
Great for off road, lots of space
Very good on difficult terrain, folds pretty small, easy to turn etc. Only thing that isn't well visible if bought online is that the material of the bottoms is a sort of vinyl and not hard material. But I love my stroller and it fits a lot!
Date published: 2020-10-14
Rated

5

out of

5
by
Anonymous
from
Game changer
As a twin toddler mom, I've found this to be a game changer. It's eliminated the need for other strollers and we can even take it to the beach! Downside: not for tall ppl as the handle doesn't extend far and there isn't a travel bag. Otherwise it's perfect for all of our adventures.
Date published: 2020-10-07
Rated

5

out of

5
by
Anonymous
from
Best Wagon Ever!
We love our wagon stroller! I researched wagons for months and finally decided on the Evenflo Pivot Xplore. I can say with complete confidence that we made the right choice. It rides smoothly, has a great storage basket, great versatility and my son loves to sit in it. We love to go on adventures with out Evenflo Pivot Xplore wagon! We highly recommend it.
Date published: 2020-10-06
Rated

5

out of

5
by
Anonymous
from
Amazing!!
Everything about the wagon is amazing! I myself am almost 5'9" and my 6'4" husband can push this with ease without slouching or bending. I love the functionality of all of its pieces and the basket attachment holds all you need and more. The only function I wish this unit had would be the option to collapse the feet holder so the whole wagon could be flush to lay down a baby. Aside from that this is 10/10!
Date published: 2020-10-04
Rated

4

out of

5
by
AlyRC
from
Great except for two things...
We bought this in early spring 2020 in anticipation of the coming warm weather and hopes for plenty of outdoor activities. We love the versatility that it gives in terms of switching from push stroller to pull wagon, our kids love it. My two complaints are this: 1. The wheels, I would not call these "all terrain tires". Tires would in fact be better for all terrains. we have to be very choosy about which activities we bring this in because the wheels DO get caught on certain materials, like uneven grass, pebbles, gravel, and I would imagine very loose sand. My second complaint is that when the wheels do get caught and the stroller comes to an abrupt stop the handle bar collapses, all of my children, on one occasion or another, have been sacked on top of the head by the collapsing handle bar. It's as if the silver locking mechanism is weak, or too small, or just cheap and faulty. Anyway, I'm hoping that actual tires will become an option so I can replace the less than great wheels that are currently on it. I'm not sure what to do about the handle bar. I would recommend this stroller because of the wagon to stroller transition but I would warn about the issues we've had with it. Especially because it is quite an investment.
Date published: 2020-10-03
Rated

4

out of

5
by
Anonymous
from
Get one!
It's awesome, the off road ability, easy stow & durability are all highlights. The wagon option is great as well. My kids love it
Date published: 2020-10-02
Rated

4

out of

5
by
Anonymous
from
weekend stroller
Pros: great for outtings and hiking trails. It is easy to maneuver and seems durable, good tires cons: big size even when folding, not good for sleepy children I have used this walking around my neighborhood, walking trails, beach, park... it is great but I would not use it for everyday use. It's more like my weekend stroller and kids love it.
Date published: 2020-09-30