for children 4-50 lbs.
/ birth to 5 years
Sibby™
Sibby™ Travel System with LiteMax 35 Infant Car Seat (Charcoal)
Details
https://www.evenflo.com/travel-systems/sibby/56231975.html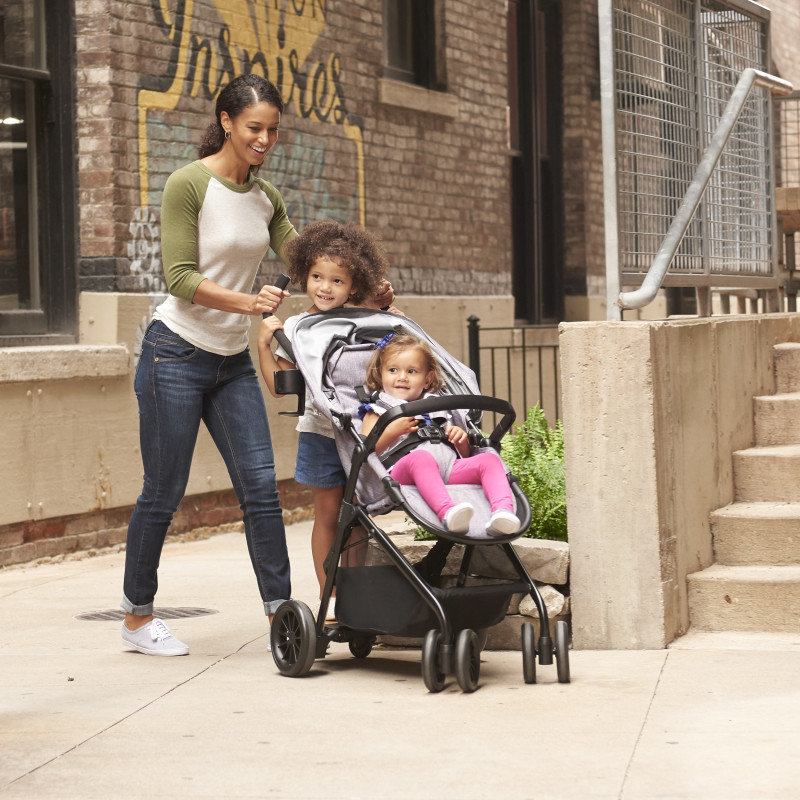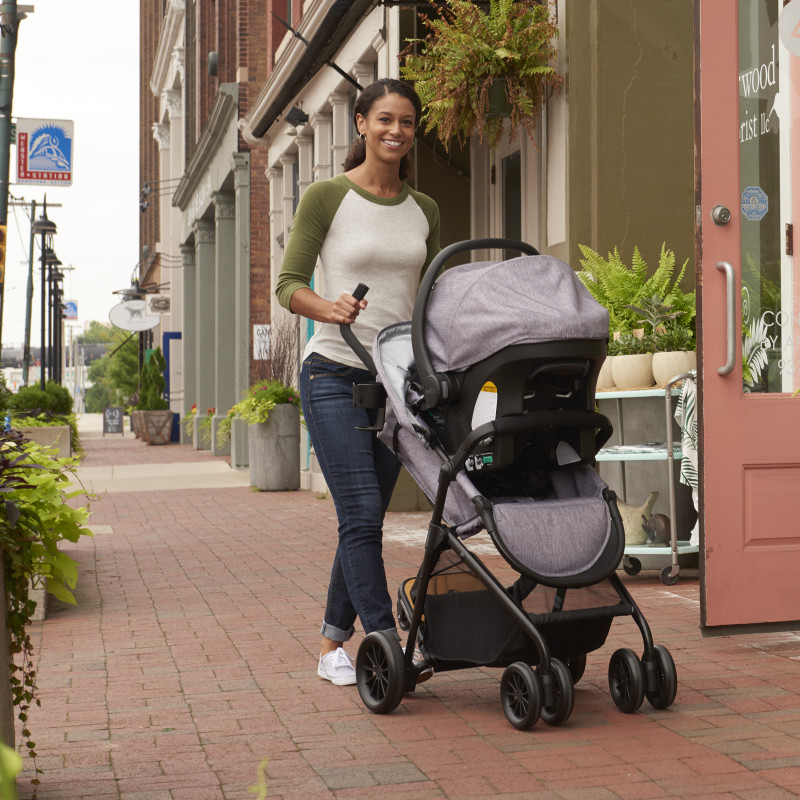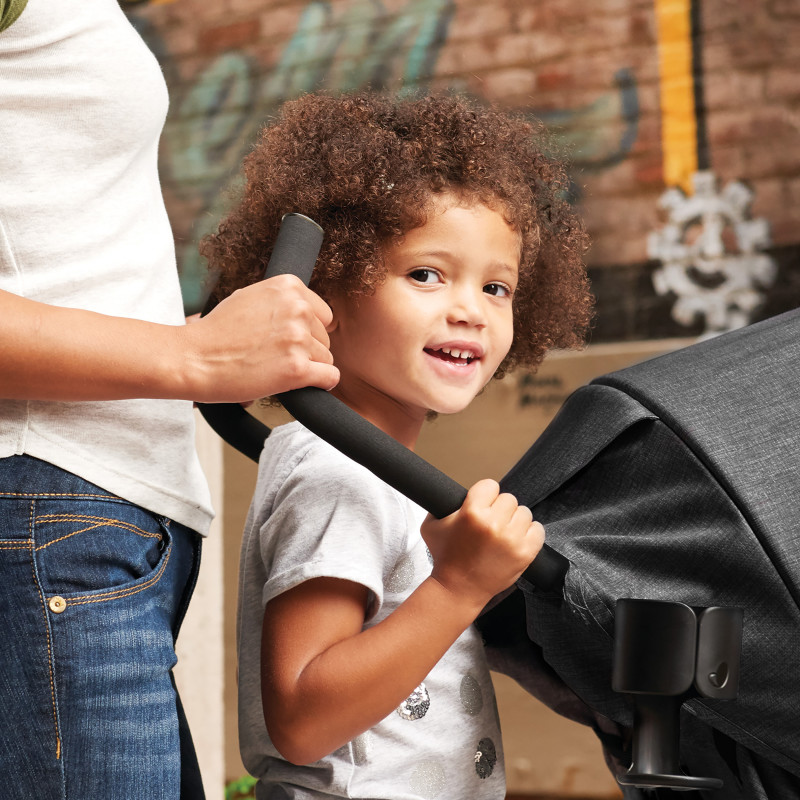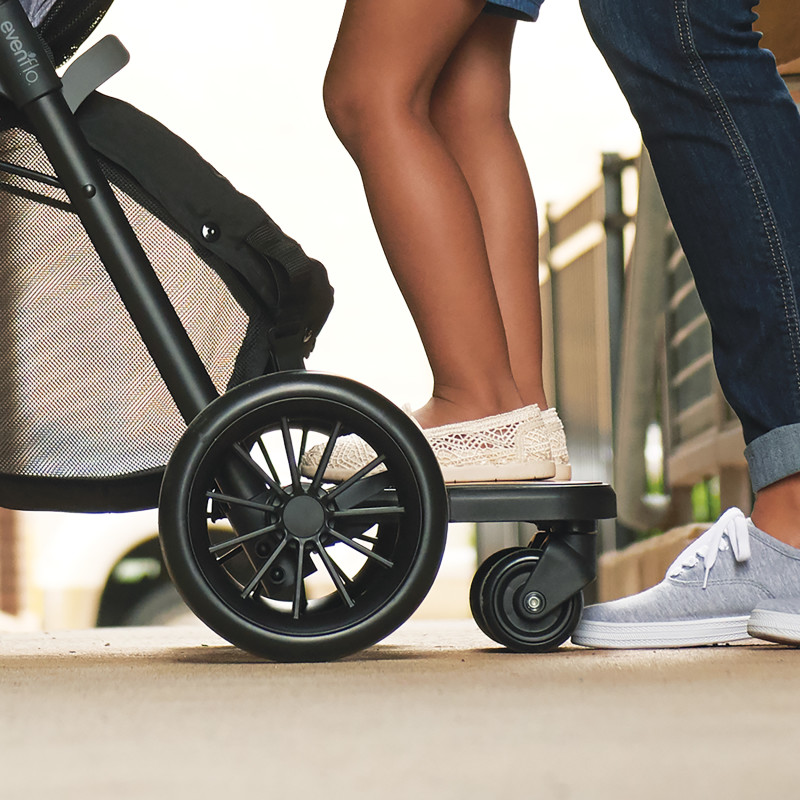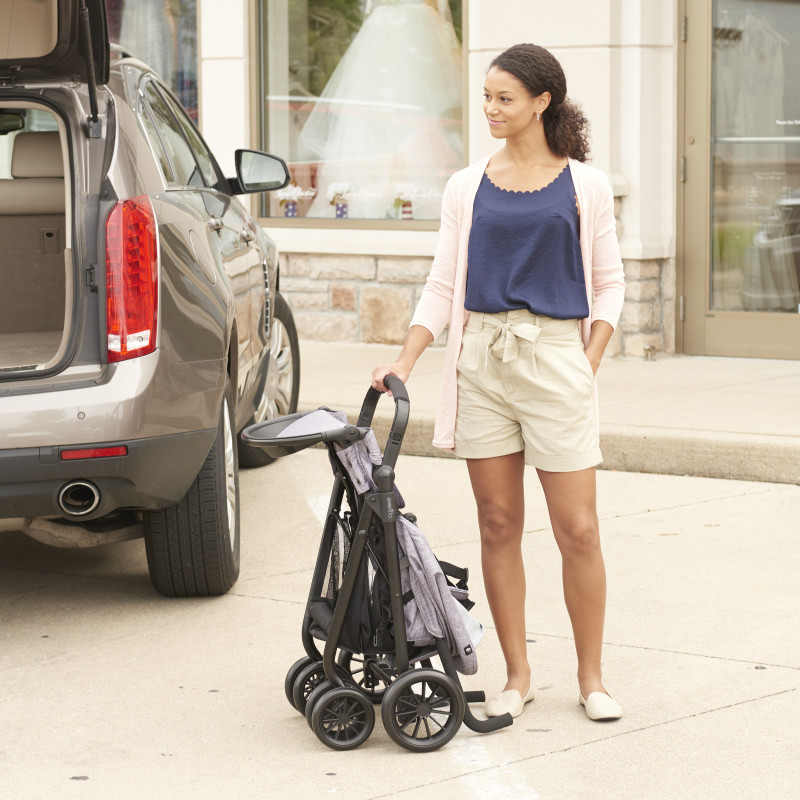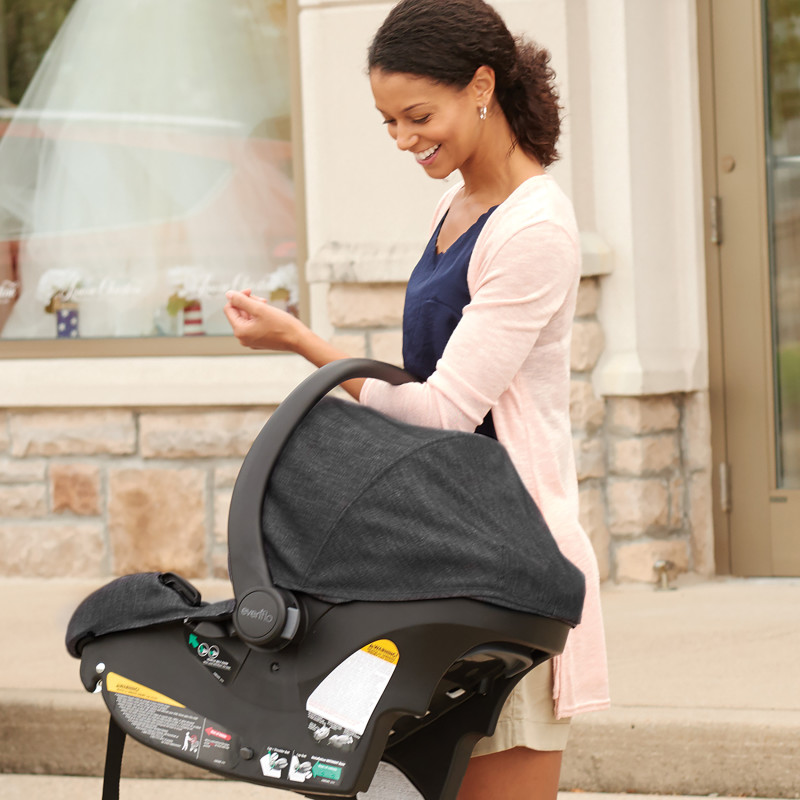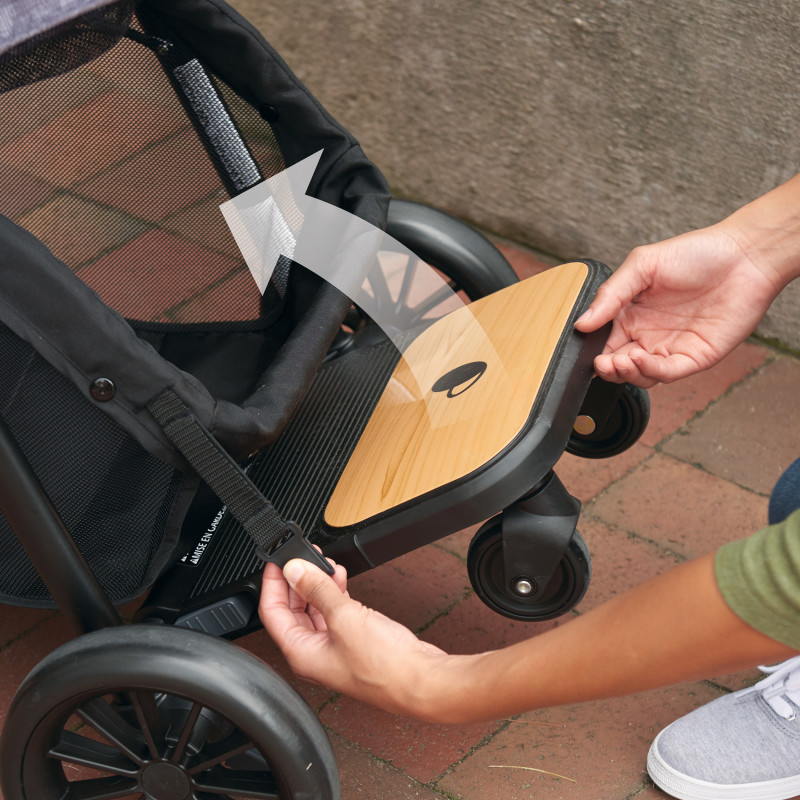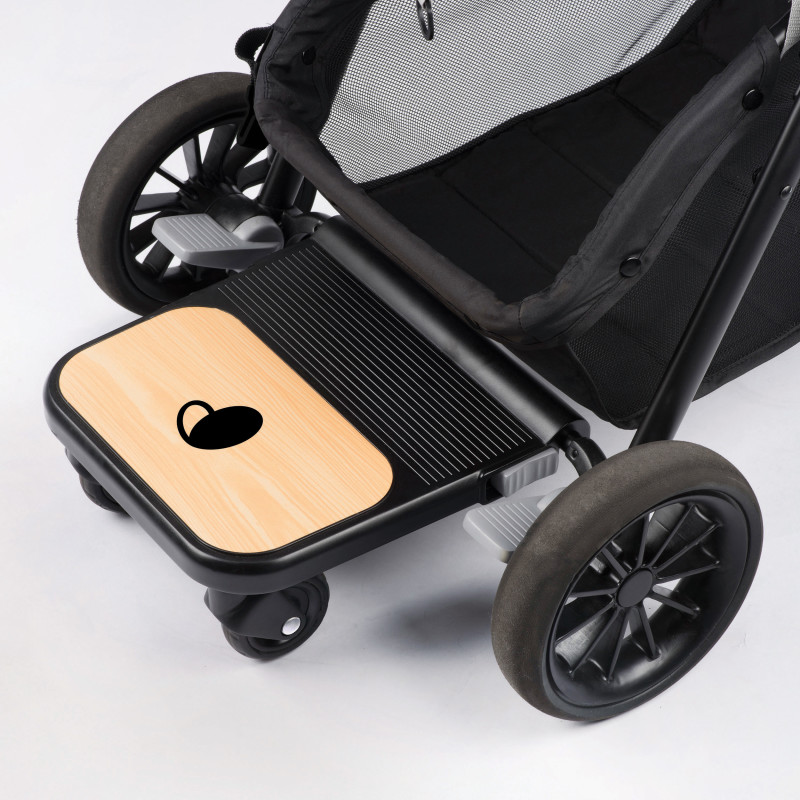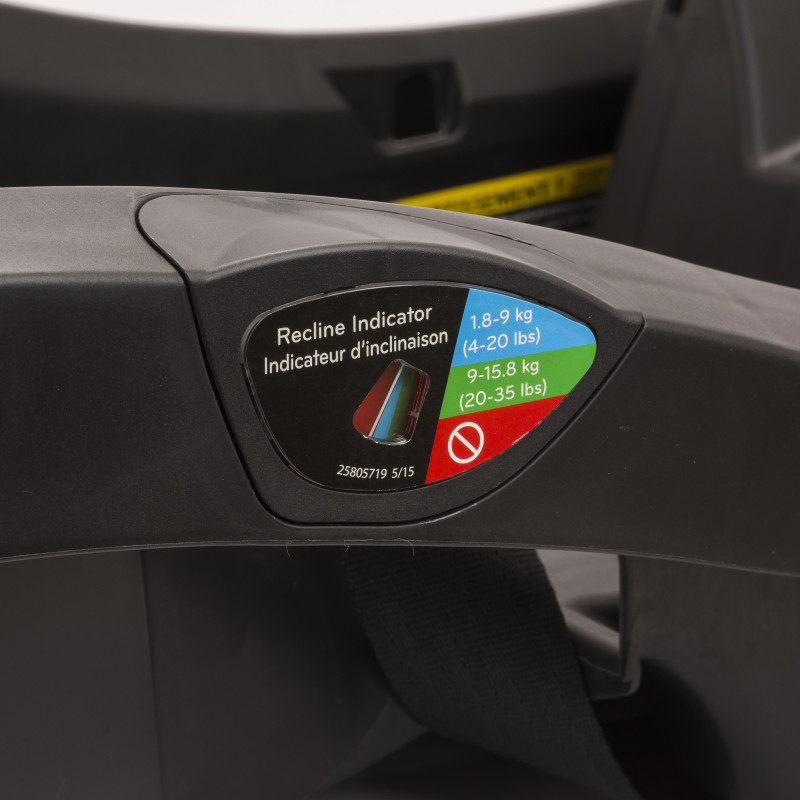 Give little legs a break...
Sibby Travel System features a ride-along board for siblings, sleek cruising tires, and a quick lift to fold design. Created with your whole family's comfort in mind.
Why you'll love it
The Sibby travel system offers a unique ride-along board, that allows two children to use the stroller at the same time. The ride-along board connects easily and folds away when not in use. The lift-to-fold design minimizes the Sibby's overall size so it can comfortably fit any vehicle. Sleek cruiser tires and oversized rear wheels that make the Sibby travel system easy-to-maneuver. Includes Sibby stroller, easy-to-carry LiteMax infant car seat, and a stay-in-car convenience base.
Peace of Mind:
Expiration: 6 years
Warranty: 90 days
Returns: 30 days
Product Details
Child Specs (4-50lbs)
REAR-FACING
Weight:

4 - 35 lbs. (1.8 - 15.8 kg.)

Height:

17 - 32 in. (43–81 cm.)

Fit:

The top of the child's head must be at least 1 inch below the top of the child restraint seat back.
STROLLER
Weight:

Up to 50 lbs.

Age:

From newborn to 5 years
Product & Shipping Specs
Dimensions:

33.86 x 18.9 x 22.44 in.

Product Weight:

13
Package Width:

18.875 in.

Package Weight:

40 lbs.

Package Depth:

23.25 in.

Package Height:

33.5 in.
Safety
Safety Testing
At Evenflo, we continue to go above and beyond government testing standards for car seats.
Side Impact Tested:Meets Evenflo's proprietary side impact standards.
Designed and tested for structural integrity at energy levels approximately 2X the federal crash test standard.
FMVSS 213: Federal Motor Vehicle Safety Standards for Child Restraint Systems
FMVSS 302: Federal Motor Vehicle Safety Standards for Flammability of Interior Materials
CMVSS 302: Canada Motor Vehicle Safety Standard
CMVSS 213: Canada Motor Vehicle Safety Standard
Certified For Use In Aircraft: When used with the internal 5-point harness this restraint meets FAA Inversion requirements for airplane use.
Evenflo Temperature Testing: All current Evenflo car seats are tested for product integrity at both high and low temperatures.
Use & Care
Use & Care
Read all instructions and warnings on the product, product labels, and instruction manuals before use. Consult your vehicle owner's manual to determine proper placement of child restraint in your vehicle and familiarize yourself with your vehicle's components.
Cleaning Instructions
DO NOT lubricate or immerse in water any part of this child restraint, unless rinsing is permitted
Plastic and metal parts may be wiped clean with mild soap and water and dried with a soft cloth. Do not use abrasive cleaners or solvents.
Take care not to damage any labels.
The harness can be wiped clean with mild soap and water. Allow harness to air dry.
Machine wash the seat pad separately in cold water, delicate cycle. Tumble dry 10 to 15 minutes on low heat.
Periodically inspect and clean the restraint's crotch buckle of food, liquids, and other debris to ensure proper latching. Place the buckle in a cup of warm water and gently agitate the buckle back and forth. Press the red button several times while the buckle is in the water. Do not submerge the harness strap. To avoid damage to the buckle, do not clean the buckle with soap or detergents and do not use a lubricant.
Features & Benefits
Ride-Along Board

Allows two children to ride at the same time. Also removes easily for folding and storage

Harness Covers

Adjustable Foot Rest

Adjustable 3-postion foot rest

Parent Cup Holder

Convenient Flex-hold parent cup holder keeps cups, bottles or cans secure

Slim Fold

Features a quick fold allowing for easy storage or transportation with a slim profile

Adjustable Base

4 Harness Slots

Removable Head Pillow

Positionable head pillow provide extra comfort and support for proper head and body positioning– removable as child grows

Sport Style Handle Grips

Ergonomic handed grips provide all-day comfort and make steering a breeze

Oversized Store-It Basket

Stash essentials in the larger, under-seat storage basket

Up-Front Harness Adjustment

Wheel Lock
Prev
Next
Evenflo Sibby™ Travel System with LiteMax™ 35 Infant Car Seat Product Tour
Give little legs a break with the Evenflo Sibby™ Travel System with LiteMax™ 35 Infant Car Seat. This fully featured travel system includes a unique ride-along board that allows a sibling easy on-and-off access to ride with or walk beside on a whim.
You might also like...
6391600

LiteMax 35 Infant Car Seat Base (Black)

Description

The Evenflo® LiteMax™ Infant Car Seat provides comfort for your child and exclusive convenience for the ultimate value in child restraints. This seat can be used rear-facing only for children between 4 and 35 pounds and is compatible with all Evenflo LiteMax infant car seats.


Features:

LiteMax Accessory Base: To be used ONLY with LiteMax infant car seats
Side Impact Tested: Meets or exceeds all applicable Federal Safety Standards AND Evenflo's Side Impact Test Standard
Superior Testing: Designed and tested for structural integrity at energy levels approximately 2X the federal crash test standard

us_pivot_xplore

Pivot Xplore All-Terrain Stroller Wagon

Description

Meet the new, ultimate ride-share stroller, Pivot Xplore™All-Terrain Stroller Wagon. This new riding experience provides extended use by accommodating 1 or 2 kids up to 5 years old. The Pivot Xplore easily transforms from a stroller to a wagon by flipping the handle. This gives parents the ability to push as a stroller, or pull as a wagon. Pile all your stuff in and ride on out! Each seat holds a child up to 55 lbs., 120 lbs. total with storage.

us_play-away-lite

Play-Away Portable Playard Lite

Description

Time to up your safety game now that your little one is on the move. The indoor/outdoor Play-Away™Portable Playard Lite is the ultimate play space whether heading down the street or across the country. Aside from a cup of coffee, the Play-Away will quickly become your favorite item with features you'll love like a water-resistant padded floor that is comfortable and easy to clean. Take a peek on your little one and they can peek at you through the six airy mesh side walls.Measuring at 15 sq. ft. of play space,48" wide and 27" tall, it's just enough room for your child and compact enough for simple transport. The foldable, sturdy frame comes fully assembled; plus, you can quickly fold, unfold, pack and carry in the included travel bag with shoulder strap.
Prev
Next
SIBBY 2 TS LITEMAX CHARCOAL
is rated out of
5
by
211
.
Rated

4

out of

5
by
richelllle
from
Handle foam
I love everything about this stroller, but the thing is when i fold the stroller the handle foam ripped off & i'm trying to look for a replacement but no where to find..
Date published: 2020-06-29
Rated

5

out of

5
by
DavidB
from
Light Weight yet Sturdy
I bought this a few week's ago for the upcoming baby my wife and I are having due to the fact of the car seat and stroller combo is a great deal. I thought it would be bulky and heavier than it actually was. Extremely durable and has a nice beer holder for all the dads who will be walking their child.
Date published: 2020-06-05
Rated

5

out of

5
by
Momaa
from
A wrist saver
Bought this 11 months ago because I had wrist issues with my first baby that were exacerbated by pushing a baby jogger stroller with the horizontal bar. I needed the handles of an umbrella stroller, but wanted a travel system, and this fit the bill! I was delighted by the super lightweight carseat, again, a savior for my wrists, and I'm happy with the large storage underneath and the substantial sunshade. I would buy it again in a heartbeat!! The only thing we haven't used is the toddler board. It is kind of awkward to have the kid holding on to the handles with you.
Date published: 2020-06-02
Rated

5

out of

5
by
Bee23
from
Great System
I love the features of this system! I have been it for for months now and I have loved it since day 1. It was perfect for my newborn and for my now big 4 month old baby. I just have one question. Which base should I buy that would be compatible for this? I have the original one that came with it, but I need another one for my husbands car so that we can easily switch cars without having to move the base from car to car
Date published: 2020-03-17
Rated

3

out of

5
by
shoesandboyz
from
This system is OK, it's a budget friendly and it gets the job done. The only issue is that the stroller has two pokes on each side and your baby hits his/her side of their head on a daily basis .There's no actual use for those pokes, I'm not even sure ďżźwhy they are there. My baby ends up with red/bruises of both side of her head. I'm not sure why nobody had talked about this safety issue? It is not that easy to close but it has a nice size basket and the wheels are big which makes strolling on sand, rocks, regular pavement a breeze. When you close the hood one side is more forward than the other so it'll always look sideways.
Date published: 2020-03-01
Rated

5

out of

5
by
YoungersX2
from
Wonderful stroller
My husband and I just love this stroller combo. The seat base was easy to install with easy to understand instructions. The stroller is easy and light weight to push, we LOVE the ride-along board for our 5 year old. I love the way the handles are positioned, my son comfortably hooks his arms over for and easy and safe ride. The infant car seat is easy and comfortable to carry. The charcoal color is lovely.
Date published: 2020-02-20
Rated

4

out of

5
by
Erika2020
from
Love the features but can be frustrating
I love the stroller and car seat. The only problem is that I couldn't figure out how to get my stroller out of the folded up position. My husband pulled the chord so we could put it in my trunk and when I got it to the mall I couldn't get it to work. I even looked for a instructional video. I got mad and said forget it.
Date published: 2020-02-08
Rated

5

out of

5
by
rosa-maryr
from
Great product that works very well. I enjoyed using it. I enjoyed cooking with it. Great product.
Date published: 2020-02-05