/ From newborn to 5 years
Vive
Vive Travel System with Embrace Infant Car Seat (Daphne)
Details
https://www.evenflo.com/travel-systems/vive/55421881.html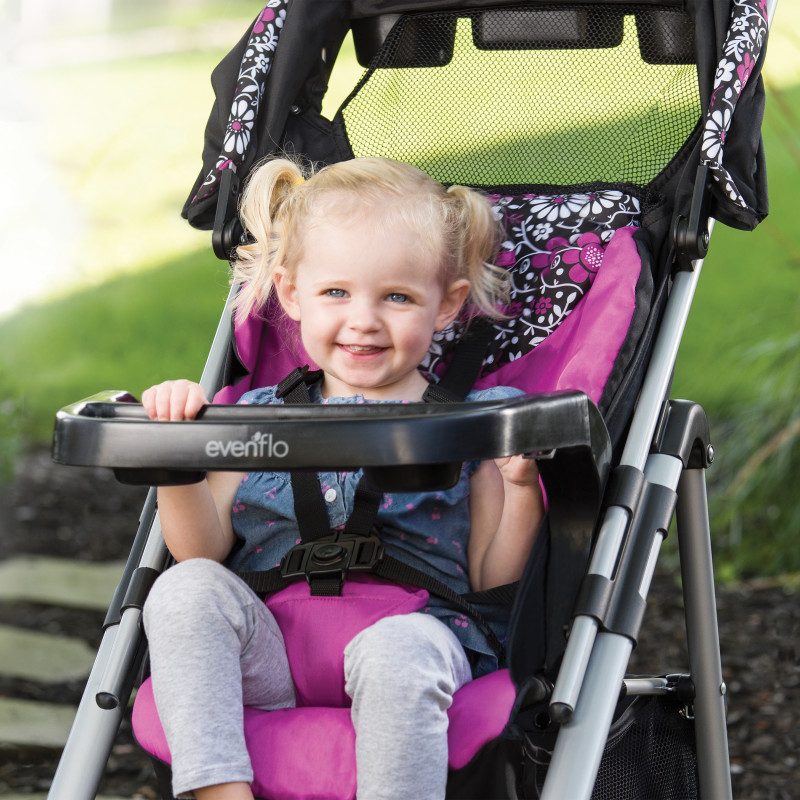 Just grab and go!
The Evenflo® Vive™ Travel System – Just grab and go! A spontaneous adventure, perhaps a long walk in the park or a family vacation. The Vive's hassle free transfer from our stay-in-car base makes for a quick and safe connection. Ultra Slim 16", gravity fold/unfold fits any size vehicle from large to small. Our 4 point, 13" thick EVA wheels and front wheel shock adsorbing system provides increased stability, safety and comfort for your baby. Paired with the Embrace Infant Car Seat, for an extended weight rating (4-35lbs).
Additional features include: Extra storage pocket on seat back, easy rear access to large storage basket that holds a 17" diaper bag, Large coverage canopy to shield from the elements, Posh multi-position recline, Removable, 2 way pivoting child tray for easy in and out, Parent console with deep storage and 2 deep cup holders .
Why you'll love it
Features:
Extended Rear Facing Use: Featuring the Embrace Infant Car Seat with extended weight rating (4-35lbs)
Easy transfer: Stay-in-car base to stroller for quick and safe. connection on the go
Ultra Slim Fold: Double grip, 16" slim fold, gravity fold/unfold
Extra Storage: Pocket on seat back and large storage basket under stroller allow room for all essentials
Large Canopy: Provides protection from the elements
Multi-Position Recline: Posh multi-position recline for endless comfort
Removable Child Tray: 2-way pivoting child tray for easy in and out
Parent Console: Deep storage and two cupholders for parenting essentials on the go
Adjustable Harness: 3 or 5pt harness is adjustable as baby grows to keep them securely fastened in
Embrace Infant Car Seat Features: 4-35lb harness rating, nationally recognized by safety advocates for low birth weight babies
Up-Front Harness Adjust: Gives easy access to keep the harness snug and securely fasten baby in car seat
Adjustable Shoulder Harness Heights: Helps to keep babies securely fastened in as they grow
Ergonomic Handle: Easier to carry
Easy to Clean: Easy to remove pad is machine washable
Removable Body Pillow: Provides additional support for proper positioning and comfort
Auto Belt Guides: Allow for proper installation without a base
Canopy: Provides full coverage from the elements
Live Video Installation Support: Schedule an appointment to have a certified car seat safety technician guide you through a proper vehicle installation
Online Chat: Chat with our ParentLink® customer service experts online in real time
This perfectly paired car seat and stroller combo provides a seamless transition when needing to travel by car and foot.
is...
For 100 years, Evenflo has been a trusted source children products
Committed to the safety, wellbeing, and development of children.
Dedicated to design and engineering of products for real-life
Supported by ParentLink Consumer Care via phone, email, chat and video
Peace of Mind:
Expiration: 10 years
Warranty: 90 Days
Returns: 30 days
Product Details
Child Specs
REAR-FACING
Weight:

4 – 35 lbs (1.8 – 15.8 kg)

Height:

17 - 30 in. (43 - 76 cm.)

Fit:

The top of the child's head must be at least 1 in. (25 mm.) below the top of the child restraint seat back.
STROLLER
Weight:

Up to 50 lbs.

Age:

From newborn to 5 years
Product & Shipping Specs
Package Width:

19.125

Package Weight:

37.75

Package Depth:

18.062

Package Height:

37.125
Safety
Safety Testing
At Evenflo, we continue to go above and beyond government testing standards for car seats.
Side Impact Tested:Meets Evenflo's proprietary side impact standards.
Designed and tested for structural integrity at energy levels approximately 2X the federal crash test standard.
FMVSS 213: Federal Motor Vehicle Safety Standards for Child Restraint Systems
FMVSS 302: Federal Motor Vehicle Safety Standards for Flammability of Interior Materials
CMVSS 302: Canada Motor Vehicle Safety Standard
CMVSS 213: Canada Motor Vehicle Safety Standard
Certified For Use In Aircraft: When used with the internal 5-point harness this restraint meets FAA Inversion requirements for airplane use.
Evenflo Temperature Testing: All current Evenflo car seats are tested for product integrity at both high and low temperatures.
Use & Care
Use & Care
Read all instructions and warnings on the product, product labels, and instruction manuals before use.
Cleaning Instructions
Plastic and metal parts may be wiped clean with mild soap and water.
Take care not to damage any labels.
The harness can be wiped clean with mild soap and water. Allow harness to air dry.
Do not immerse buckle in water or lubricate.
Evenflo Vive™ Travel System Product Tour
The Evenflo® Vive™ Travel System – Just grab and go! A spontaneous adventure, perhaps a long walk in the park or a family vacation.
You might also like...
us_play-away-lite

Play-Away Portable Playard Lite

Description

Time to up your safety game now that your little one is on the move. The indoor/outdoor Play-Away™Portable Playard Lite is the ultimate play space whether heading down the street or across the country. Aside from a cup of coffee, the Play-Away will quickly become your favorite item with features you'll love like a water-resistant padded floor that is comfortable and easy to clean. Take a peek on your little one and they can peek at you through the six airy mesh side walls.Measuring at 15 sq. ft. of play space,48" wide and 27" tall, it's just enough room for your child and compact enough for simple transport. The foldable, sturdy frame comes fully assembled; plus, you can quickly fold, unfold, pack and carry in the included travel bag with shoulder strap.

us_babysuite_playard

Portable BabySuite Playard

Description

The Evenflo® Portable BabySuite Classic offers parents a convenient solution for sleep, care & play for their little ones. Assembly is easy; simply lock the side bars and push the floor down into position. The mesh sides provide ventilation and full view of baby. Pull up on side bars and pull the floor strap up to collapse the playard. With a durable compact frame and convenient carry bag, this playard is perfect for traveling.
Prev
Next