Pivot Xpand Market Basket
Details
https://www.evenflo.com/wheels/accessories/us_pivot_xpand_market_basket.html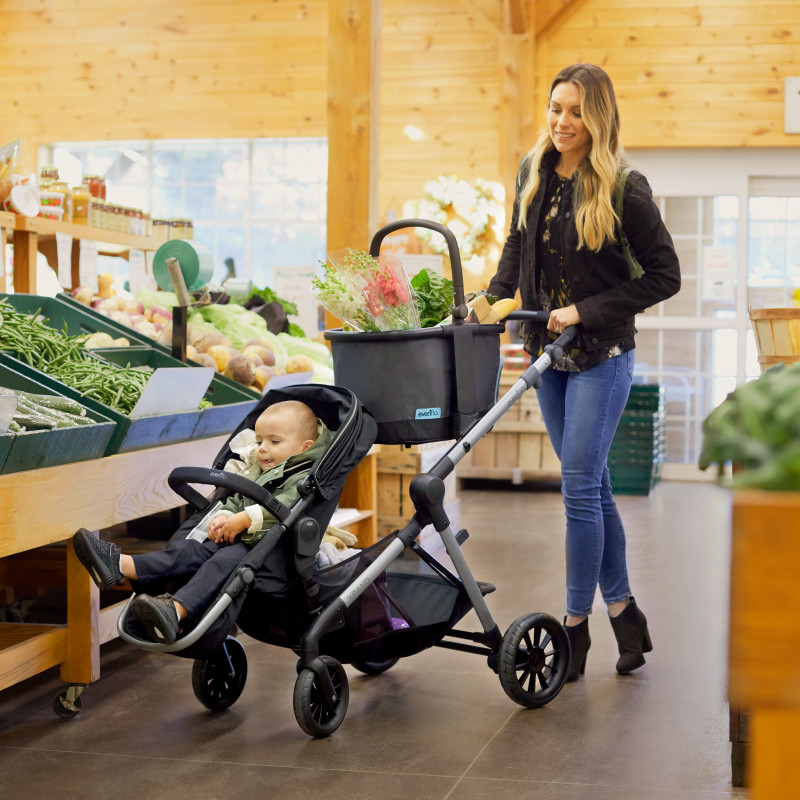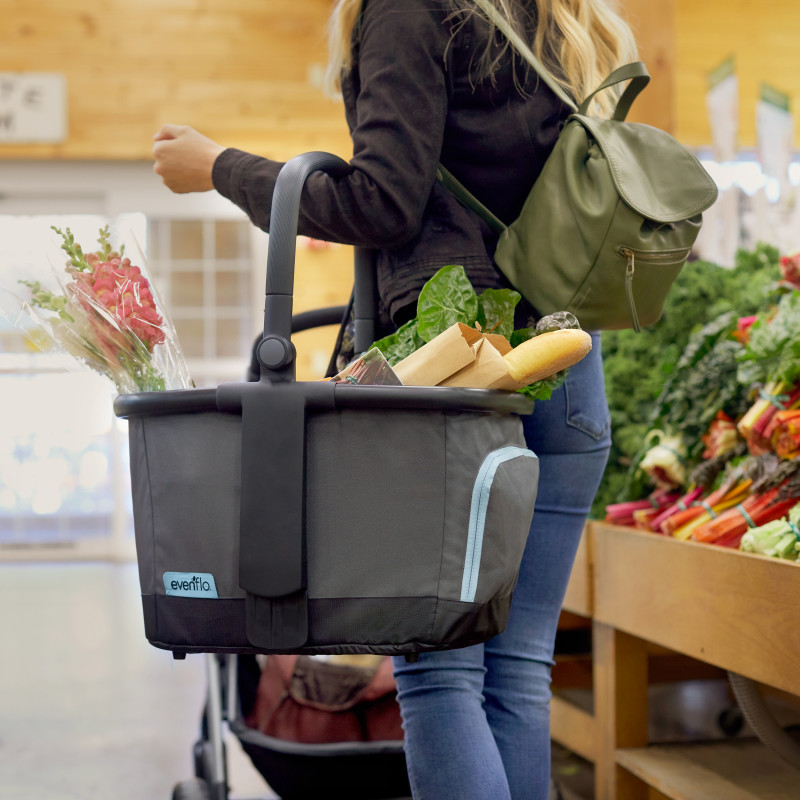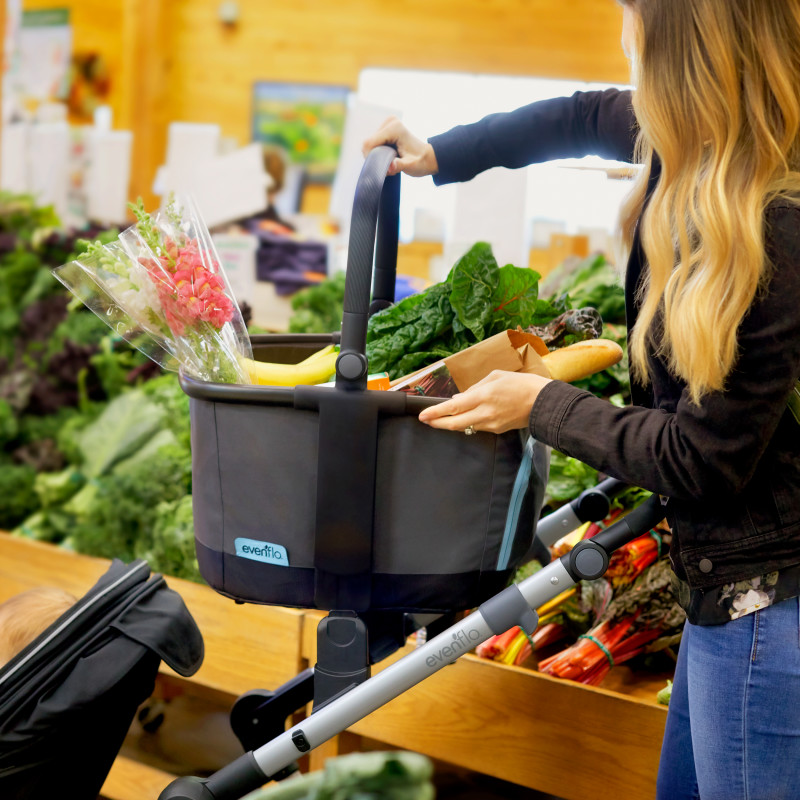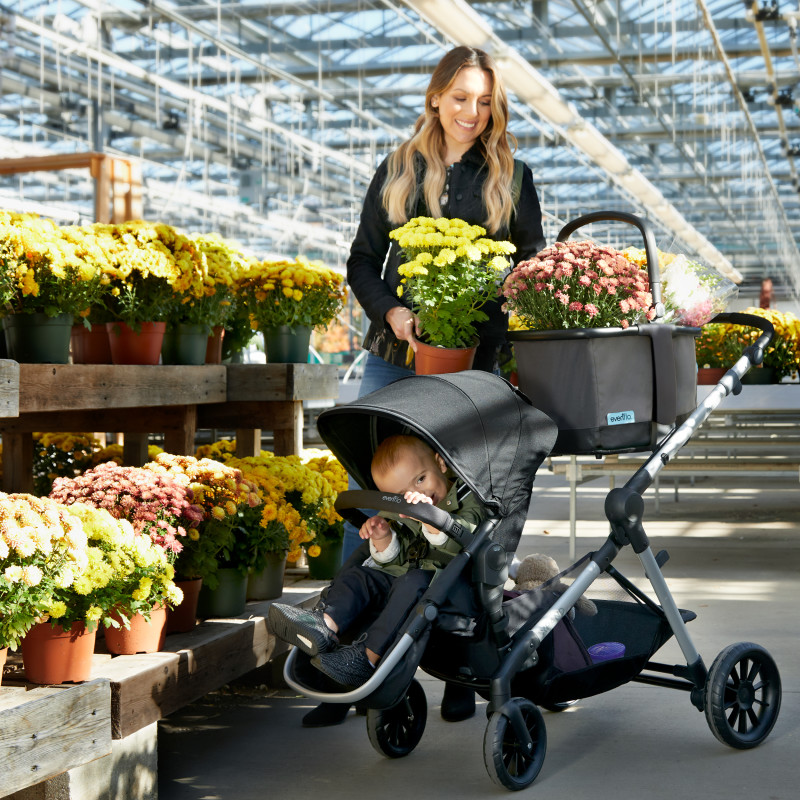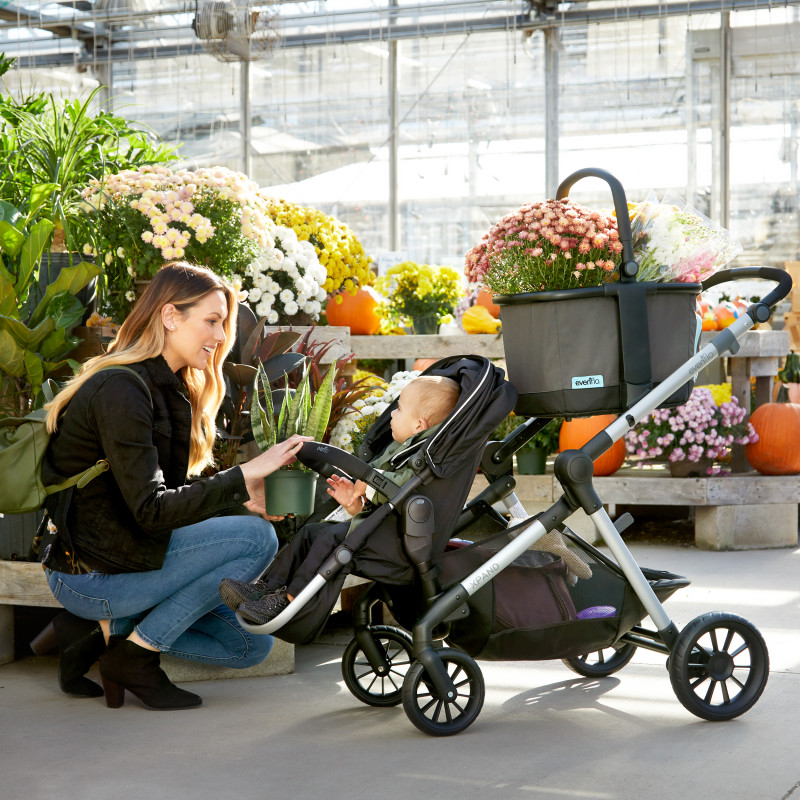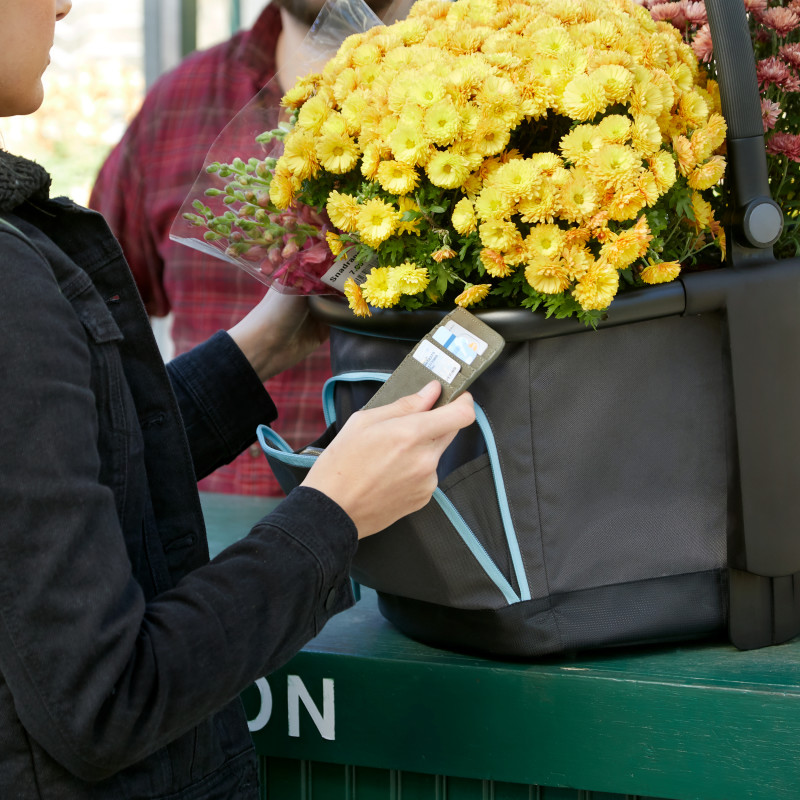 Designed for convenience
Designed for convenience, the Evenflo® Pivot Xpand™ Stroller Market Basket is an eco-friendly organizational solution that offers more stroller storage within reach without the hassle of a dirty shopping cart and wasteful plastic shopping bags.
This multi-use, reusable tote is more than just a "market" basket as it easily transfers from stroller to car to home, so you can take it on picnics, to the farmer's market, and apple picking; or load it up with gym clothes, books, and other gear. Holding up to 40 lb, the self-standing design–made with easy-to-clean,durable materials–makes it simple to load and unload shopping items. To accommodate where your child is most comfortable, attach the Market Basket to the upper or lower towers of your Pivot Xpand stroller. Convenient features like the adjustable handle that folds down and out of the way, or the zippered storage for valuables are those smart design elements that add practicality to your everyday routine.
Why you'll love it
ECO-FRIENDLY: Reusable tote keeps shopping items within reach while strolling your little one in the Pivot Xpand Modular Stroller
STORAGE SOLUTION: Generous size holds up to 40 lb. The side zip pocket offers extra storage to keep valuables closer to you.
PORTABLE: Hand-carry and easily mount to the stroller on upper or lower seat towers
CONVENIENT: Self-standing for easy loading and unloading, and the adjustable handle folds down
EASY TO CLEAN: Durable material can be wiped clean
COMPATIBILITY:
Configuration Cart:
Peace of Mind:
Warranty: 90 days
Returns: 30 days
Product Details
Child Specs
Product & Shipping Specs
Package Width:

17.125 in

Package Weight:

5.2 lbs

Package Depth:

4.875 in

Package Height:

15 in
You might also like...
Pivot_Xpand_Modular_Stroller

Pivot Xpand Modular Stroller

Description

Evenflo's Pivot Xpand Modular Stroller is the perfect full-size stroller for your needs now...and later, by converting to a double! Without any additional parts or tools, simply slide up the top attachment towers, and flip out the lower towers. Click on an additional infant car seat or Stroller Second Seat (sold separately) for multiple double riding options! The toddler seat easily converts to a comfortably angled infant seat, and both modes are reversible, allowing your child to ride forward-facing or parent-facing. Pivot Xpand is fully compatible with Evenflo's SafeMax and LiteMax Infant Car Seats (sold separately) without the need for an adapter. Already have an infant car seat? Purchase the Infant Car Seat Adapter to meet your car seat needs (Please see Evenflo Infant Car Seat Adapter for a listing of the compatible models).

Pivot Xpand's extra-large, back and front-access storage basket expands to over 2 feet in length! Large cruiser tires with front-wheel swivel and rear-wheel suspension provide a smooth ride and superior maneuverability. Comfort features include a 3-position seat recline and 5-position adjustable footrest. The flip-flop friendly brake keeps the stroller in place as you safely take your child in and out of the stroller. A peek-a-boo window keeps baby visible at all times while parents enjoy a 3-position adjustable handle and removable bumper bar. The flex-hold cup holder ensures a snug fit for a variety of beverage sizes, helping to avoid spills. When not in use, Pivot Xpand can be stored in a self-standing, compact fold, with the toddler seat still attached.

For even more riding options, you can also add the Evenflo Stroller Rider Board. Use it for an extra passenger or simply to give your child a way to quickly hop on and off when little legs need a break.

us_xpandTS

Pivot Xpand Modular Travel System with SafeMax Infant Car Seat

Description

The Evenflo Pivot Xpand effortlessly transitions in seconds from a single to double stroller without extra parts or tools - simply slide up and flip out integrated seat mounts to add a second seat!

Single To Double!: Stroller grows from single to double with no tools or extra parts needed! Unique slide and lock system expands frame to accommodate a second toddler or infant seat
Up To 22 Configurations!: The unique design accommodates one or two riders. Infants and children can sit at various heights, upright or reclined, in both parent-facing and forward-facing modes. Toddler seat holds up to 55 lbs for extended use.
Modular Design: Infant car seat sits directly on the frame, and the toddler seat easily converts to infant mode, cradling baby at a comfortable angle
Self-Standing Fold: The compact fold conveniently self-stands, with toddler seat attached
Extra-Large Storage Basket: Expands to over 2 feet in length with front and back access for convenience
Large Cruiser Tires: Front-wheel swivel and rear-wheel suspension offer a smoother ride and superior maneuverability
Includes SafeMax Infant Car Seat

us_gold_shyft

Evenflo Gold SensorSafe Shyft Smart Modular Travel System with SecureMax Smart Infant Car Seat

Description

When the day changes course, the Evenflo Gold Shyft Modular Travel System makes it easy to adapt and roll with it. The smart, premium quality Shyft converts easily from infant to toddler mode, allowing your child to be forward-facing or parent-facing. The six different modes of use and 3-position reclining seat make it easy to get your child angled just right for comfort, relaxation or sight-seeing. Designed with the SensorSafe™ app for real-time parent/child connection, the Shyft delivers on your need for advanced safety, sleek, modern design, and everyday versatility. Securemax Infant Care Seat for children 4-35lbs, Shyft Stroller for children up to 55lbs.
Prev
Next