Regular price
Sale price
$499.99
Unit price
per
Sale
Sold out
Color
View full details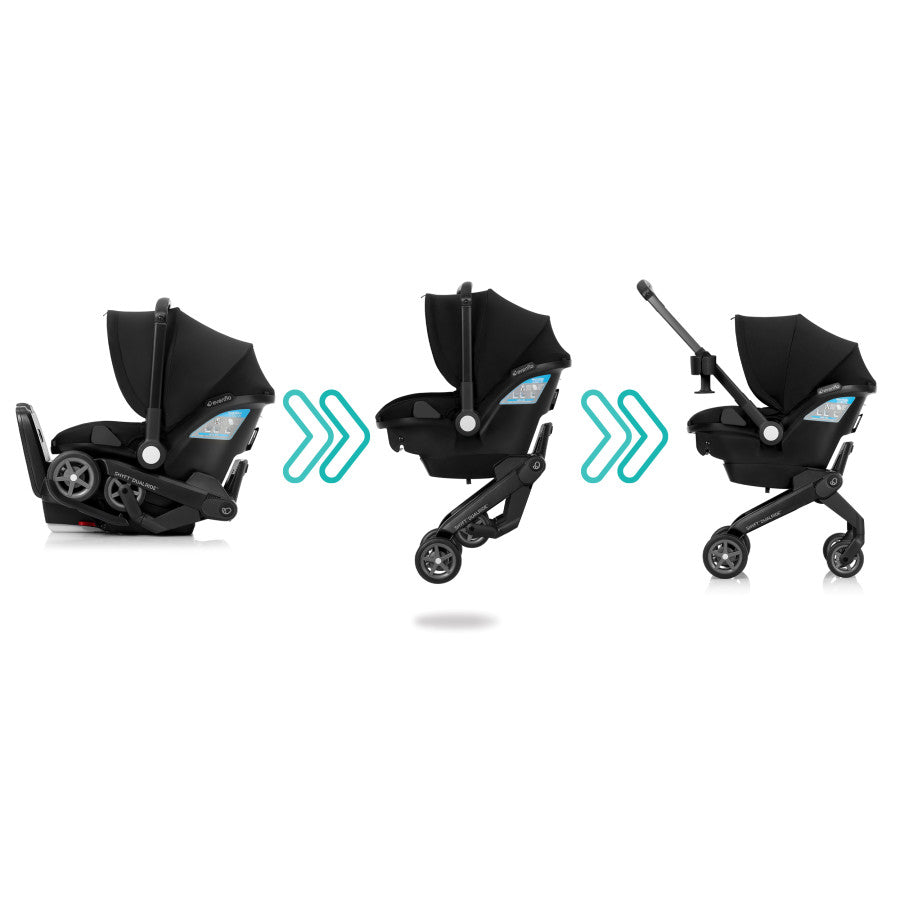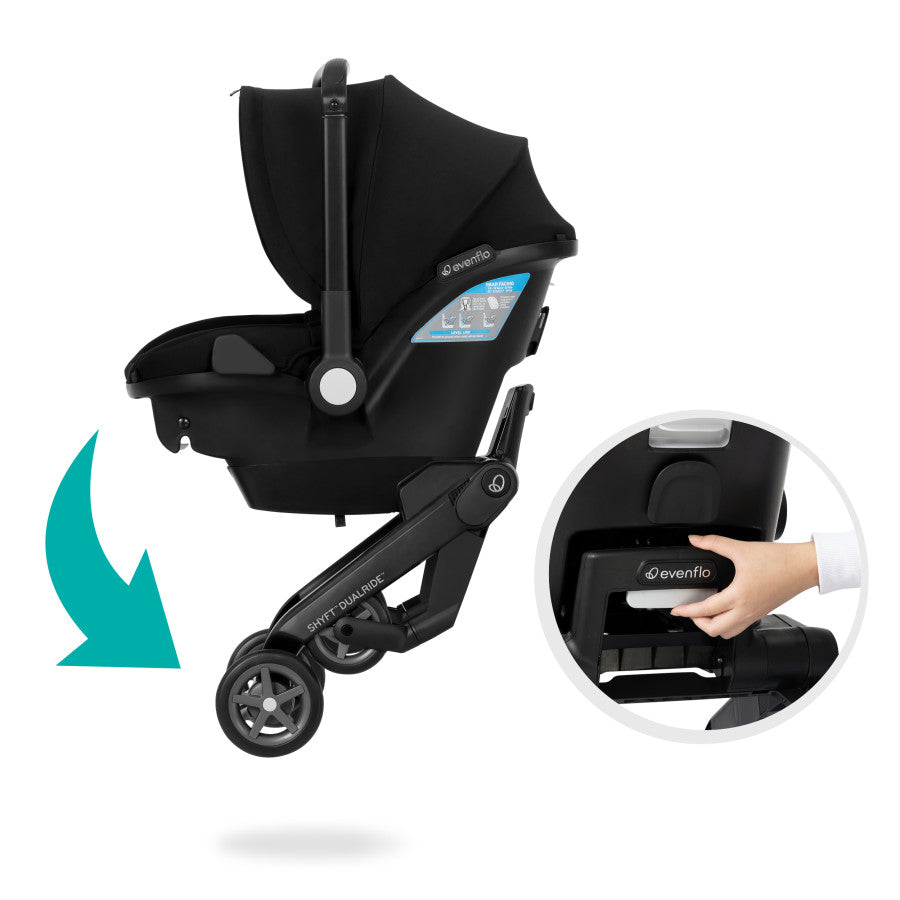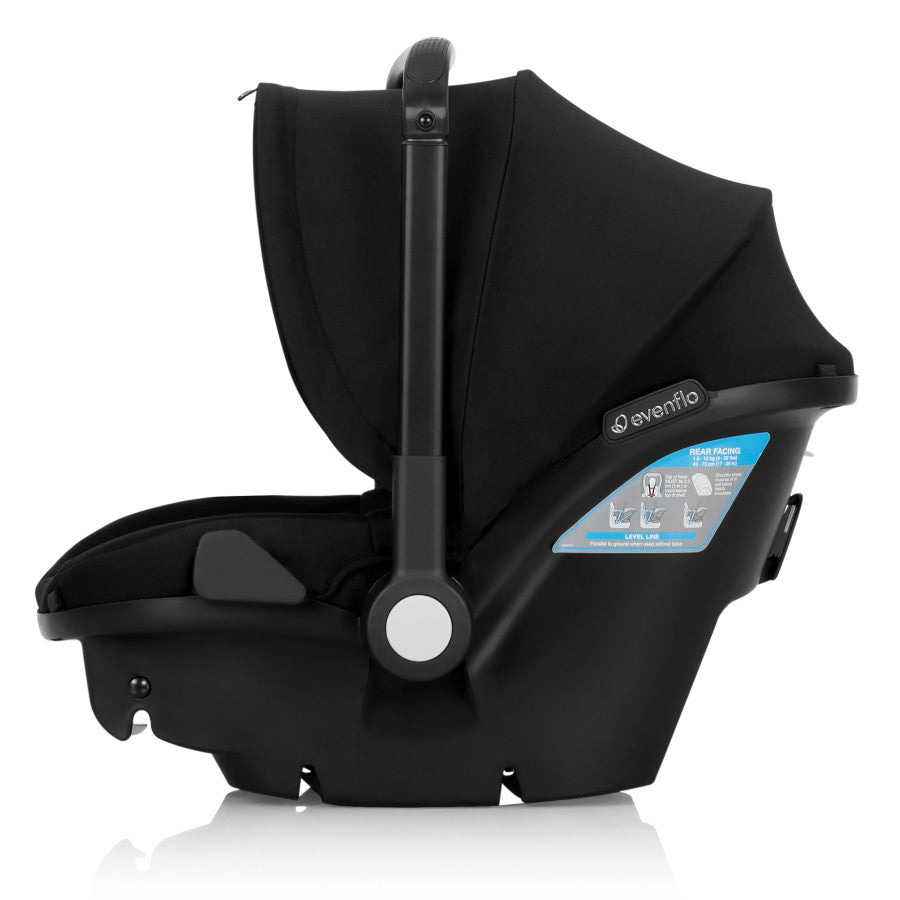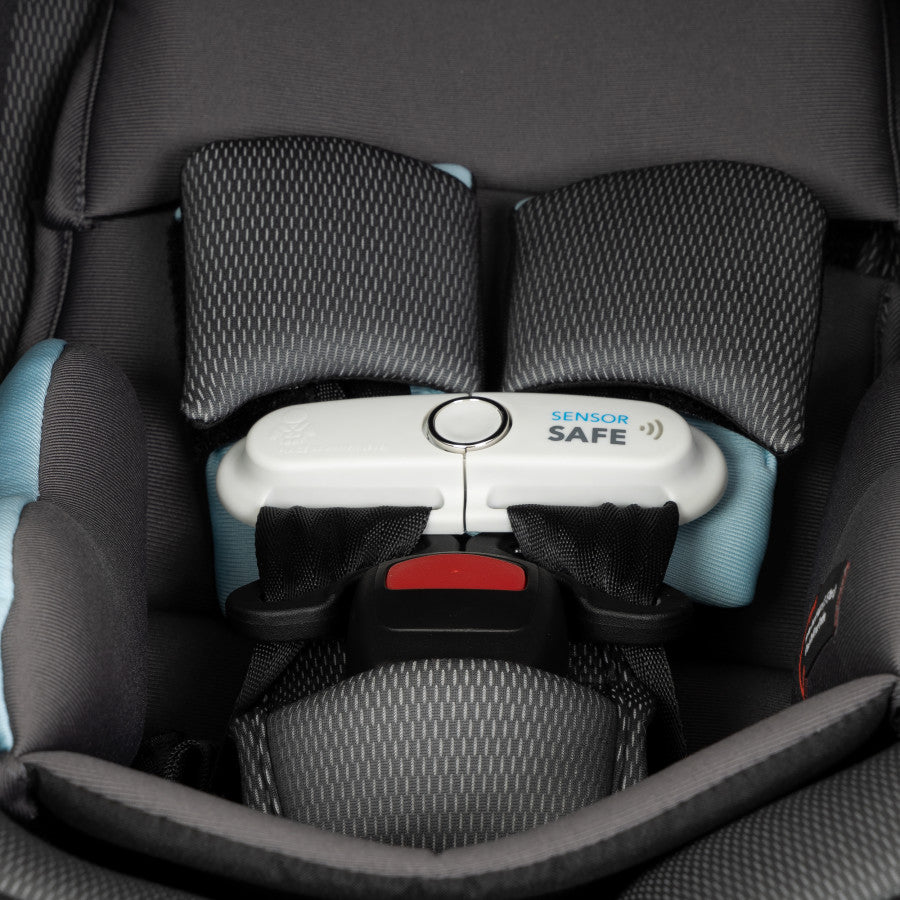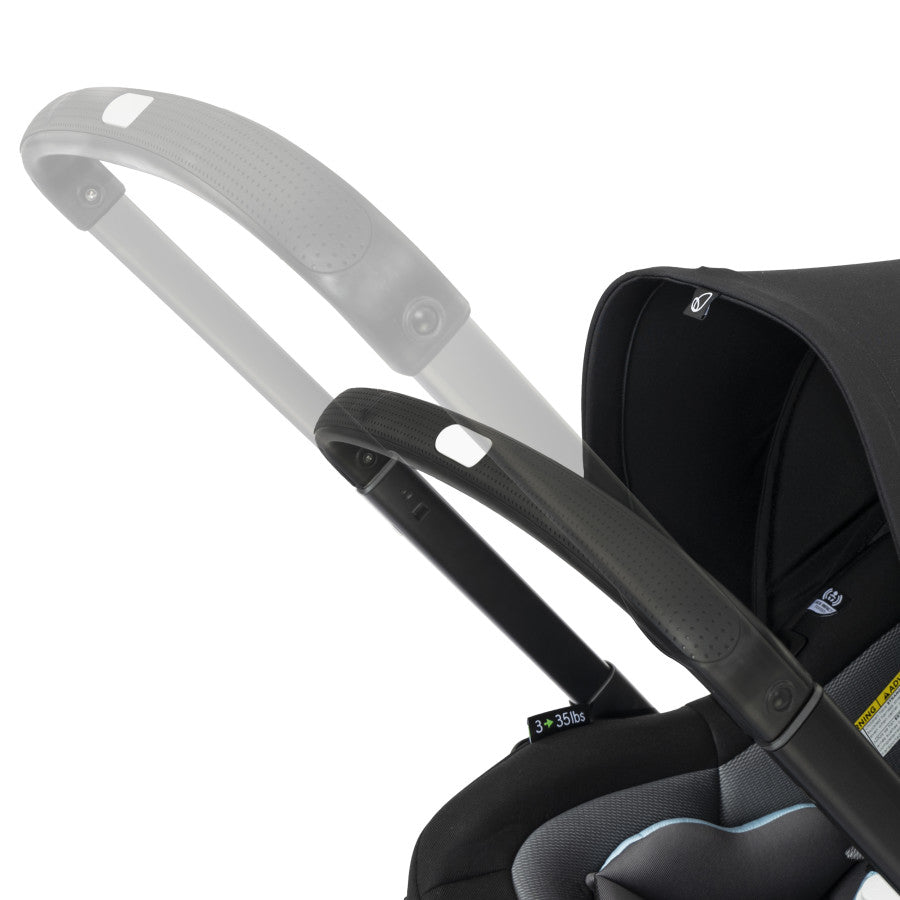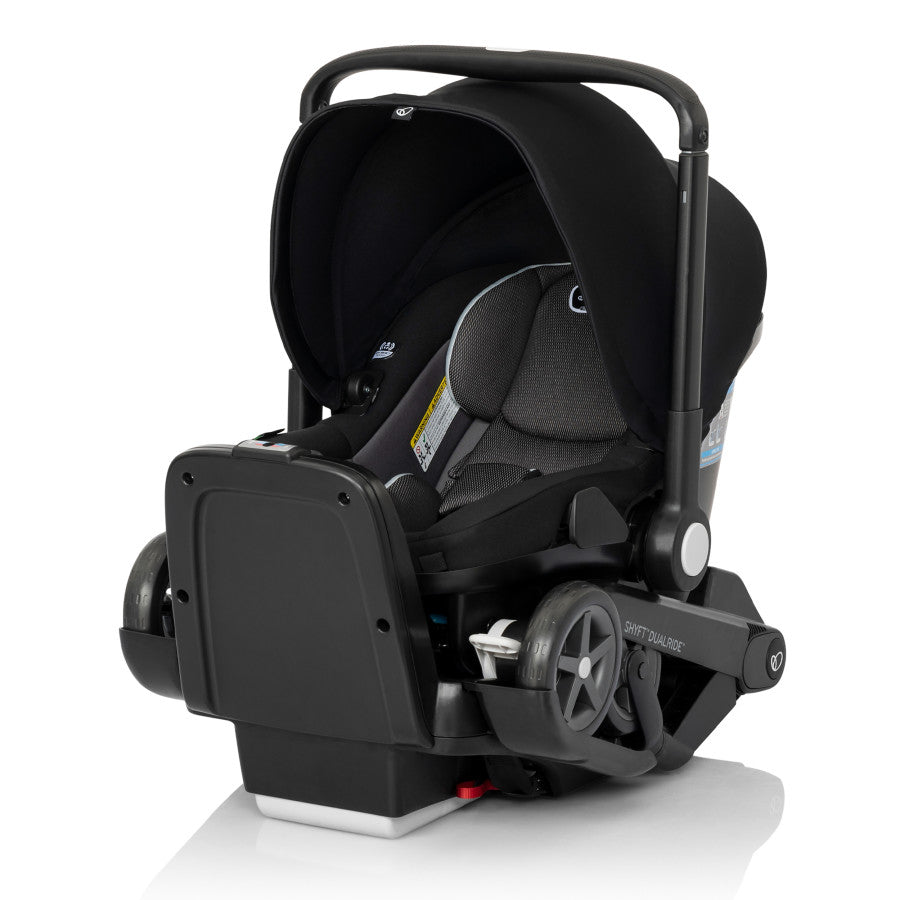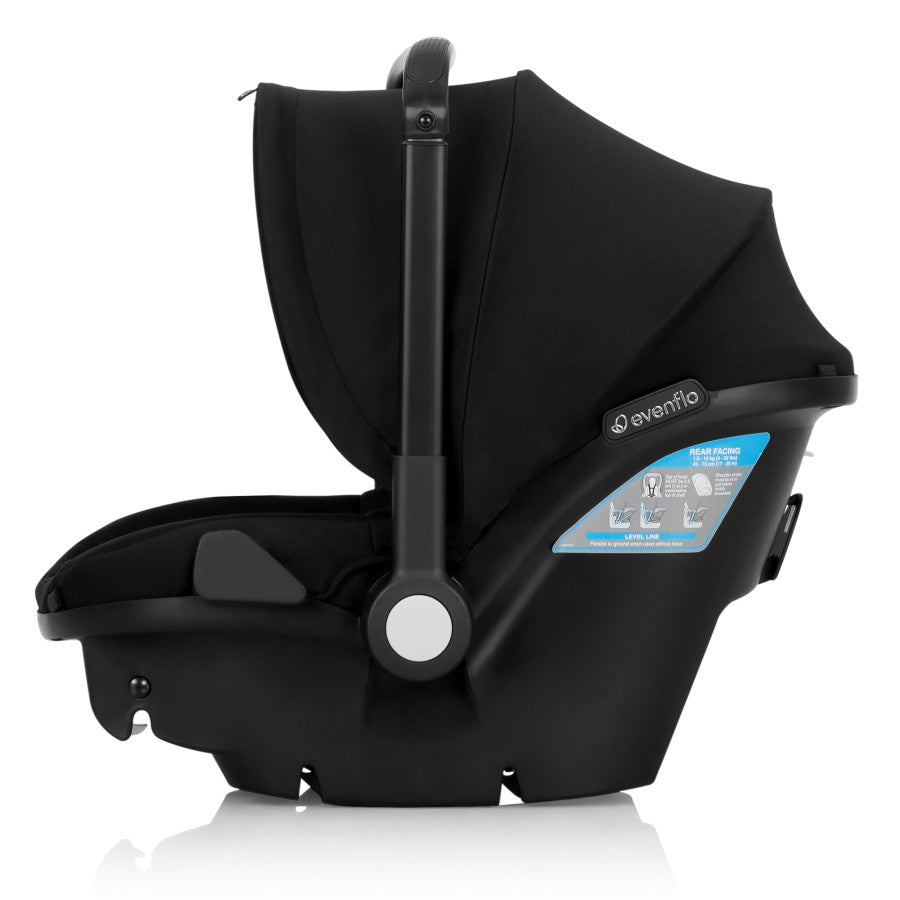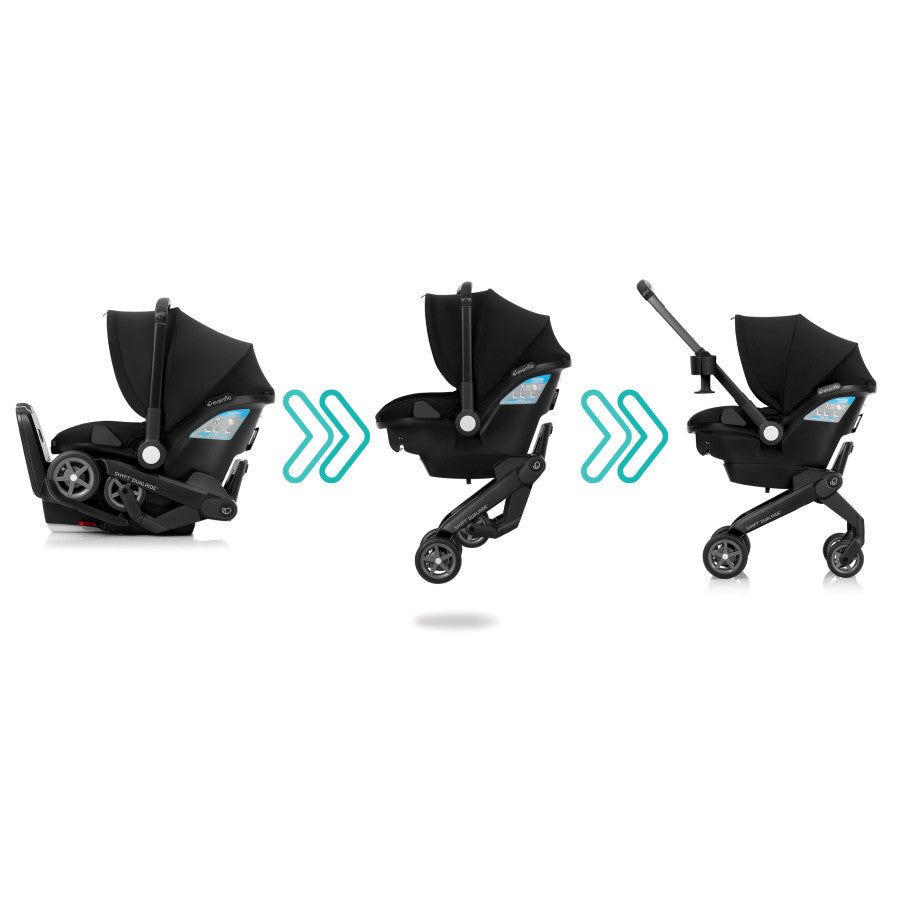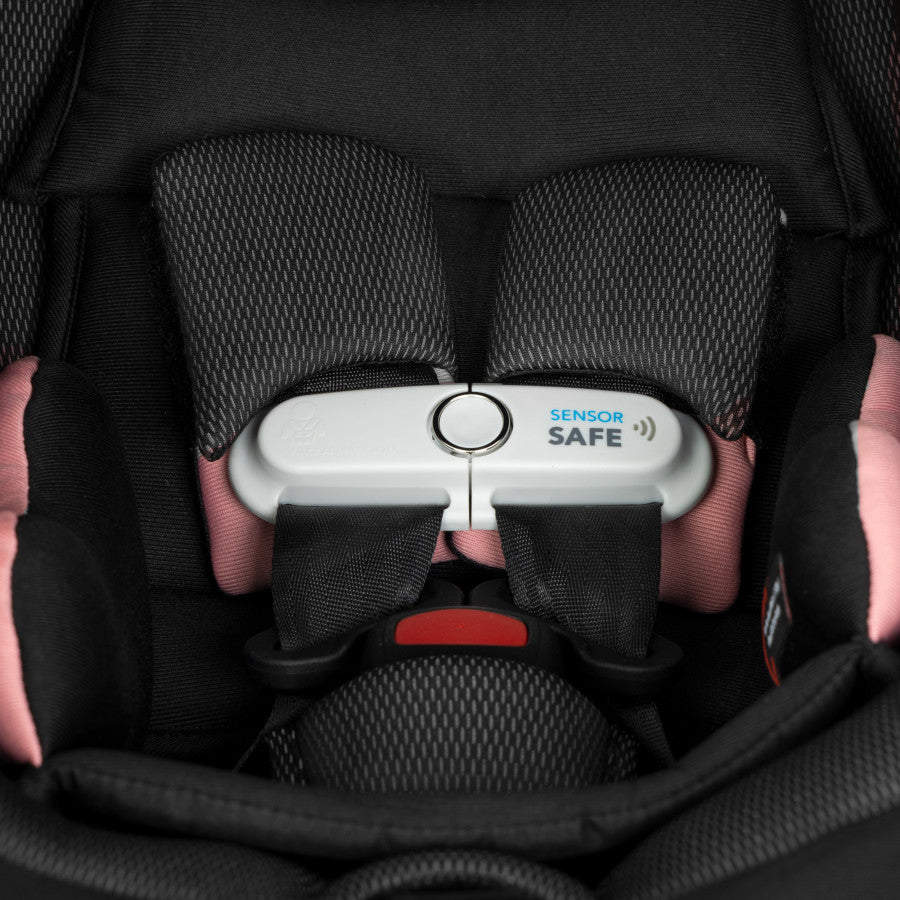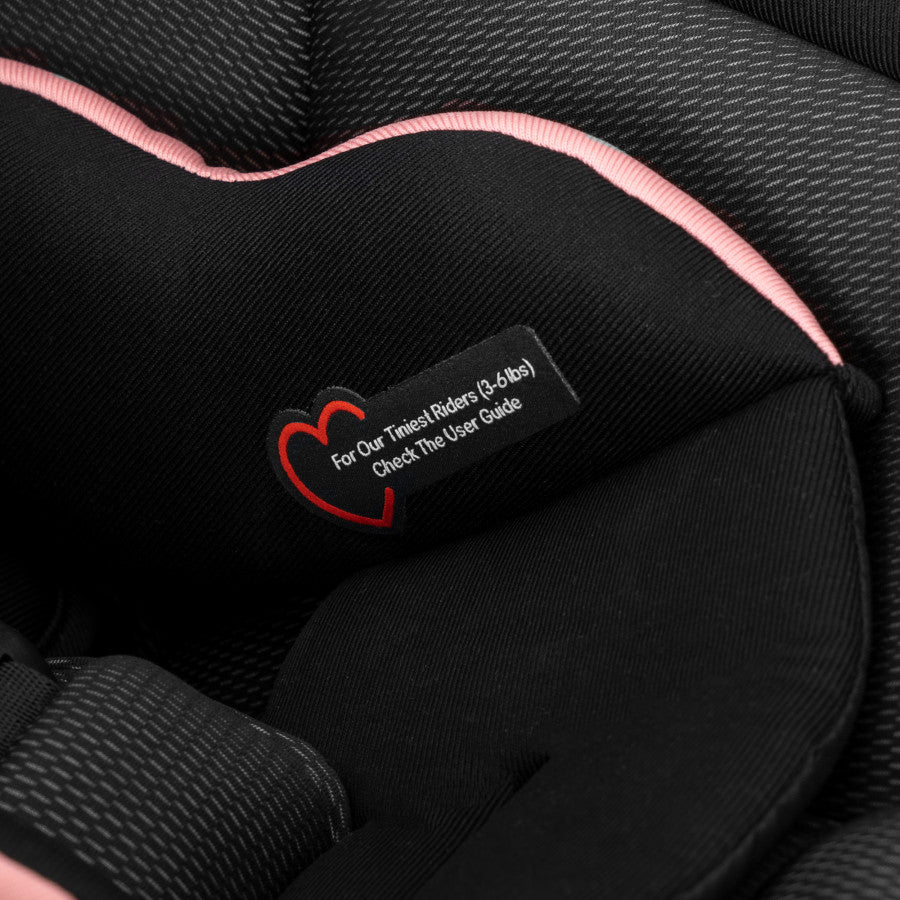 Child Fit
Weight 3.0 - 35.0 lbs
Height 15.7 -
Product Dimensions
Assembled: 18.0" W x 18.0" H x 31.0" D
Package: 17.88" W x 24.75" H x 21.88" D

Modes of Use
Infant Car Seat
Infant Carrier with Wheels
Infant Carrier without Wheels
Stroller
Specs
Anti-Rebound Bar Sensorsafe
Latch or Seat Belt Installation
Steel Reinforced

Make the Shyft with Confidence
Shyft into life with a newborn! The Evenflo® Shyft™ DualRide™ Car Seat and Stroller Combo is a single piece of baby gear that Shyfts from infant car seat to stroller in one step, streamlining life on the go. Moving from car to sidewalk? Simply lift the carrier off the base, release the wheels and you're rolling in no time. From backseat to street in a heartbeat! Maneuvering stairs? Retract the wheels, carry up/down steps, pop the wheels back down and stroll on. No struggling with multiple pieces of gear. No disturbing your little one. This car seat stroller combo makes every trip easier.
Features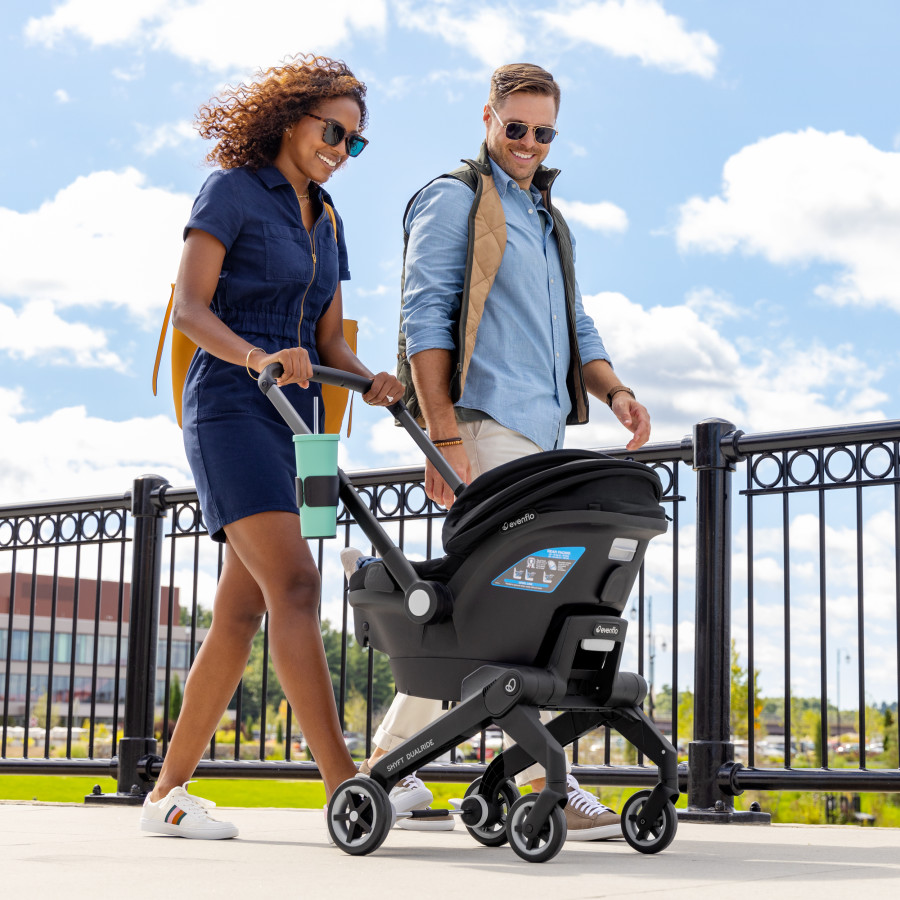 TRANSITION FROM INFANT CAR SEAT TO STROLLER IN ONE STEP: Moves little one from backseat to street in a heartbeat — this single piece of baby gear transforms from car seat to stroller and back again with ease; leave wheels in base for a lighter infant carrier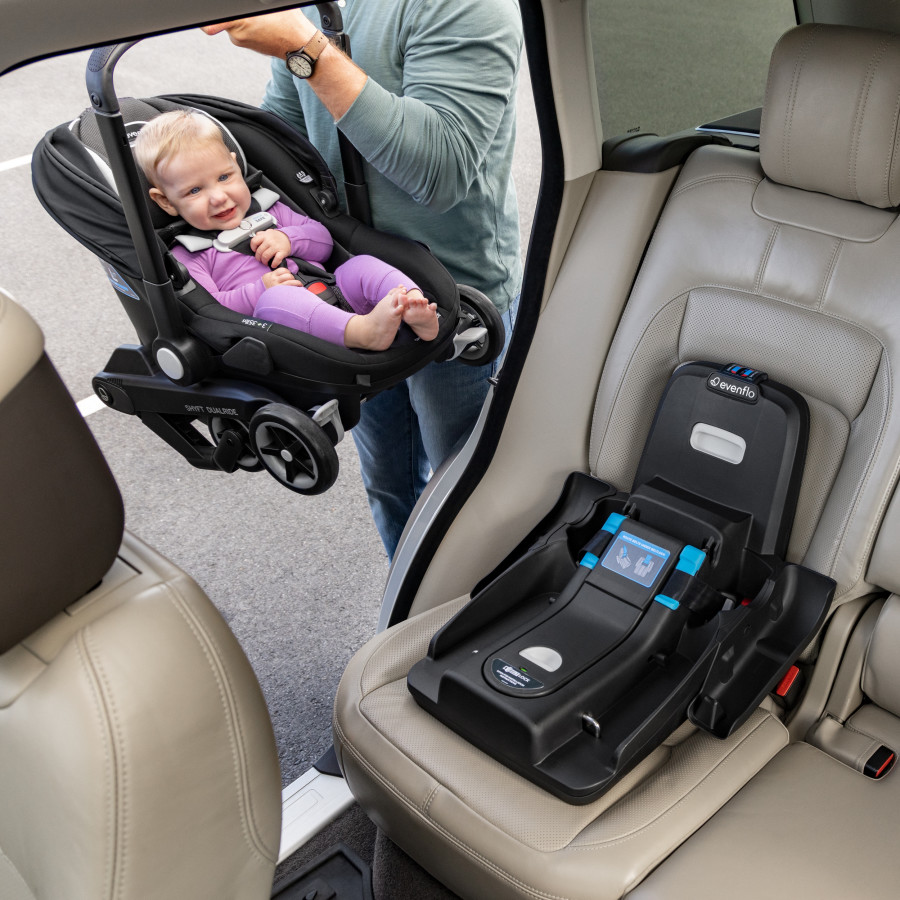 MAKE IT BABY'S FIRST CAR SEAT: Accommodates infants as small as 3 lb and up to 35 lb, who measure from 15.7 in. to 32 in.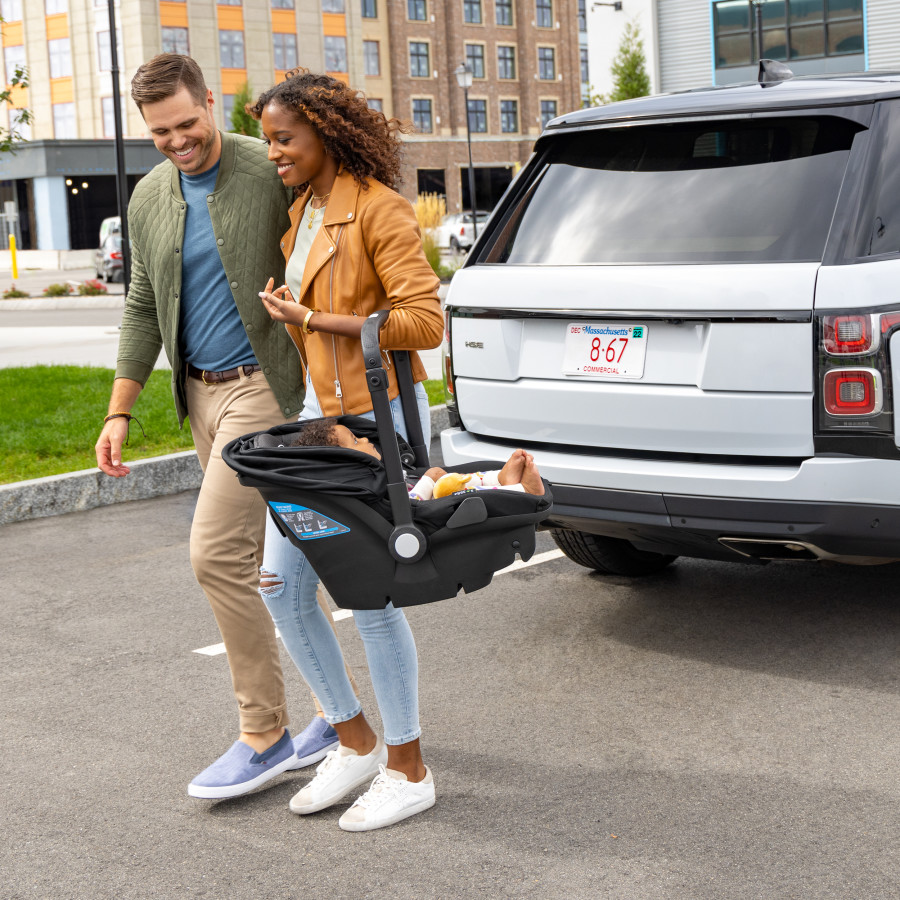 FEEL CONFIDENT ABOUT SAFETY: Features an anti-rebound base that helps absorb and dissipate crash forces for added stability and peace of mind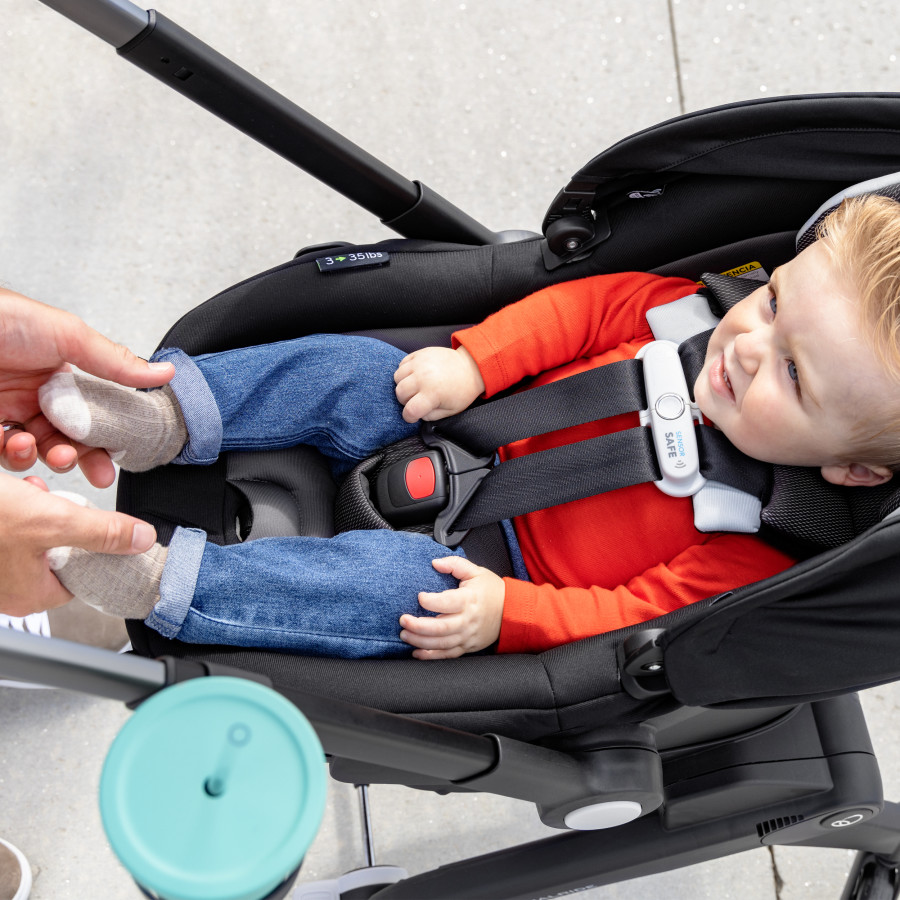 INSTALL WITH EASE: LockStrong Installation and Quick Connectors offer solid, secure installation in no time
Q. Does this car seat have cupholders?

Yes, a removable cupholder is included for use by the adult in stroller mode ONLY.
Q. Will this car seat fit my child?

The Evenflo ShyftTM DualRideTM has been designed to fit a wide range of children. The information provided in the table below should help you determine if it is the right fit for your child. Rear-facing weight range: 3 - 35 lb. (1.4 – 15.8 kg) Rear-facing height range: 15.7 - 32 in (40 - 81 cm) Rear-facing minimum age: birthLowest harness position (with infant insert): 4.5 in (11.4 cm) Highest harness position: 11.5 in (29.2 cm)Inner buckle position: 3 in (7.6 cm)Middle buckle position: 4 in (10.2 cm)Outer buckle position: 5 in (12.7 cm)
Q. Can I fold and unfold the Shyft™ DualRide™ with the baby inside?

Yes. You may fold or unfold the stroller wheels of the Shyft™ DualRide™ while your infant is securely harnessed in the car seat. For additional details on how to fold and unfold the stroller wheels, be sure to watch our handy How To videos on https://youtu.be/3H1gKTRtqog (or on the DualRide™ product page at www.evenflo.com).
Q. How do you clean the plastic components of the car seat or base?

Plastic components may be wiped clean with warm water and mild soap. Take care not to soak the product usage labels.
Q. The wheels of my ShyftTM DualRideTM won't move. What's wrong?

If the wheels of your ShyftTM DualRideTM aren't turning, double-check that both rear wheel brakes have been disengaged. To release the brake, lift up the brake pedal for each rear wheel. For safety, ALWAYS make sure both brakes are fully engaged when placing your child in or removing your child from the car seat.
Free Video Chat Support
Need some real-time help? Schedule a live video call with us and we'll walk you through.
Book Now
Peace Of Mind
Being a parent has enough stress as it is, that's why we can assure you that we can give you as much time as you need.
Limited 90-Day Warranty
Supported by ParentLink Consumer Care via chat and email
Chat
EMAIL
No time to chat?
Email us
your inquiry
If you are going to splurge on a piece of baby gear this is worth the money!
Benefits of shopping evenflo.com