Pivot Xplore™
Pivot Xplore All-Terrain Stroller Wagon (Wayfarer)
Details
https://www.evenflo.com/stroller-wagon/19132263.html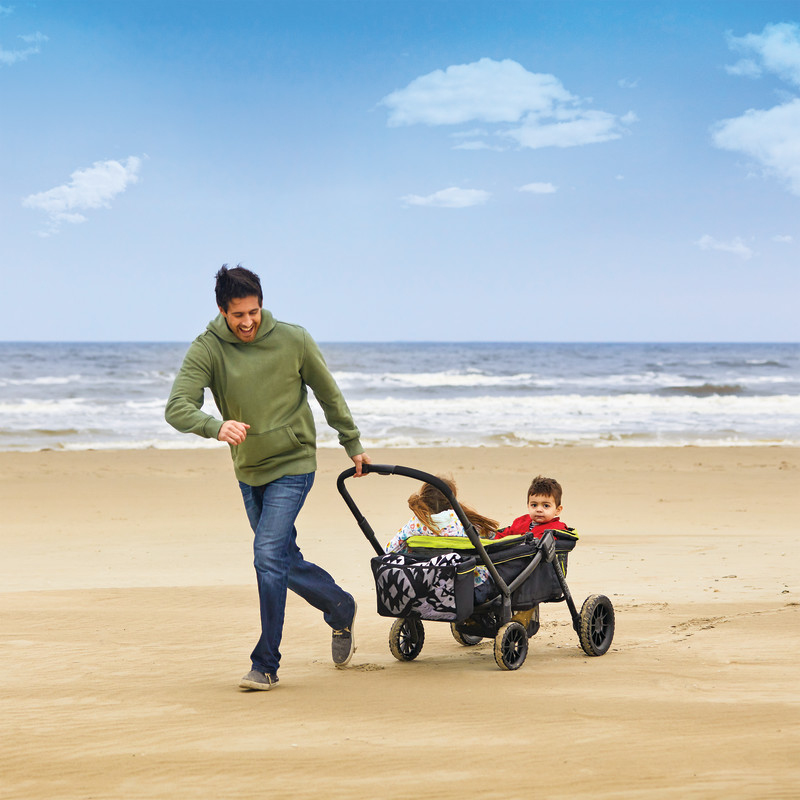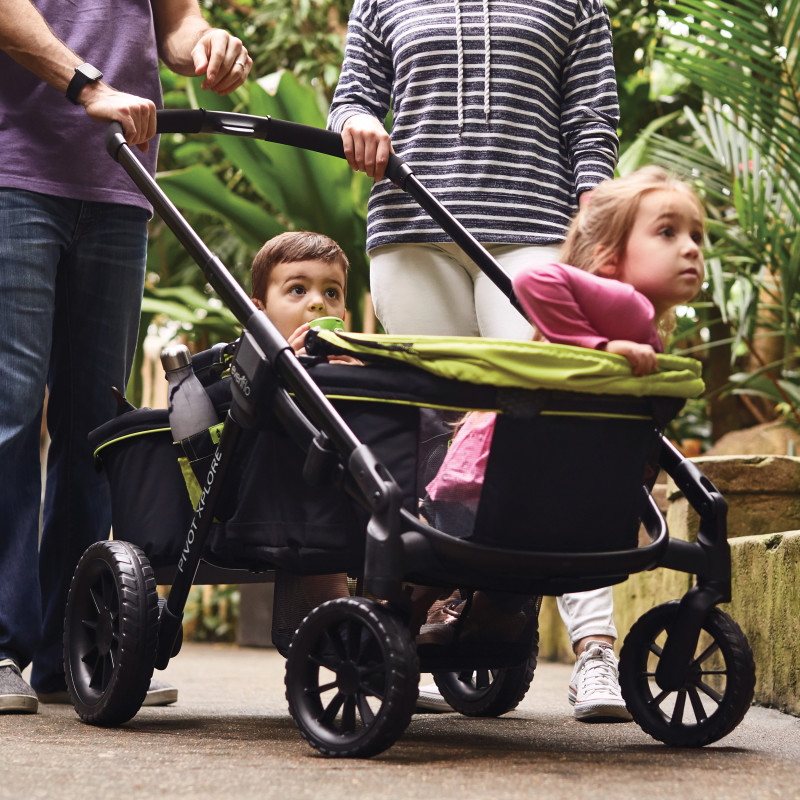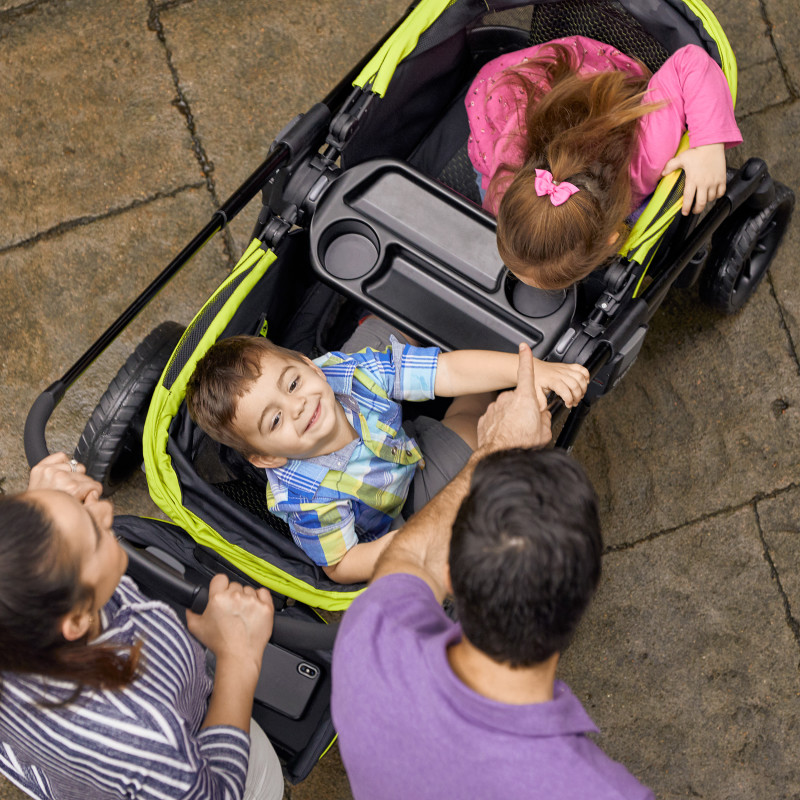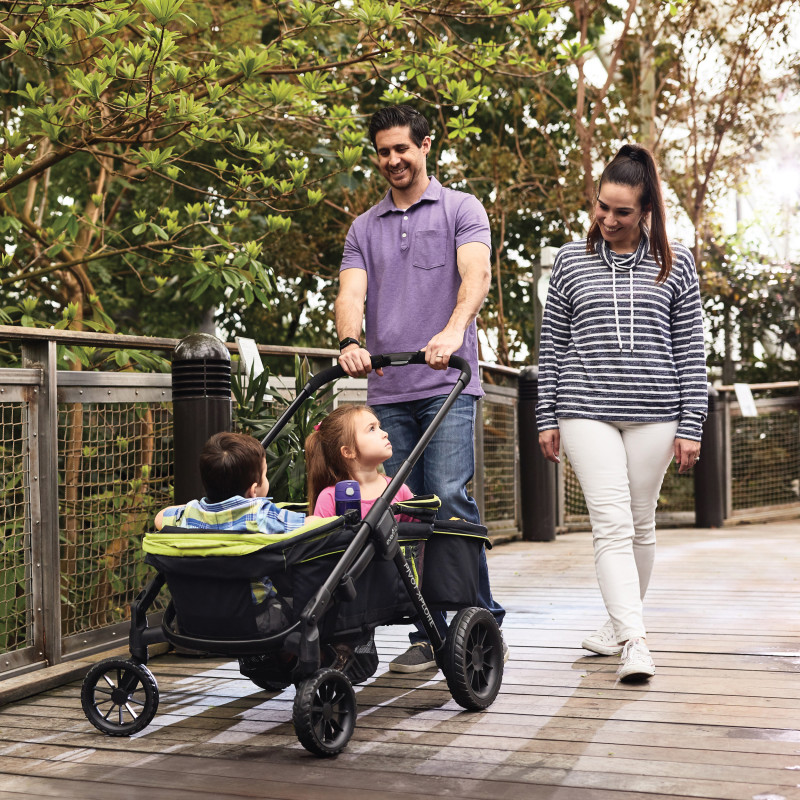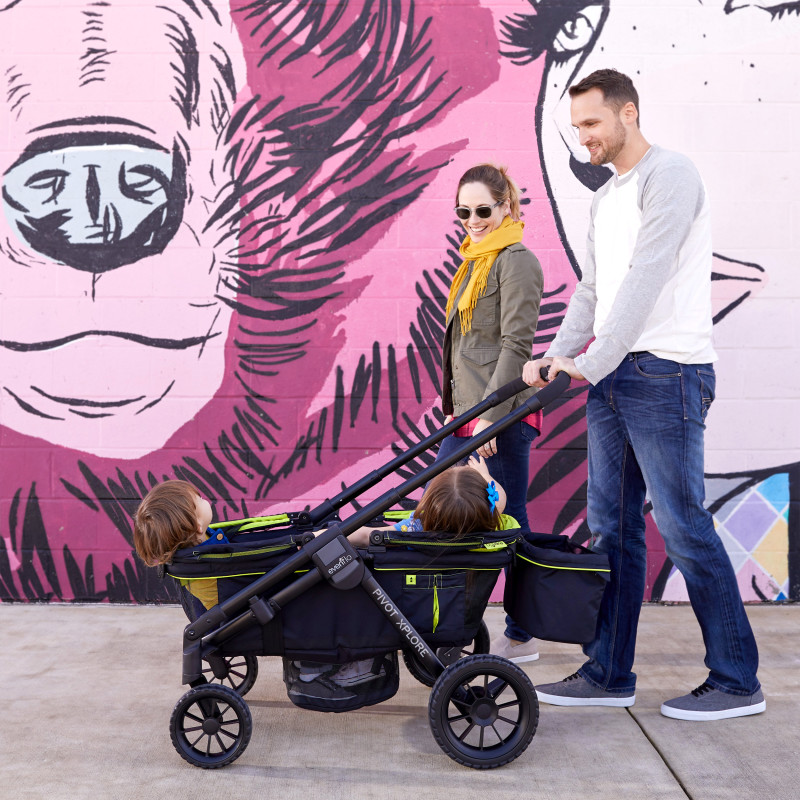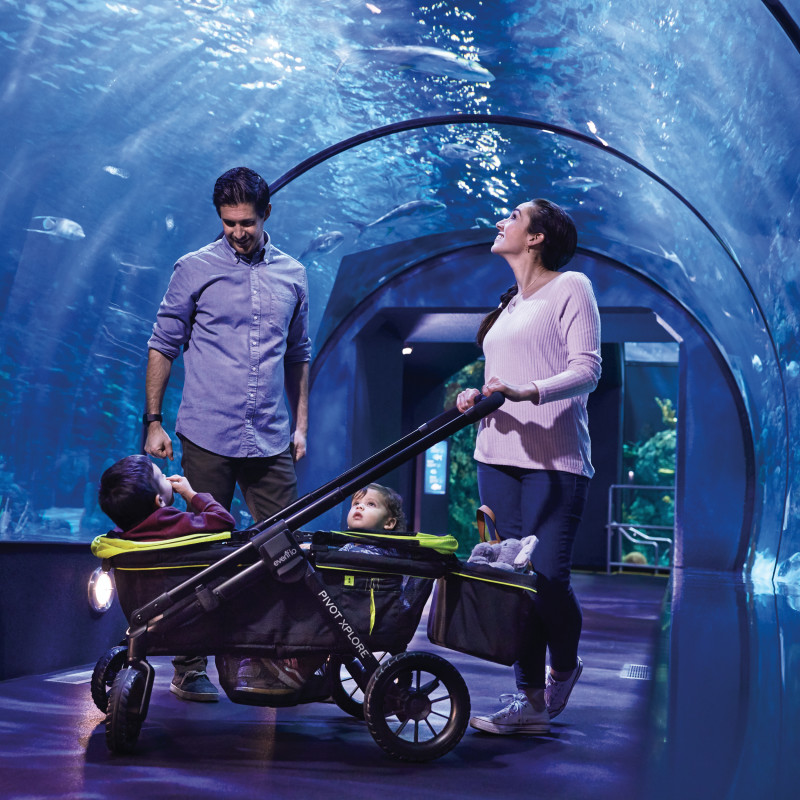 PILE IN. XPLORE MORE. PUSH PULL PLAY.
Meet the new, ultimate ride-share stroller, Pivot Xplore™All-Terrain Stroller Wagon. This new riding experience provides extended use by accommodating 1 or 2 kids up to 5 years old. The Pivot Xplore easily transforms from a stroller to a wagon by flipping the handle. This gives parents the ability to push as a stroller, or pull as a wagon. Pile all your stuff in and ride on out! Each seat holds a child up to 55 lbs., 120 lbs. total with storage.
Why you'll love it
From playground adventures to weekend getaways, the Pivot Xplore All-Terrain Double Stroller Wagon from Evenflo helps you tote around your kiddo in comfortable style.
This new riding experience gives parents and kids extended use by accommodating 1 or 2 kids up to 5 years!
is...
For 100 years, Evenflo has been a trusted source children products
Committed to the safety, wellbeing, and development of children.
Dedicated to design and engineering of products for real-life
Supported by ParentLink Consumer Care via phone, email, chat and video
Peace of Mind:
Expiration: 10 years
Warranty: 90 Days
Returns: 30 days
Product Details
Child Specs
Product & Shipping Specs
Package Width:

22.875

Package Weight:

40

Package Depth:

14.5

Package Height:

32.5
Pivot Xplore All-Terrain Stroller Wagon
Whether heading to the park or the beach, the Pivot Xplore™ All-Terrain Stroller Wagon is the ultimate joy ride. With two kids in tow, you can flip from a stroller to a wagon, giving you the ability to push or pull on your next adventure.
PIVOT XPLORE STROLLER WAYFARER
is rated out of
5
by
206
.
Rated

5

out of

5
by
Anonymous
from
You won't regret this purchase!
We love it! Total game changer. We have a 5 year old and a 1 year old so they are at very different stages...but this works for both! If the 1 year old falls asleep we've easily put a blanket in the foot area to create a bed (perhaps a new Evenflo product in the future :) that would make this product even better than it already is) and the 5 year old can easily get himself in and out. The snack tray is perfect. Cargo basket fits a lot of things and it great for a meal/snacks. Additionally, I'm 5'1", husband is 6'2" and we both are able push it in stroller mode just fine.
Date published: 2020-09-25
Rated

4

out of

5
by
Anonymous
from
Almost perfect...
A few tweaks to make it perfect for my use. My little guy is tall for his age, I purchased this so that he has ample room and it'll grow with him. It needs larger sun guards, ability to slightly recline, and an add-on to make the bottom continuous... so younger kids can lay down. Also a darker color option maybe slate grey and chocolate etc, try to use lighter materials a little on the heavy side...Lots of compliments though so far...
Date published: 2020-09-25
Rated

4

out of

5
by
Explorers
from
Smooth, fun ride.
Love it! It's such a smooth ride compared to the other double stroller. It's compact enough that I can fit things in my trunk besides the stroller. I do with the handle pushed it more to make it that much more compact. And that when it was folded there was a way to lock the two sides together.
Date published: 2020-09-22
Rated

3

out of

5
by
JolieO18
from
Great overall
I bought this almost a month ago & I use it for our walks & its great overall but the front wheels shake & I'm not sure why
Date published: 2020-09-20
Rated

5

out of

5
by
Elizabeth A
from
El porqué me gusta...
Buscaba una carreola doble pero nada me convencía, en cuanto miré esta stroller la compré con descuentos y cupones y sólo pague 230, a mis dos hijos de 3 años y 1 año les encantó, me gusta que tenga cinturones de seguridad y los accesorios como la canasta para guardar cosas, y que ellos también puedan tener su mesita para que vayan comiendo o bebiendo algo, también están incluidos lo que les cubre del sol, comparándola con otras que tienes que comprar todo por separado. Es algo pesada pero tiene demasiada estabilidad, siempre que salgo con la stroller me dicen que esta muy bonita, que les gusta, y a mi también me gusta, sin duda alguna muy buena compra.
Date published: 2020-09-18
Rated

4

out of

5
by
Mjax223111
from
Love it
I am thrilled to have this as I can put both my babies in here and go. I was strapping one on and putting the other in the stroller and that was awful. The only thing I am upset about is I had a $50 off code and it would not apply it to this and I emailed my concerns and didn't receive an answer yet, but had to go ahead and purchase because we are going on a vacation next week.
Date published: 2020-09-09
Rated

1

out of

5
by
Sad mom
from
Sun put hole in Mesh
I bought this and thought I would love it. I did on the first walk. But during that first walk my son put a hole in the mesh of the foot area.
Date published: 2020-08-25
Rated

4

out of

5
by
Bayley
from
Great stragon!
I really love this stroller/wagon (stragon). I have a 1.5 yo and 4.5 yo and it is perfect for us. It handles well and is very easy to push or pull. It is a sturdy piece of equipment, so if you are going up hill it does take a bit more effort to push. My only con for it, is that it is still quite big folded down and since it's sturdy it's heavy loading and unloading into a car. Overall a great way to push 2 kiddos around! Side note, I wish there was a rain cover for it!
Date published: 2020-08-24