Folio3
Folio3 Stroll & Jog Travel System with LiteMax 35 Infant Car Seat (Avenue)
Details
https://www.evenflo.com/travel-systems/folio3/57312205.html
The ultimate crossover stroller; the Evenflo® Folio3™ Stroll & Jog Travel System is the best of both worlds. Fully-featured and lightweight for everyday strolls; with the added benefit of large, air-filled tires and a lockable front wheel for all-terrain jogging.
Peace of Mind:
Expiration: 6 years
Warranty: 90 days
Returns: 30 days
Why You'll Love it
Ready, set, jog...
The ultimate crossover stroller; the Evenflo® Folio3™ Stroll & Jog Travel System is the best of both worlds. Fully-featured and lightweight for everyday strolls; with the added benefit of large, air-filled tires and a lockable front wheel for all-terrain jogging. The unique, in-seat fold is more compact than than most full-size strollers, and self-stands so you never have to bend over to put it in your vehicle. An oversized storage basket, parent and child consoles and a full-coverage canopy with peek-a-boo window come in handy for shopping and trips to the park, while the pneumatic tires, front-wheel swivel lock and adjustable handle give you the performance you need when jogging!
When you arrive at your destination, the LiteMax™ 35 Infant Car Seat moves from base to stroller with one secure click. Rollover tested and side impact tested, this infant seat is a top safety pick. The integrated belt lock-off system, multi-position base and recline indicator offer peace of mind that the base is securely and correctly installed. Lightweight, with an ergonomically-designed handle, this seat can be comfortably carried in the bend of the arm. Other "must-haves" include a full-coverage canopy, up-front harness adjust and a plush infant head pillow.
Product Details
Child Specs (5-50lbs)
REAR-FACING
Weight:

4 - 35 lbs. (1.8 - 15.8 kg.)

Height:

17 - 32 in. (43–81 cm.)

Age:

Up to 1 year of age

Fit:

The top of the child's head must be at least 1 inch (25 mm) below the top of the child restraint seat back.
STROLLER
Weight:

Max child weight in stroller 50 lbs.
Product & Shipping Specs
Dimensions Unfolded:

24.5 W x 46 H x 38 D (inches)

Product Weight:

31.4 lbs.
Package Width:

20.75 in.

Package Weight:

40 lbs.

Package Depth:

22.25 in.

Package Height:

30.25 in.
Safety
Safety Testing
At Evenflo, we continue to go above and beyond government testing standards for car seats.
Side Impact Tested:Meets Evenflo's proprietary side impact standards.
Designed and tested for structural integrity at energy levels approximately 2X the federal crash test standard.
FMVSS 213: Federal Motor Vehicle Safety Standards for Child Restraint Systems
FMVSS 302: Federal Motor Vehicle Safety Standards for Flammability of Interior Materials
CMVSS 302: Canada Motor Vehicle Safety Standard
CMVSS 213: Canada Motor Vehicle Safety Standard
Certified For Use In Aircraft: When used with the internal 5-point harness this restraint meets FAA Inversion requirements for airplane use.
Evenflo Temperature Testing: All current Evenflo car seats are tested for product integrity at both high and low temperatures.
Use & Care
Use & Care
Read all instructions and warnings on the product, product labels, and instruction manuals before use. Consult your vehicle owner's manual to determine proper placement of child restraint in your vehicle and familiarize yourself with your vehicle's components.
Cleaning Instructions
DO NOT lubricate or immerse in water any part of this child restraint, unless rinsing is permitted
Plastic and metal parts may be wiped clean with mild soap and water and dried with a soft cloth. Do not use abrasive cleaners or solvents.
Take care not to damage any labels.
The harness can be wiped clean with mild soap and water. Allow harness to air dry.
Machine wash the seat pad separately in cold water, delicate cycle. Tumble dry 10 to 15 minutes on low heat.
Periodically inspect and clean the restraint's crotch buckle of food, liquids, and other debris to ensure proper latching. Place the buckle in a cup of warm water and gently agitate the buckle back and forth. Press the red button several times while the buckle is in the water. Do not submerge the harness strap. To avoid damage to the buckle, do not clean the buckle with soap or detergents and do not use a lubricant.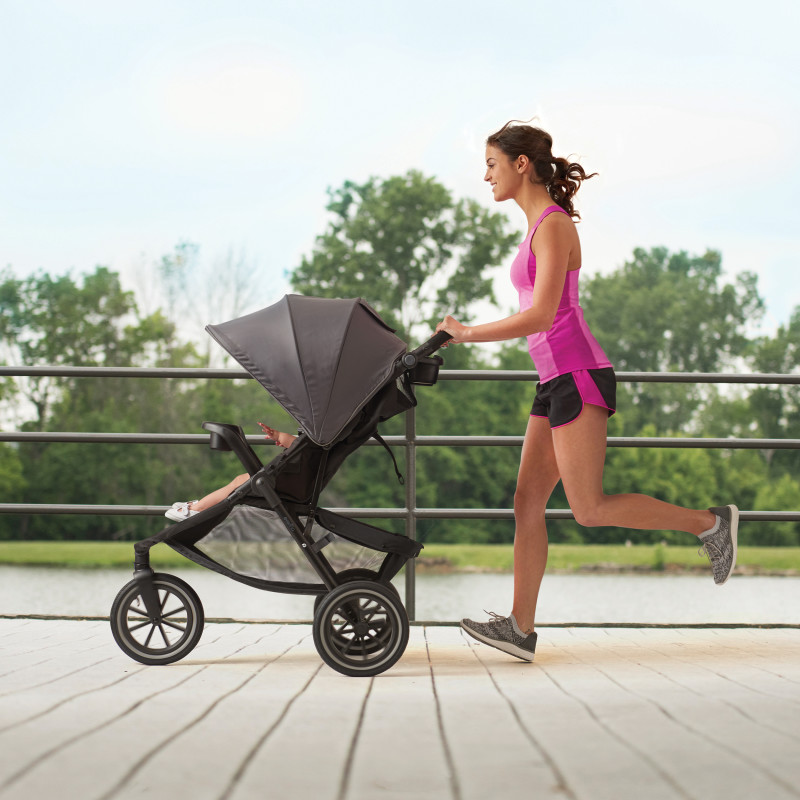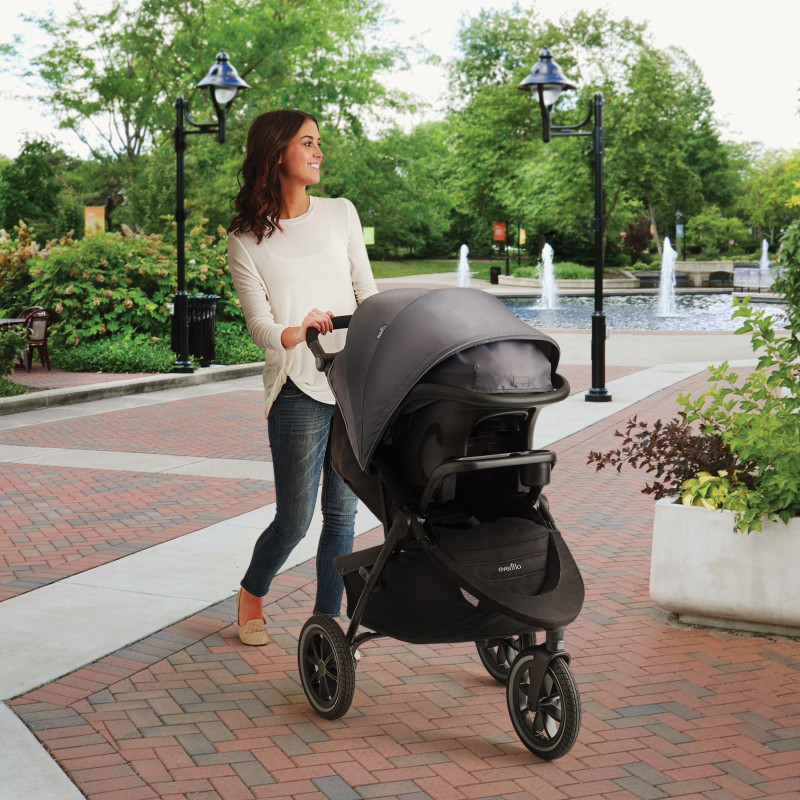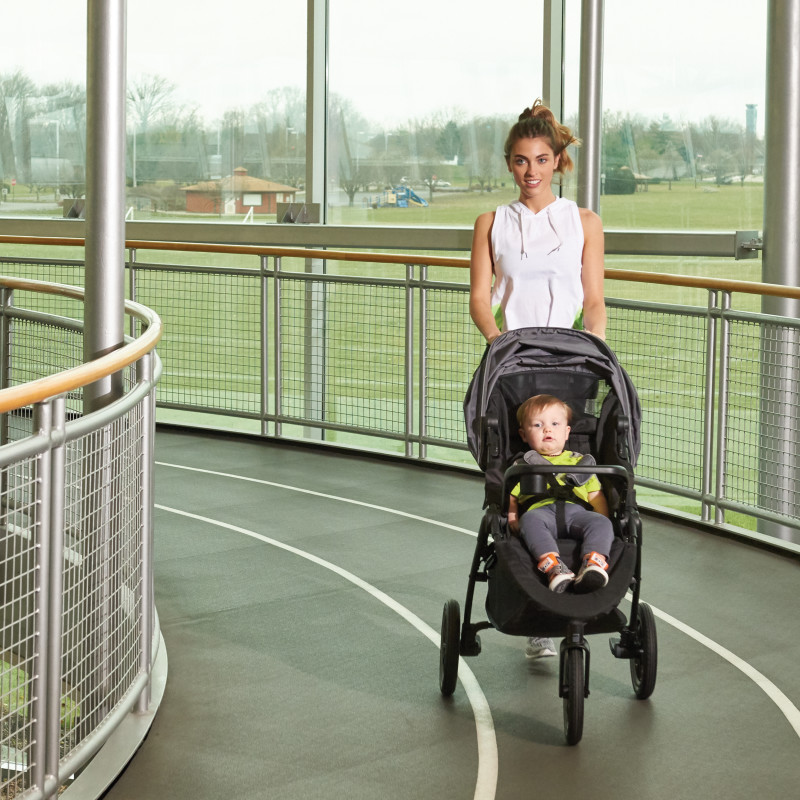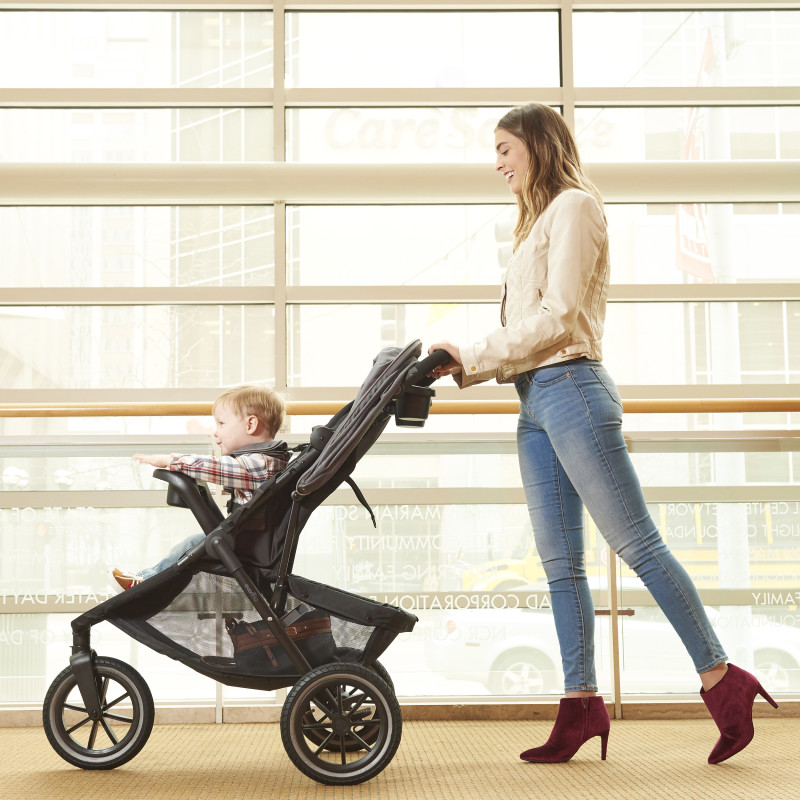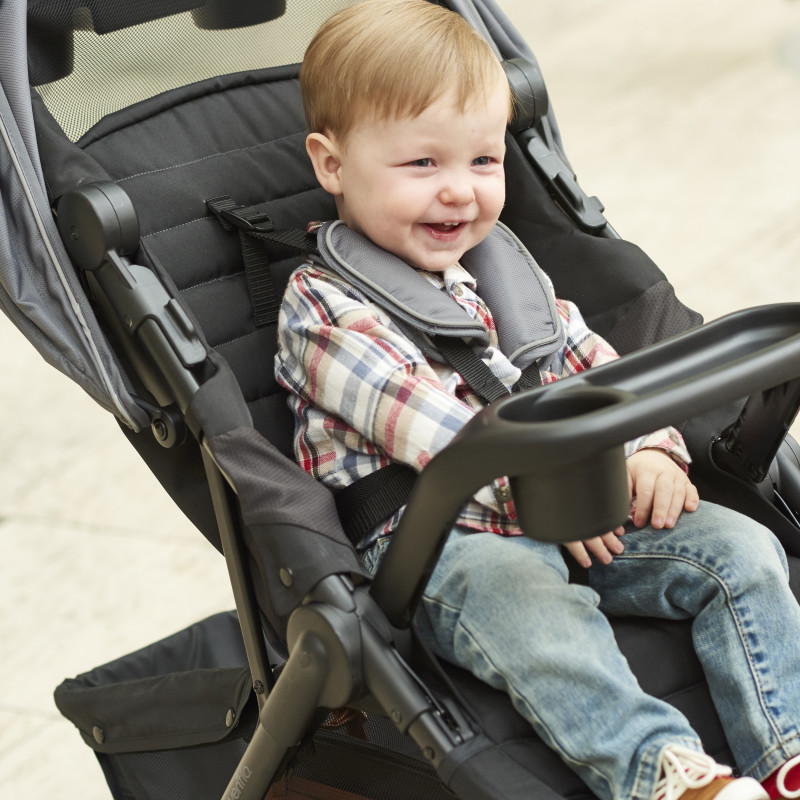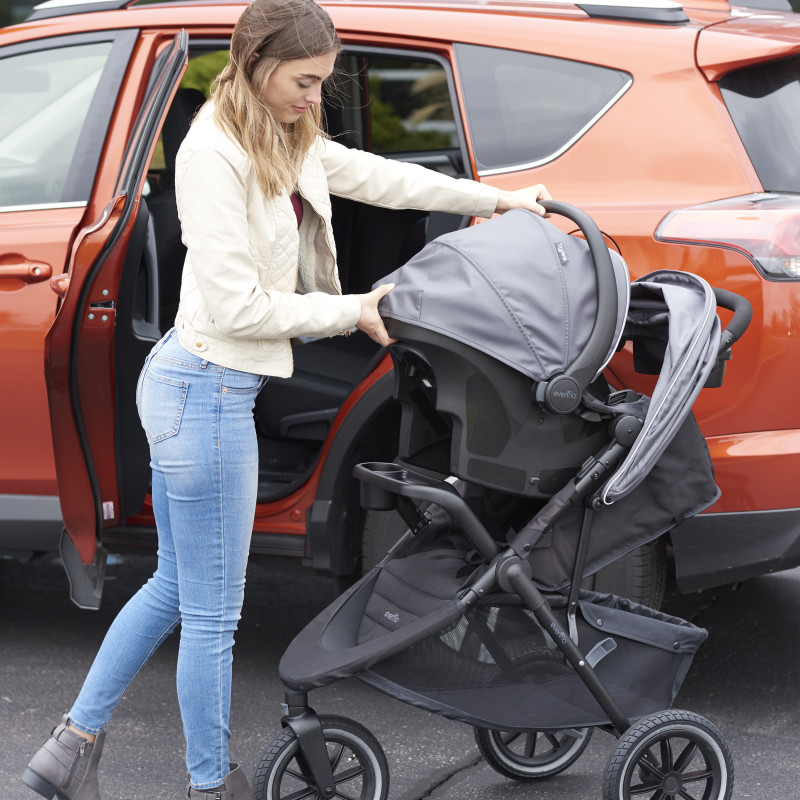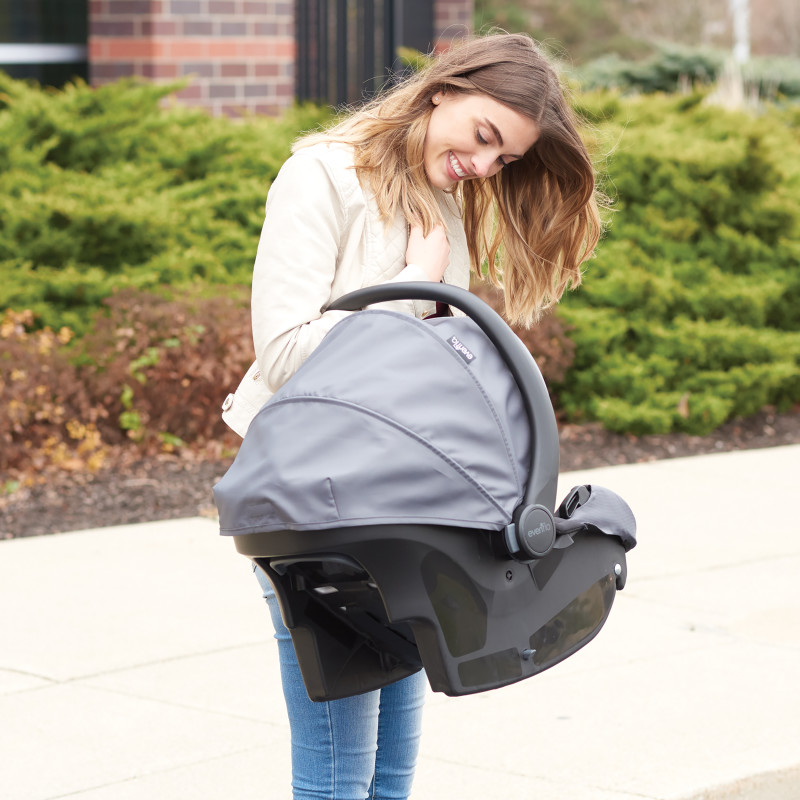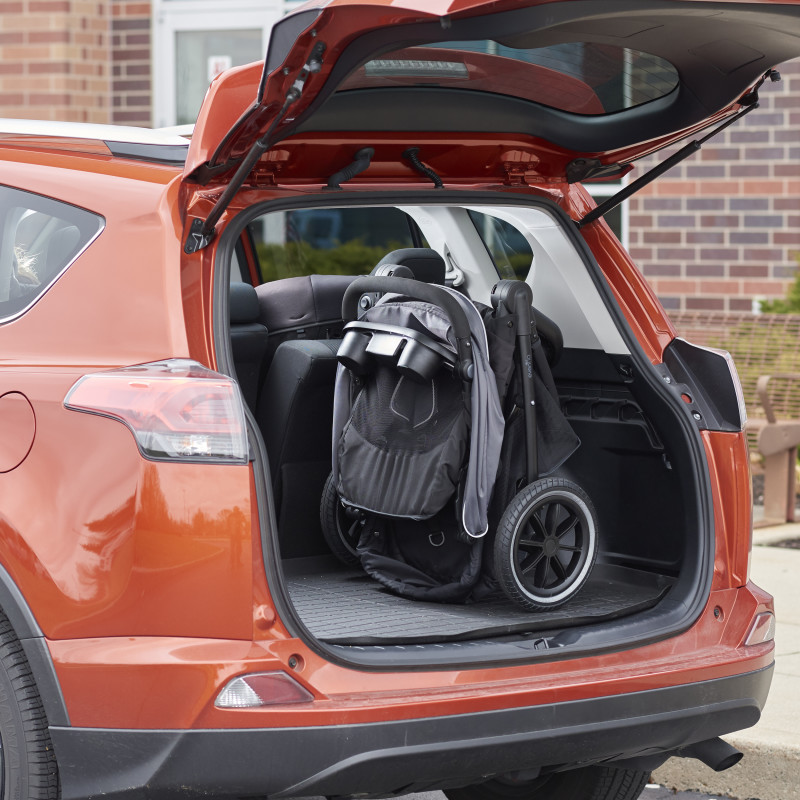 Evenflo Folio3 Stroll & Jog Travel System with LiteMax 35 Infant Car Seat Product Tour
The ultimate crossover stroller; the Evenflo® Folio3™ Stroll & Jog Travel System is the best of both worlds. Fully-featured and lightweight for everyday strolls; with the added benefit of large, air-filled tires and a lockable front wheel for all-terrain jogging.
FOLIO 3 STRLR & JOG TS AVENUE
is rated out of
5
by
102
.
Rated

2

out of

5
by
Louise123
from
Wheels are a BIG ISSUE on this product!
This was purchased for me as a gift and I have used it for almost 6 months. The tires have been an issue since the start. They slowly deflate initially and I would pump them up every few weeks, which is not convenient when trying to adapt to being a new single mum and looking after a newborn. Pushing and steering the stroller caused me to have a pain on my neck as I was over compensating for one faulty tire that would deflate quicker than the others. Today I noticed that one of the wheels is completely deflated and despite pumping it up, the tire was deflated before I even made it to the shop ( less that 1k away) so I am incredibly frustrated as I now have no stroller and will have to carry my little girl anywhere I want to go, adding to physical strain. The car seat was comfortable for my daughter, although I had to buy an additional infant insert as she was so small. She was able to sleep in the stroller on several occasions despite bumps on the route. The travel system is convenient, as the base remains in the car and it is easier to go walks and get outdoors. If only the wheels were up to the durable standard of the rest of the stroller/seat I would have given it a better review. However tires are one of the key components and when they don't work effectively then it impacts the experience of the whole product!
Date published: 2020-03-12
Rated

5

out of

5
by
Oalscm
from
In Shape Mama!
I bought this in November right before my baby was born, I didn't anticipate on using it until Spring but we have had a few warm days where I've gotten to try it out. The ride is so smooth that my little one falls asleep every time! The canopy has been perfect for shading her face and the peek-a-boo window lets me check on her frequently. This jogger has created excitement for running to get back in shape and I can't wait for consistent warmer weather.
Date published: 2020-02-13
Rated

5

out of

5
by
Shanna
from
Great for winter and rough terrain
We needed something that would make it through the snow and ice of Wisconsin winter and this has exceeded our expectations. It gets through rough terrain, poorly shoveled sidewalks, and piles of snow packed in by plows without any issue. Even with all the wild terrain I put it through, this stroller maintains a smooth ride for my son. I've had this stroller for 4 months and have used it daily. I haven't had any issues with the tires deflating and I haven't had to add air at all. It's completely unfazed by all the salt and debris from the weather and it still looks as clean as if I had been using it to mall walk. Things I put in the bottom storage compartment stay clean and dry throughout the walk. The waterproofing is definitely legit. I love this thing; it has absolutely saved us from having to stay inside the house all winter!
Date published: 2020-02-11
Rated

4

out of

5
by
Mrtn89
from
Good stroller! Slight design problems...
Owned for about 6 months now, we really like it. Pros: super easy to fold, lightweight, and folds compact enough to take minimal space. The big tires make it easy to stroll anywhere and has awesome turning radius when moving in small hallways or stores. Cons: front tire gets stuck TOO often, usually have to kick it around to line back up. Tires NEED to be aired up weekly! I have found the front tire gets stuck more often if it is not aired up. Overall i do recommend, but hope the design is updated to fix isssues
Date published: 2020-01-19
Rated

3

out of

5
by
Stereyph
from
It's a love hate relationship
I have been using this system now for over 6 months and while it has great features like being waterproof, it has some not so great features. Cons: -the cup holders should have been brought out at least an inch or two because, when you have the canopy open, you cannot easily access your drink or other items. -it should come with a small tire pump that can easily be attached to the stroller as you need to fill the air often -the front wheel....omg...how do I even say this without loosing my mind lol. The front wheel has a mind of its own and no matter how long you have this stroller, you never get used to it! -folding and unfolding is definitely something that requires practice and is not as easy as advertised, especially at first and it's a bit heavy. You'll get the hang of it though. -when it's raining, the cup holders hold water and so does the foot rest. It would be nice if the foot rest was able to be removed when not in use. Pros: -it seems comfortable -durable (I have taken 6 flights and been on 3 trains and it's still in one piece!) -great wheels -great traction
Date published: 2020-01-12
Rated

4

out of

5
by
shawnak9
from
We really enjoy this car seat/jogger combo. The stroller folds up pretty compactly and is able to stand on its own when folded up. It has a very large basket underneath, big enough to throw the diaper bag and other items. I don't love the cup holder, but it gets the job done. Things bounce around in it a lot since it is a hard plastic. The car seat gets the job done. It's definitely not super fancy, but it seems safe. The canopy on the car seat feels very cheap in comparison with the jogger canopy. The car seat straps are easy to adjust as the baby grows! For the price, I think this product is definitely worth it!
Date published: 2020-01-11
Rated

4

out of

5
by
Anonymous
from
It works!
Not a bad system but has its quirks. The tires loose air & the front wheel doesnt turn as good as it should.The cup holders on the handle does not stay fastened when stroller is folded up (ended up getting lost cause it fell off).
Date published: 2019-12-27
Rated

3

out of

5
by
TigerLee
from
Excellent in so many ways, but hard to push
I've used this stroller with my little one for over a year. I love it a lot, but the front wheel gets flat and/or stuck all the time. It've come close to running over strangers trying to manage this stroller through a turn. It's easy to open and close and very comfortable for my son, but I wish the front wheel was better. I think it's gotten worse too, and I can't find a replacement tire for it. It's a great stroller, but it's a pain to have to patch the tires all the time. The car seat is SO lightweight and convenient. I couldn't ask for a better car seat.
Date published: 2019-11-24